The 10.1-megapixel Olympus E-3 is a high-end professional digital SLR with an exceptionally fast auto-focus system, built-in image stabilization, Live View and excellent image quality. It's a part of the Four Thirds digital SLR system, which has a smaller sensor and a different lens format from most other cameras.
Want to buy a Olympus E-3?
Compare prices and shop For Olympus E-3 >>

Pros
Excellent overall image quality
Fast, accurate, consistent auto focus
Compatibility with Four Thirds System lenses
Sensor-based, mechanical image stabilization
Natural, film-like color balance
External white balance sensor
Wide latitude with RAW format
Live View mode
Large viewfinder image
2.5-inch fully-articulated LCD screen
Uses CompactFlash or xD Picture memory cards
Ergonomic body and control layout
High-quality metal construction

Cons
Four Thirds aspect ratio may feel too square for some
No erase function immediately after capture
Quick-erase function requires caution
Introduction
Olympus finally delivers the long-awaited E-3: a 10.1-megapixel, Four Thirds System digital single-lens reflex camera body that claims to be "the ultimate choice for the professional photographer … [providing] the highest levels of speed and image quality as well as Live View capabilities and the ultimate in reliability." Indeed, the Olympus E-3′s pro-oriented features will set you back about $1,699 (retail list price). This camera has been more than four years in the making. Was it worth the wait? In short, yes.
Features
The Olympus E-3 is packed with features well suited to how photographers actually work. The most-used photographic controls are close at hand and quick and easy to adjust — just what you would expect from a professional-level camera. Most of the dedicated button controls are the hold-down-and-turn-dial variety, which work great.
Olympus E-3 top controls and front view with the new Zuiko Digital 12-60mm SWD zoom lens

The E-3′s relatively large viewfinder features a 100 percent field-of-view, a built-in eyepiece cover for Live View shooting and a display that includes the ISO setting.
Olympus boasts the fastest auto focus system to date (as of October 2007) when used with their new Zuiko 12-60mm SWD zoom lens. I did not directly compare it with other systems, but my impression is that it is at least on par with them, if not faster.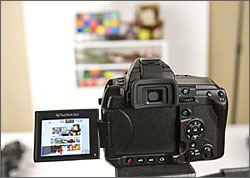 The articulating (vari-angle) 2.5-inch high-resolution LCD monitor is useful for odd angles and for macro work with Live View shooting. I was a bit dubious about the value of Live View modes, but I have come to appreciate the option of shooting in this fashion, particularly with the articulating LCD screen. The drawback in Live View mode, however, is some shutter lag. A work-around is to use the motor drive in high-speed mode and hope that its timing matches your intent.
The control layout's dedicated buttons for primary photographic controls are located near the shutter-finger and thumb-grip positions making adjustments quick and easy.
Olympus's Supersonic Wave Filter dust-reduction system was the first of its kind and operates automatically. Because introducing dust and debris into my camera is counterproductive, I'll leave that to the gadget sites that occasionally break things as part of their "testing."
The E-3 has two white balance sensors, one as part of the internal metering and another external sensor located in front next to the handgrip. The E-3′s double white balance sensors appear to work well, although there will always be some mixed light or fluorescent light situations that require post-production tweaking. The system exposed indoor light well – particularly tungsten light sources and more recent compact fluorescent lights. When tweaking in RAW format was necessary, I found the adjustments to be minor: often nudging the Kelvin scale plus or minus 200 degrees and adding a slight tint of magenta did the trick.
Battery life is excellent, in my opinion. Using the E-3 with one battery and without the vertical grip over several days, I got well over 400 frames, including "chimp time" (looking at pictures in the LCD) customizing menus and some Live View shooting. I also mainly shot in high speed drive mode.
The E-3 accepts two memory-card formats: Olympus's xD-Picture Card and standard CompactFlash. Personally, I would prefer to see SD or a second CompactFlash slot instead of the xD. Most of us try to own only the cards we really need, and SD and CF are far more commonplace than xD-Picture Cards. To my knowledge, xD offers no practical speed or capacity advantage. Olympus has an investment in its xD-Picture Card format, and those who already own xD cards will be pleased.
The unique Four Thirds System makes available some interesting lens options. Compared to a full frame digital or 35mm camera, the Four Thirds System offers twice the reach at the same focal length. So a 50mm Four Thirds lens is like a 100mm lens on a 35mm film camera. The following are Olympus's own Zuiko Digital lenses; all but the last employ Olympus's latest Supersonic Wave Drive (SWD) technology for fastest auto focus. Note the 35mm/full frame equivalent range in parentheses:
Olympus Zuiko Digital ED 12-60mm (24-120mm equivalent) f/2.8-4.0 SWD
Olympus Zuiko Digital ED 14-35mm (28-70mm) f/2.0 SWD (Olympus claims this is the world's first continuous f/2 zoom.)
Olympus Zuiko Digital ED 50-200mm (100-400mm) f/2.8-3.5 SWD
Olympus Zuiko Digital ED 70-300mm (140-600mm) f/1:4.0-5.6 (Unless I were going on safari, I'd opt for an SWD lens instead.)
Camera Menus
| | | |
| --- | --- | --- |
| Olympus E-3 basic playback display | | Olympus E-3 playback display info and RGB histogram |
| Olympus E-3 playback display with luminance histogram | | Olympus E-3 main menu |
| Olympus E-3 main data display | | Olympus E-3 auto focus target display |

Design
With larger, high-end DSLRs, there's a lot more physical space to locate controls and displays, as well as larger grips. Designers have room to put controls where photographers need them most — close at hand (finger, actually), which generally leads to better usability.

The first thing you notice with the E-3 is how the primary photographic controls are nicely arranged around the body. Things like exposure compensation and ISO get their own buttons right near the shutter button. The rear thumb dial is right under the AE-L/AF-L button for those of us who like to activate auto focus using the rear AE-L/AF-L button. There is also a function (Fn) button just to the right of where your thumb rests. The two thumb-aligned buttons are also customizable and swappable. The less-used but important controls for auto focus mode, drive mode, metering and flash are located on the top left. Menu controls are under the LCD, and the four-way menu navigation keypad is right where you expect to find it. Simple. Efficient.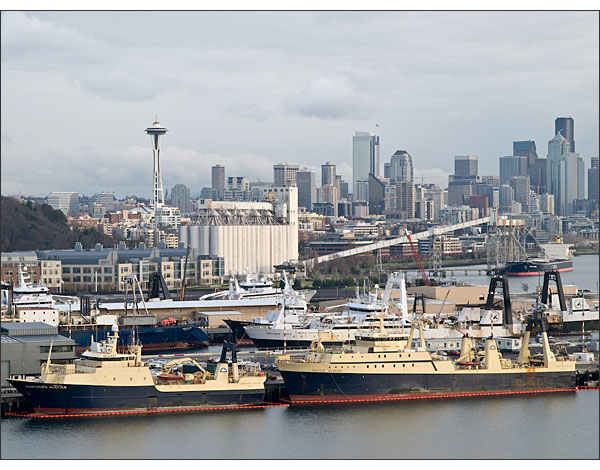 One of the drawbacks I found with the Olympus E-510 I reviewed earlier was that customization of controls was unnecessarily complicated and confusing. I thought it could be simpler. Olympus has done just that with the E-3. All the options are still there, but now they're neatly organized and arranged under menus that make intuitive sense. Normally, when I receive a camera for review, I spend some time making sure I understand the control philosophy, navigation and customization options. With the E-3, it was pretty much power up and off you go. There was little immediate need to customize or tweak and much less need for the manual than usual. Thank you, Olympus, for making life easier!
Camera Experience
Compared to entry-level DSLRs, mid-level and pro-level machines tend to be faster and sturdier. They're more expensive because they're workhorses that get the job done efficiently, day after day. The Olympus E-3 is an excellent workhorse.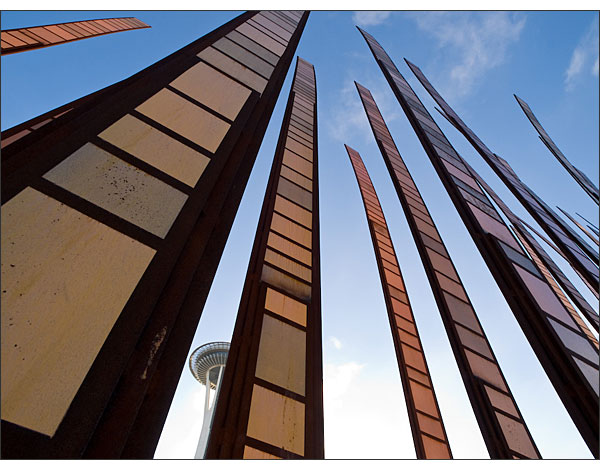 While all the main controls have dedicated buttons, you can still use Olympus's Super Menu system, where functions displayed on the rear LCD can be selected via the keypad – or changed using the dedicated rear menu controls. This control redundancy is useful as different photographers have different styles and preferences.
As I said, it was pretty much power up and go with the E-3. Other than having to develop muscle memory for the controls, I found working with the E-3 consistently predictable in a variety of situations and environments. Auto focus was fast and sure. Metering was predictable, and exposure responded consistently to changes in subject and lighting. With many cameras, exposure can change subtly from frame to frame even when the lighting and subject composition are constant. The E-3′s exposure is very consistent. Although we can make adjustments in post-processing, consistency has practical significance for studio shooters and others who need results to be predictable within tight ranges.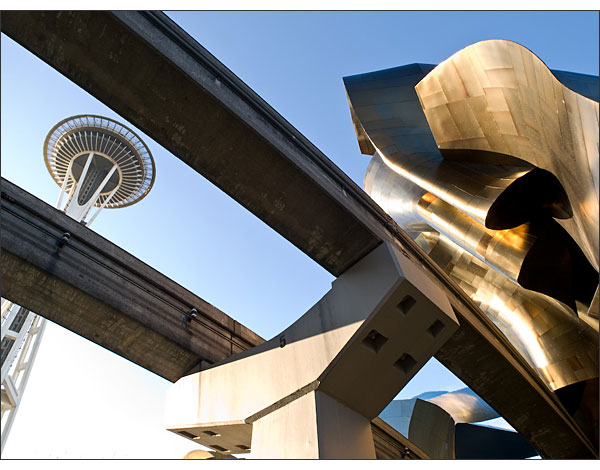 I especially like the E-3′s new playback zoom. Previously, in playback mode, you could set the zoom to jump immediately to some preset magnification ratio. This was great, but you had to scroll from the center to find the focus point you wanted. The E-3 allows you to be more selective about the zoom point, as well as the zoom amount. In playback, you press the Fn key and the image remains full frame with a 10x zoom point highlighted. If you want to zoom more or less, just turn the control dial, and the highlighted point changes with your selection. Use the arrow keys to move the zoom point, and then press the Fn button again to drill down.
While testing in and around Seattle, the twin white balance sensors did their thing just fine and I was comfortable using auto white balance most of the time. That said, I do like to set a custom white balance if the light source is going to be consistent, and the E-3 provides a fast, direct means of setting a custom white balance. By assigning the rear function button (Fn) to custom white balance, you simply hold it down while exposing a frame of white paper, wall, shirt or whatever. The E-3 automatically measures and switches to the custom balance. Excellent.
Olympus's new auto focus system is indeed remarkably fast and consistent with the new 12-60mm zoom. It's a little slower and less reliable with the Zuiko Digital ED 70-300mm (140-600mm equivalent!) because that lens does not use Supersonic Wave Drive. I wasn't able to shoot any sports, so I went hunting for birds in the bush. On an overcast day, I got usable (if not really notable) photos through the branches. The auto focus system — set to the center AF point — performed well, given the tricky task of distinguishing my intended focus point in between criss-crossing branches. It was also a relief to find that the E-3 doesn't appear to be plagued by back-focusing issues like some digital SLRs have been.
Of the in-camera image stabilization systems I've used, I find Olympus's to be extremely good and definitely on par with optical IS systems for the 12-60mm zoom range. While testing with the Zuiko Digital ED 70-300mm, I shot a lot of handheld frames zoomed out to 300mm with shutter speeds around 1/100th of a second (See birds below). Surprisingly, many motionless subjects were tack-sharp or very close, while panning shots were a bit hit or miss. It's impressive just how slow of a shutter speed the Olympus system enables you to use in real-world situations.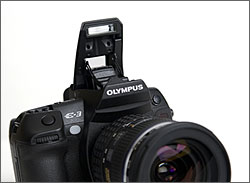 The camera's other systems all worked well in my testing. Studio flashes fired (as slaves) with the pop-up unit. The strobes synced properly with the exposure; other cameras sometimes fire a pre-flash that triggers slaves before exposure. The shutter-release sound was about average to my ear and its pitch was neither noticeably high nor plasticky-sounding. The vertical grip functioned well, but I wish it had the AE-L/AF-L button as well as the Fn button. If you want rear-activated AF when using the vertical grip, you can work around this by swapping the thumb buttons' functions in the customization menu.


Image Quality
Top-notch functionality is great, but we want top-notch image quality too. Combined with the Zuiko Digital ED 12-60mm SWD zoom, I think the E-3′s overall image quality is outstanding.
Bear in mind, however, that I have not done a direct comparison with other recent digital SLR bodies — my opinion is based on past experience and recent work with a Pentax K10D, Canon EOS 5D, and Canon EOS 40D. While the Olympus E-3 might not win the ultimate pixel-peeping quality contest, it is easily worth any serious photographer's consideration. It will be amazing when digital cameras can operate at ISO 1600 or 3200 the way we use ISO 200 today, but in the meantime, it's not a reason to limit your camera choices to only those with the absolute cleanest files.
The Olympus E-3 produces RAW files with wide latitude for adjustment without increasing noise levels too much. They respond well to the new sharpening, exposure and white-balance tools in Adobe Photoshop Lightroom. Color balance is very natural and neutral to my eye, and easily adjusted to achieve the look I want. Compared to other cameras, I think my workflow moves fastest with Olympus's RAW files. Again, white balance problems were often fixed quickly by shifting the tint to magenta and tweaking the overall color temperature.
I've been very impressed with image highlights in the latest crop of DSLRs, and the E-3 is no exception. Clouds in the sky and light reflecting off windows look much more realistic than before, particularly when shooting RAW and using Lightroom's Recovery tool to pull back the highlights a bit. Gradients have a smoother blend, which helps give images a much more realistic appearance.
Shadows are very clean-free of obtrusive noise patterns-up to ISO 800. When shooting RAW, noise in the shadows cleans up fairly well, even at ISO 3200 — although you will notice the grain. This is the one area where your preferences will really only be satisfied by seeing actual files at 100 percent (see Olympus E-3 studio sample photos). I'm fairly tolerant of noise; others are not. For me, ISO 1000 is the E-3′s crossover point. The good news is that low-light shadow gradients are looking smoother than ever — blotchy grey-yellow shadow areas are becoming a thing of the past.
Sharpening and noise reduction in the E-3′s RAW files are excellent. It doesn't hurt that the Zuiko Digital ED 12-60mm SWD is extremely sharp throughout the zoom range and even wide open. Capture-sharpening is therefore minimal, and noise is primarily luminance.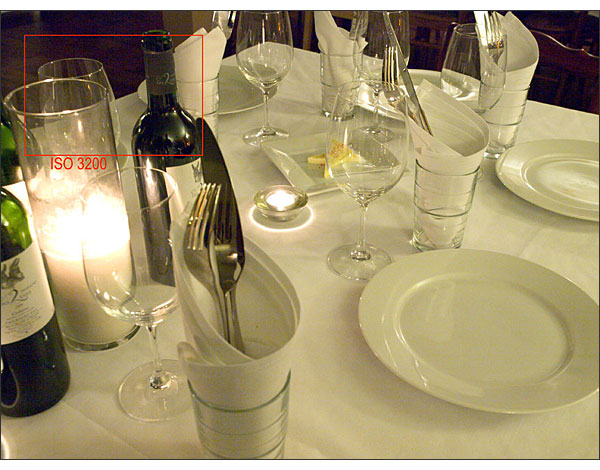 Conclusion
Photographing with the Olympus E-3 is a bit like driving a sports sedan. You may not need the speed and power most of the time, but you're sure glad it's there when you do. Plus, you get comfort and style with your scoot. The E-3 is more than competent for everyday shooting, and its speed and burst depth handle demanding moments with ease. Then, when you're pushing pixels, the E-3′s files help you get back to pushing shutters sooner.
For photographers who aren't heavily invested in another brand's system — financially, psychologically or both — the Olympus E-3 offers great value for the money, along with the unique Four Thirds System of lenses and other accessories. Ultimately, however, the question is how well the E-3 stacks up against its nearest competitors: the Nikon D300, Canon EOS 40D and Sony Alpha DSLR-A700. Of these cameras, I've only used the 40D, so I won't hazard a guess about which is better suited for what. But I will say that the E-3 is in a niche by itself when you consider its features and the Four Thirds System lenses. Thus, the direct technical comparison may not be so clear for those who are considering subjective camera attributes in their purchasing decision.
The E-3 has so many good things going for it that it goes beyond being just another "me-too" DSLR system. It's a serious contender among its competitors and its combined features make the Olympus E-3 a truly distinctive alternative to the mainstream. If the benefits of the Four Thirds System appeal to you, the choice is clear.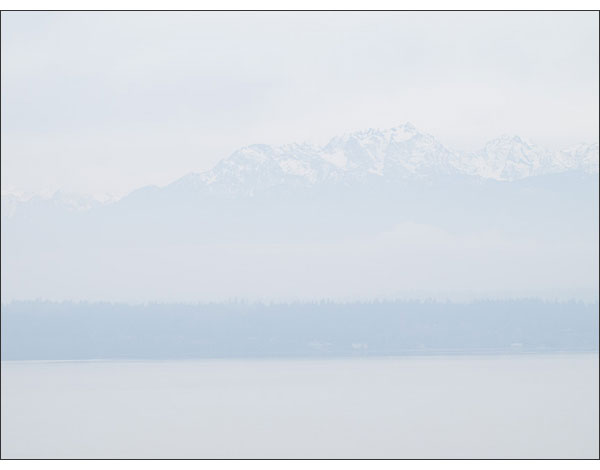 Who Should Buy It
The Olympus E-3 will please just about any type of photographer, with the exception, perhaps, of stock photographers who use only maximum megapixel machines. Wildlife photographers, in particular, will benefit from the relatively smaller and lighter long telephoto zooms that the Four Thirds System offers. Sports shooters, too, will find the system useful for all but the most demanding situations where more frames-per-second are necessary. Wedding photographers and others will appreciate the predictable metering. Finally, everyone can take advantage of features like the pivoting LCD with Live View.
- end -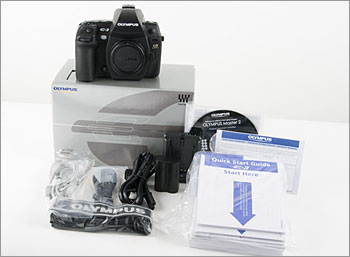 Contents of the Olympus E-3 Box

Olympus E-3 Body
Li-ion battery
Li-ion battery charger
USB cable
Video cable
Shoulder strap
Olympus Master CD-ROM
Instruction manual
Warranty card
Other Resources:
Shop For Olympus E-3 >>
Olympus E-3 User Reviews >>
Write a Olympus E-3 Review >>
Olympus E-3 Camera Specs >>
Olympus E-3 Sample Gallery >>
Olympus Web site >>
All Digital Camera Pro Reviews >>
Digital Camera Buyer's Guide >>
All Digital Camera Sample Images >>
LRY Profile >>