The New Olympus E-30 – The Creator Digital SLR
In September, at Photokina, Olympus announced they had a new Four Thirds digital SLR in the works. The new 12.3-megapixel Olympus E-30 is designed to fall between the E-520 and the flagship E-3. It shares many of the high-end features of the E-3 in a smaller, lighter body, less expensive body. Olympus calls the target E-30 buyer the "Creator." It's aimed at artists, designers, illustrators, art students, and other creative types and includes brand new technology that gives creative photographers new tools for "superior expressivity."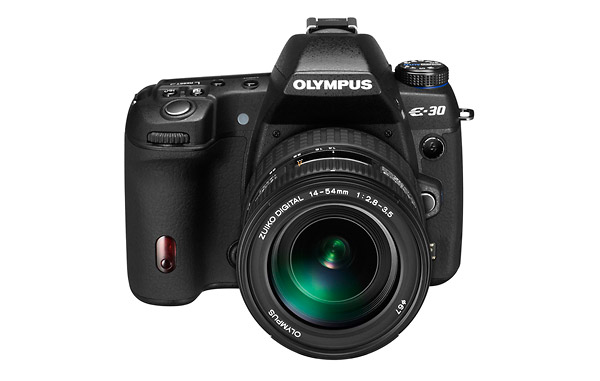 Some of the key trickle down technology the E-30 inherits from the E-3 are the 11-point auto focus system, 5 frames-per-second capture rate, 1/250th second flash sync, and tilt/swivel LCD display. It also has the latest 3-mode sensor-level image stabilization from the E-520. The body doesn't have the durability or splashproofing of the E-3. But it's closer in size to the E-3 and actually uses the same HLD-4 battery grip. The 2.7-inch HyperCrystal II LCD is actually slightly larger than the E-3′s 2.5-inch display. The camera uses a new "+" version of the True Pic III processer and also includes a brand new leveling feature which detects both pitch and roll to help photographers keep horizons level and minimize distortion.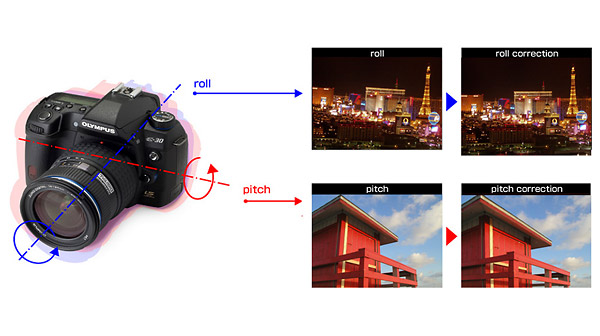 What sets the Olympus E-30 apart from other E-System DSLRs, and what Olympus hopes will attract new buyers, are the new creative tools they're introducing with the camera. Live View Multi Exposure, Art Filters, and Multi Aspect Shooting are all brand new features developed by Olympus for the E-30. Live View Multi Exposure allows you to combine up to four exposures in Live View. This can be done with RAW or JPEG files and composition, transparency, and brightness can all be adjusted in-camera. No post-processing is necessary.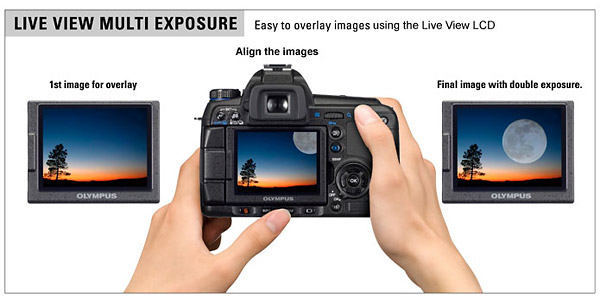 There are 6 Art Filters – Pop Art, Soft Focus, Pale & Light, Grainy Film, Light Tone, and Pin Hole. Many digital cameras include filters or other in-camera effects that can be applied to photos after they've been taken. The Olympus Art Filters are different and much more sophisticated. An indicator of how they're different is that Olympus has included them on the mode dial, under ART/SCN. If you set the mode dial to ART/SCN, you can choose between traditional scene modes or the Art Filters. Unlike standard in-camera effects, the Art Filters are actually applied during the exposure – not applied to the images after they've been taken. The "+' in the True Pic III+ processor is the new Olympus "Art Engine." The Art Engine applies what Olympus calls "active control" during image capture. This combines image analysis, exposure controls, image processing, and the Art Filter settings for a unified, balanced effect, instead of the standard in-camera filter post-processing.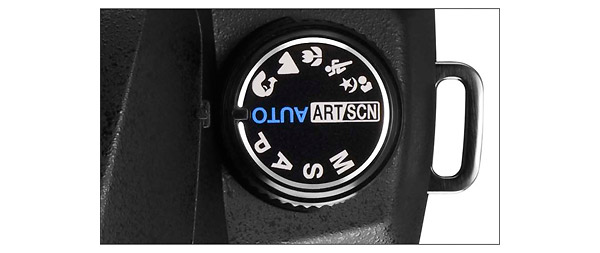 The Olympus E-30′s Multi Aspect options offer 9 different formats, including the standard 4:3, 3:2 (35mm), 16×9, 4×5, and 6×6. Combined with and image mask on the Live View LCD, photographers can compose and shoot in their preferred format. When the optical viewfinder is being used, the aspect information is recorded in the EXIF data so it can be used for cropping later.
A new 14-54mm lens is also being announced. Like all Olympus Four Thirds lenses, the Zuiko Digital 14-54mm f/2.8-3.5 II is designed to match the Four Thirds sensors in Olympus DSLRs. That means sharper images, less vignetting, minimal flare, and better overall image quality. The new 14-54mm lens is designed for better live view auto focus with the E-30 and has a splash-proof and dust-proof design. The angle-of-view is equivalent to a 28-208mm lens in the 35mm format and it can focus as close as 3 inches.
Olympus has a knack for developing and embracing new technology. They boldly abandoned the 35mm SLR platform and helped spearhead the Four Thirds System – a dedicated digital format. They also developed both Live View and the sensor cleaning technologies that are standard in digital SLRs now. Whether the creative tools in the E-30 take off or not remains to be seen. But Live View doubters (like myself – I love Live View for studio photography) have had to admit they were wrong, and the Four Thirds format hasn't gone away. Designing features for and marketing to creative types who are less interested in the number of pixels and speed of a camera may be a good move. Of course, the E-30 includes much of the best technology from Olympus's best camera, the E-3. For current Four Thirds owners looking to upgrade, the E-30 looks like a very good move – especially for studio or portrait photographers who don't need the build quality of the E-3. If you own an E-510 or E-520 and want better features and performance, the E-30 absolutely delivers. For first-time DSLR buyers, the E-30′s articulated LCD, fast 11-point auto focus, 5 frames-per-second shooting speed, and in-camera image stabilization add up to a serious competitor.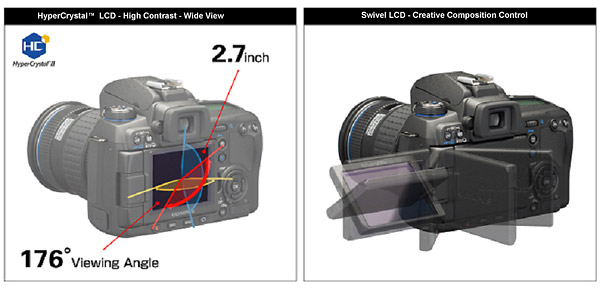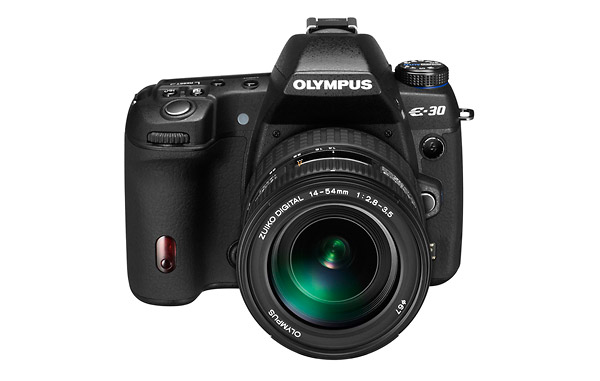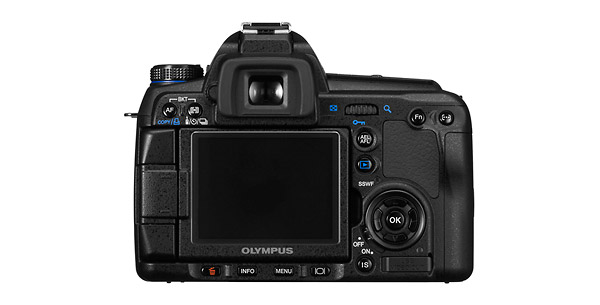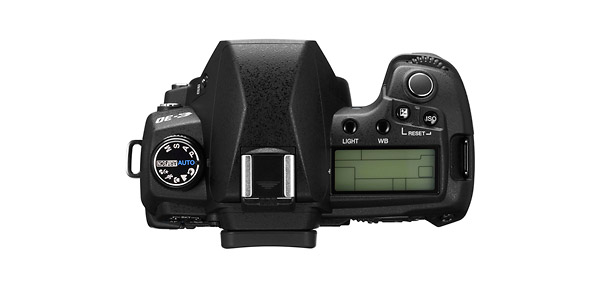 Olympus E-30 Press Release
Olympus E-30 Specs
Related Content:
Olympus E-System Digital SLR User Reviews
All Olympus User Reviews
Olympus and Four Thirds Cameras Forum
Digital SLR Forum
More Olympus News, Reviews, and Articles
Olympus Cameras Web Site
next page – Olympus E-30 Press Release >>