It took them three years to do it but Olympus finally has a new professional digital SLR – the E-5. And I was one of the lucky few that got a pre-production camera to play with. At first glance the Olympus E-5 looks almost exactly the same as its predecessor, the E-3 (see comparison photos at the bottom of the page). But when you turn it around you immediately notice the huge 3-inch tilt-swivel LCD. They had to move some buttons around to make way for that big slab of an LCD but aside from that the controls appear to be the same – except for one – the auto focus point selector now doubles as a video button. That's right, the new Olympus E-5 has video – 720p HD Motion JPEG at 30 frames per second, to be exact. It also sports a 12-megapixel High Speed Live MOS Sensor. That's 20% more pixels than the E-3 and hopefully better all-around image quality.


The new Olympus E-5 includes all of the cool features that made the E-3 a groundbreaker in 2007 – a tilt-swivel LCD (bigger and better); Live View, built-in sensor-level image stabilization; Supersonic Wave Filter dust-reduction system; and a weather-sealed body with a burly magnesium chassis. Now it also includes some of the cool features Olympus introduced later – Art Filters; selectable aspect ratios, and I believe it has the same built-in electronic level Olympus debuted in the E-30. It also uses the excellent Zuiko Digital lens line. One of the things that's often said about Olympus is they don't make a bad lens – even their kit lenses are excellent.
Olympus E-5 DSLR Hands-On Video Preview
I had a pre-production E-5 for a few days. I took a few pictures, shot some video with it (and of it) and basically got a feel for the camera. In spite of the increased resolution (compared to the E-3), larger LCD and HD video, the E-5 doesn't feel like a dramatic update. For the most part it looks, handles and behaves like the E-3. I have to admit I found myself thinking it wasn't quite enough. That may be a hasty reaction, though. The Nikon D3S and D700 are both 12-megapixel cameras and no one looks down on them. Yes, they both have full-frame sensors but still – I believe the 12-megapixel Four Thirds sensor has room for improvement. Olympus says of the image quality, "The E-5 camera achieves the highest image quality of any Olympus camera by pairing a 12.3 megapixel High-Speed Live MOS Sensor with a TruePic V+ image processing engine that boasts new "Fine Detail Processing" technology for greater detail in the photograph." The camera I had didn't have final firmware so I'm not allowed to share any of the photos I took and I didn't do any kind of scientific comparison. But I'll go out on a limb and say ISO 800 looked pretty damn good. Unfortunately, you'll just have to take my word for it.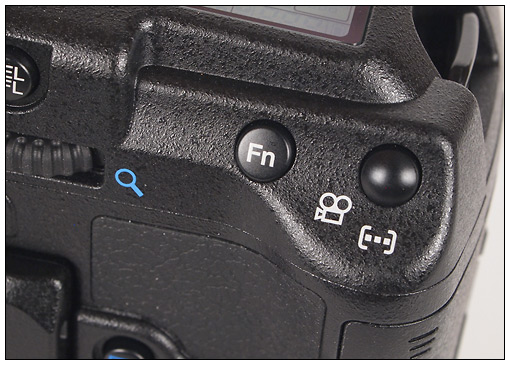 The Olympus E-5 will be available in October for $1699.99.
Related Content:
All Olympus User Reviews
All Digital SLR Reviews
Olympus Cameras & Four Thirds Forum
Digital SLRs Forum
Olympus Digital Cameras Web Site
Olympus E-5 Compared To Olympus E-3