Olympus E-620 – Super Compact DSLR
Olympus sent me a pre-production "First Look" E-620 a couple of weeks ago. Since it didn't have production firmware I wasn't able to evaluate image quality. That will come later. I was able to get a feel for the size, weight, and control layout, though. The first thing I did was put the E-620 next to the E-520 so I could compare the two. The size differences are subtle, but the E-620 is smaller. It's most noticeable in the E-620′s minimal grip and when comparing the two cameras from the bottom (see photos, below). According to the specs, both cameras weigh the same, and the E-620 is actually a hair taller. But the overall volume of the E-620 body is about a quarter inch smaller in width and depth. That may not seem like much, but every millimeter counts when you're traveling light. One of the reasons I like the Olympus Four Thirds digital SLRs is the relatively small kit I need to carry when I'm shooting in the backcountry. And when you consider the new articulated LCD, the new body is even more impressive. The E-620 is the smallest digital SLR with a full tilt/swivel LCD as well as the smallest DSLR with built-in sensor-shift image stabilization. Those two details really set this camera apart from everything else on the market.
For more size comparison, check out my Olympus E-620 box opening video.
Olympus E-620 (right) And E-520 Comparison Photos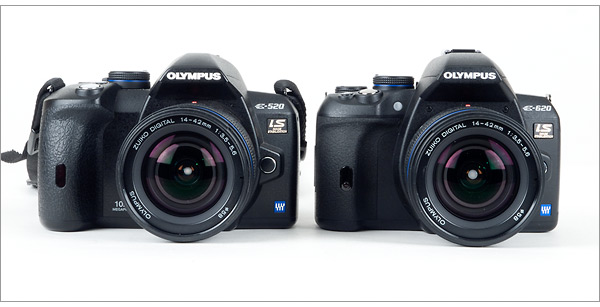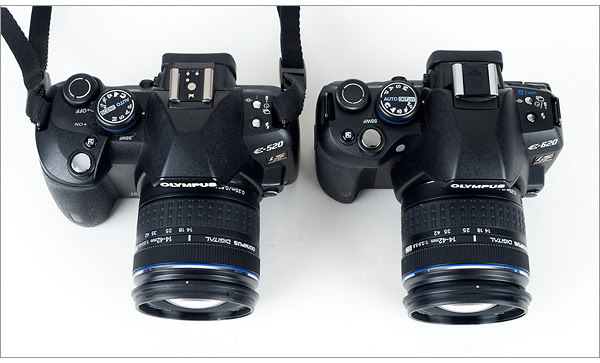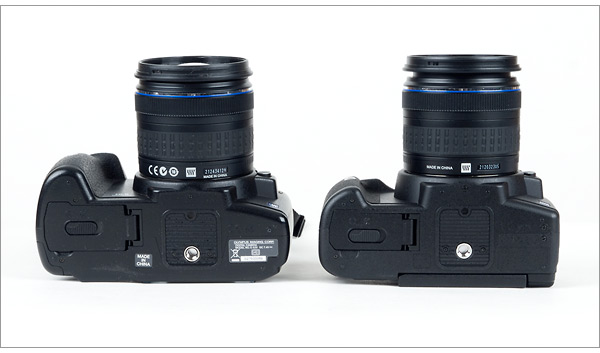 next page – Olympus E-620 Camera Controls And Creative Tools >>