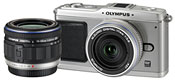 Today, Olympus introduces their first Micro Four Thirds camera – the E-P1. The compact new Olympus E-P1 has a 12.3-megapixel sensor and it's Olympus' first changeable lens camera to offer a movie mode (720p HD). The Micro Four Thirds format was announced last August and since then I've been anxiously waiting to find out what Olympus would do with it. Panasonic has introduced two Micro Four Thirds cameras, the Lumix G1 and the GH1 with HD video. But until now, the only Micro Four Thirds action we've seen from Olympus was behind glass at tradeshows. But now there's an Olympus Micro Four Thirds camera we can bank on – and it's not just a list of specs and features, either. I was lucky enough to get a pre-production E-P1 last week so I could get a feel for the camera, make my own product photos and shoot a hands-on video preview of the new Micro Four Thirds camera.



The Olympus E-P1 was named in honor of the fiftieth anniversary of the Olympus Pen half-frame film camera. The lines of the E-P1's sleek metal body are an obvious nod to that heritage. And like the Olympus Pen-Series, the Micro Four Thirds format E-P1 offers high-performance in a smaller camera body. Basically, the Micro Four Thirds format eliminates the SLR mirror so the camera and lenses can be smaller and lighter (for more on the Micro Four Thirds format, read our Micro Four Thirds Introduction article).The E-P1's stainless steel and aluminum body is comparable in size to a 35mm rangefinder and has a solid, metallic feel that traditionalists will love. Unlike the Panasonic Lumix G-Series Micro Four Thirds cameras, which have electronic viewfinders (EVF), the Olympus E-P1 only uses only a 3-inch, 230k-pixel LCD for viewing and composing, allowing them to make the camera even smaller. That allowed Olympus to make the E-P1 the smallest 12-megapixel digital camera with changeable lenses. It's as if you chopped the top off one of the smallest digital SLRs and then squished the body front to back (see below). Lens diameters are also smaller and less glass makes the camera even lighter. The E-P1's size feels closer to high-end compacts like the Canon G10 than a digital SLR. But the EP-1's 12-megapixel Four Thirds sensor is much larger than the G10's and can deliver far better image quality.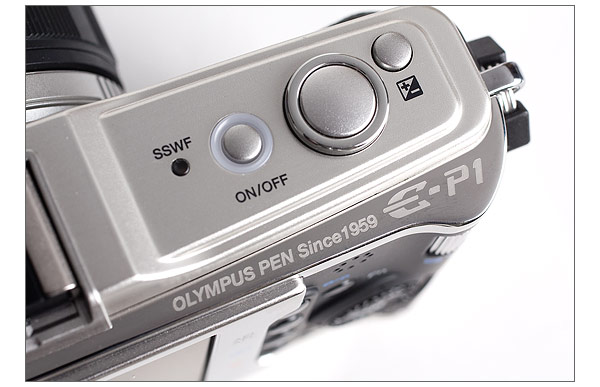 The E-P1 Olympus sent me was a pre-production camera so wasn't able to evaluate image quality or test things like speed or auto focus performance. But I'll be all over this camera when they have production units available. There is one detail to note about image quality – the new True Pic V image processor is supposed to have a significantly better signal-to-noise ratio and that should mean better high-ISO image quality (the E-P1 maxes out at ISO 6400). Since the Four Thirds sensor is smaller than APS-C sensors in most DSLRs, it's a bit much to expect the E-P1 (as well as Four Thirds digital SLRs) to match their image quality. But I've been really happy with the 12-megapixel sensor in the Olympus E-30 and E-620. If the new processor reduces noise and further improves image quality, I will be very pleased. The E-P1 has an image-stabilized sensor so image stabilization is available regardless of the lens you use. If you've got Leica M-rangefinder lenses – you can get a Micro Four Thirds M-mount adapter and you'll be able to shoot image-stabilized photos with Leica glass on the E-P1.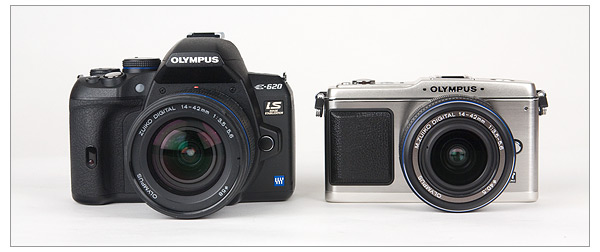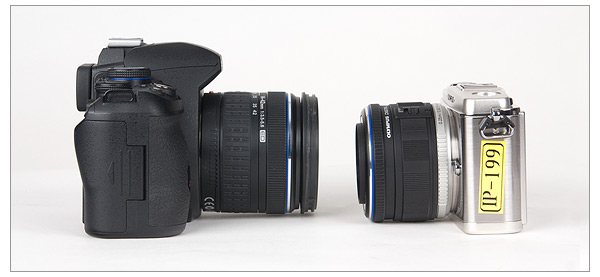 Olympus joins Nikon, Canon, Panasonic and Pentax in offering a high-end digital camera with HD video. The E-P1's movie mode is intuitively placed on the mode dial. Video is captured at 1280 x 720 resolution (720p HD) with stereo sound and the video files are in the user-friendly and easy to edit .AVI format. The Art Modes introduced with the E-30 are available for video now, too. Unlike the current batch of video-enabled digital SLRs, the E-P1 does have auto focus in the video mode. You can select from single shot AF, continuous, manual focus and S-AF/MF (single shot with manual override). You can also use the AEL/AFL button to activate auto focus in the video mode. (Editor's note: the original text stated that the video mode only allowed manual focus. Today, while using the camera at the official introduction I discovered my error – hence the correction. I apologize for the mistake.)
The E-P1 has a lot more valuable and thoughtful features. A couple of my favorites are the digital level tool introduced with the E-30 and the new manual focus assist, which automatically zooms in when the manual focus dial is adjusted. The camera also includes selectable aspect ratios, a sensor dust-reduction system, multiple exposure, Art Filters (for stills and video), a new 324-segment metering system and 5 built-in music themes for slideshows and videos.
Conclusion
The new Olympus E-P1 Micro Four Thirds should appeal to all kinds of photographers. Pros and enthusiasts who want a compact camera with excellent image quality, consumers who want to upgrade from a standard point-and-shoot, and rangefinder purists will all find something to like about the E-P1. Personally, I'm excited about an even more packable, high-performance, changeable-lens Olympus camera that can deliver DSLR image quality. The sexy metal body and movie mode don't hurt, either.
The Olympus E-P1 should be in stores in July. Suggested retail for the body alone is $749.99 and the kit price for the camera with the ED 14-42mm f/3.5-5.6 Zuiko Digital zoom is $799.99.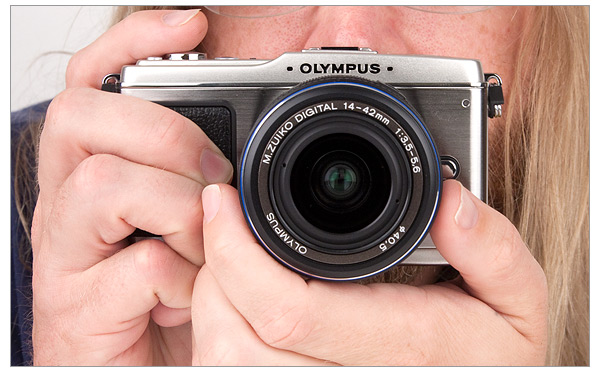 Related Content:
All Olympus User Reviews
All Olympus DSLR Reviews
Olympus Cameras and Four Thirds System Digital SLRs Forum
Digital SLR Cameras Forum
More Olympus News
Olympus Web Site
next page – Olympus E-P1 Press Release >>
More Olympus E-P1 Photos >>