Traveling with photography equipment is always tricky. Either you sacrifice comfort and convenience for quality or you sacrifice quality and versatility for convenience. International travel with multiple plane changes is even trickier. In the past I've traveled with a suitcase, a laptop shoulder bag and a 30-pound camera backpack. If you end up on a small plane where the camera pack doesn't fit in the overhead, you have to check it and no photographer likes to let their camera gear out of their sight. Once, I got rerouted through London and they only allowed one bag through security. It didn't matter that one of my bags had my laptop and the other was full of camera equipment. Only one bag was allowed. Luckily, I managed to take the bags apart and stuff everything into the backpack long enough to get through security. The bottom line is – traveling with a professional camera kit is usually painful and nerve-wracking. Unless, that is, you take a compact system camera like the Olympus E-P3.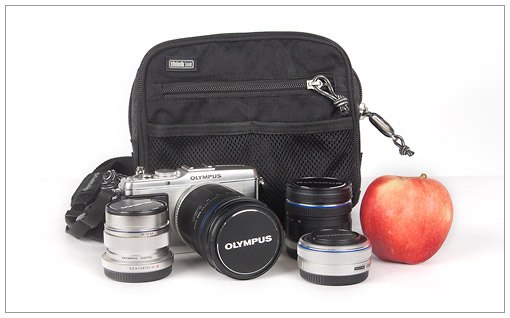 I got married this summer and went to Europe on my honeymoon. Rather than carry my big camera backpack and digital SLR gear, I took the Olympus E-P3 Micro Four Thirds camera. I packed the camera along with four lenses in a bag the size of two sandwiches and carried that inside my laptop bag. I had an optical range of 18-300mm (35mm equivalent), great image quality and it was no worries at the airport. The video below shows the Olympus E-P3 camera kit I took and how I packed it. The video also includes a few photos I took with the E-P3, just to show it's up to the task.
Olympus E-P3 Pen Camera Intro Video:
The E-P3 wouldn't be the right camera for everyone and every situation. If I were shooting mostly action sports it wouldn't be my first choice. But it's great for most travel photography and it was perfect for my honeymoon.
Olympus E-P3 Pen Camera Hands-On Introduction >>
Related Content:
All Olympus Camera User Reviews
Olympus Cameras Forum
EVIL & Micro Four Thirds Cameras Forum
More Olympus Camera News And Articles
Olympus Web site