If the Olympus OM-D E-M5 was out of your price range, but the E-PL5 and E-PM2 weren't enough camera for you, then you'll be very happy about the new Olympus E-P5 Pen. Olympus is introducing the E-P5 to celebrate the 50th anniversary of their Pen F 35mm film camera. It's a premium Pen camera with a beautiful retro-styled all-metal body, dual control dials, and the same great 16-megapixel sensor as the OM-D E-M5. It also has the OM-D's excellent 5-axis built-in image stabilization, 9 FPS burst rate and 3-inch tilting touchscreen LCD display. New features being introduced in the E-P5 are built-in Wi-Fi and a top shutter speed of 1/8000th of a second – that's the fastest mechanical shutter speed of any mirrorless camera.

Olympus E-P5 Pen Key Features And Specs:
Same 16.1-megapixel Live MOS Sensor as Olympus OM-D E-M5
TruePic VI image processing
Built-in Wi-Fi
Fast 0.5-second startup time
5-Axis sensor-shift image stabilization
Dual control dials
3-inch, 1.04-million-dot tilting touchscreen LCD display
Touch auto focus and touch shutter
First Olympus camera with focus peaking
1920 x 1080 full HD video in .MOV format
Sensitivity: ISO 200 to 25,600
9 frames per second high-speed burst with focus locked (5 FPS in continuous AF mode)
Art Filters
Photo Story feature for in-camera collage images
Accessory port
Built-in pop-up flash with 1/320th second flash sync
All-metal body
I've been a fan of the Olympus Micro Four Thirds cameras since they were introduced. I think the smaller Four Thirds sensor strikes the perfect balance between image quality and camera kit size for the mirrorless camera category. I also loved the previous Olympus Pen flagship camera, the E-P3. I liked it so much I took it to Europe for my honeymoon and left my heavy, bulky digital SLR gear at home (read my Olympus E-P3 review). How's that for a vote of confidence? Two of the main issues I had with the E-P3 have been addressed in the E-P5, too. The 16-megapixel sensor introduced in the OM-D delivers much better image quality and the E-P5's 9 frames per second burst rate is now sports worthy. I still wish Olympus had fast, pro-level zoom lenses for the Micro Four Thirds format and I wish the continuous auto focus was better. However, those are two things that I've found I can comfortably work around in situations where I want to use the smaller, lighter Micro Four Thirds cameras.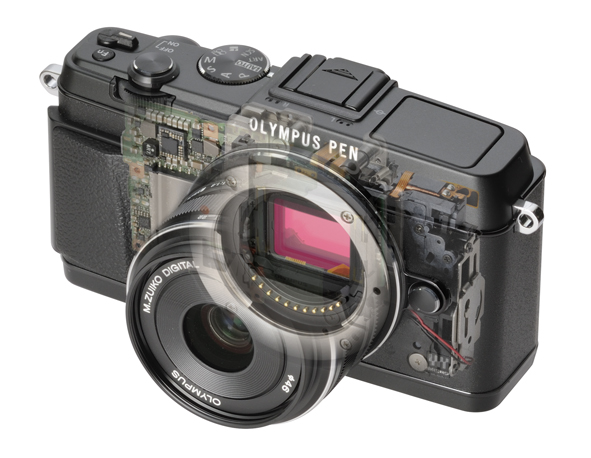 I'm not normally a person who really cares that much about how a camera looks or feels. But in the case of the E-P3, I really enjoyed the camera's solid metallic feel. Like the E-P3, the E-P5 is undeniably handsome and has a solid metallic body. Olympus also updated the controls so there are separate control dials on the front and back – one for shutter speed and one for the aperture – just like a professional digital SLR. There's also a customizable, two-position Fn Lever around the movie button that can be set to control and access different camera functions like focus mode, white balance, ISO, etc. Good controls are one of the things that can really elevate the quality of a camera. The new, improved dual dial exposure controls on the E-P5 look like a nice improvement over previous Pen cameras. They will definitely make my fingers happy.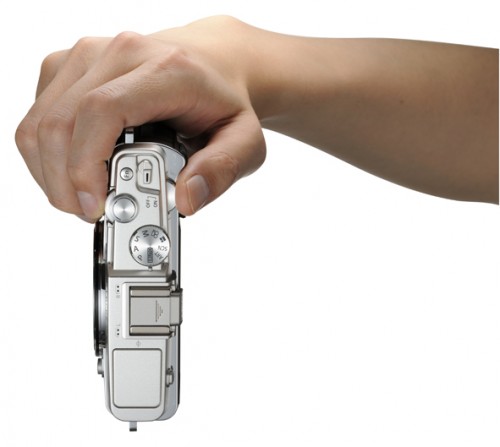 The E-P5 is the first Olympus Micro Four Thirds camera to include built-in Wi-Fi. We're all used to taking and sharing photos directly from our Smart Phones now. But no matter what anyone says, taking pictures with your phone is a compromise. With the E-P5's built-in Wi-Fi and Olympus' free Smart Phone app, you can wirelessly transfer your photos from the camera to your phone so you don't have to make any compromises on image quality or exposure control with the photos you share from the field. The app also allows you to use your phone or tablet as a handheld self-timer and remote control, complete with live view monitor, touch auto focus and touch shutter. You can even transfer GPS data from your phone to the camera so your photos have embedded location information.
One of the main issues with Wi-Fi memory cards and cameras with built-in Wi-Fi is connecting the camera and Smart Phone. If you've ever had trouble pairing a Bluetooth device, you'll understand what I'm talking about. Olympus has attempted to streamline this process using QR codes so you don't have to mess with a bunch of settings. The camera displays a QR code, which you read with your phone to get them synced. I haven't seen this system in action so I can't say whether it really works. But I'm definitely curious to try it because simplicity is definitely the key to making built-in Wi-Fi a pleasant experience instead of a source of frustration.
The main differences between the Olympus E-P5 Pen and the OM-D E-M5 are the E-M5's built-in electronic viewfinder (EVF), weatherproof body and a 3-inch OLED touchscreen display. The E-P5 has the same 16-megapixel sensor with a sensitivity range of ISO 200 to ISO 25,600, improved 5-axis image stabilization, the same fast 9 FPS burst rate and a 3-inch tilting LCD touchscreen instead of an OLED. The E-P5 also has a built-in pop-up flash with a faster sync speed of 1/320th second, built in intervalometer for time-lapse photography, focus peaking for better manual focus, and as already mentioned – built-in Wi-Fi. You really don't give up much with the E-P5 and you get a whole bunch of significant new features. If you add the optional VF-4 electronic viewfinder (below), you give up even less. With a 2.36-million-dot display and 1.48x magnification, the new EVF more than doubles the resolution compared to the previous VF-3 EVF and gives you a much bigger, easier to see image. In fact, Olympus says the VF-4's magnification is better than any other mirrorless camera and better even than any APS-C digital SLR. They've also added a sensor that detects your eye and automatically turns it on or off. I really like having an EVF for shooting in bright light, recording video and for panning photos. However, I don't need it all the time so using the accessory EVF is a great compromise. I'm really looking forward to checking the VF-4 out. It sounds like a serious improvement over the last, first generation Olympus accessory EVF that I used.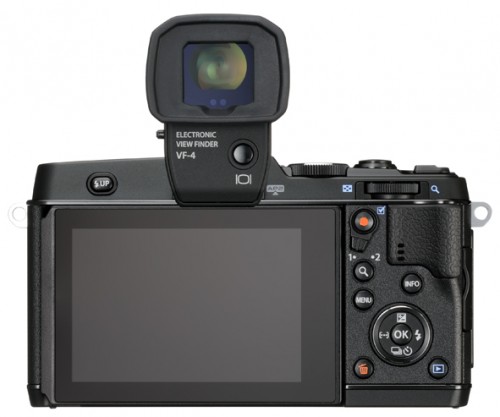 I'm excited about the new Olympus E-P5 Pen. I think the OM-D is a great camera. But since my excellent experience with the E-P3, I've been waiting with fingers crossed for its replacement. With nearly all of the performance of the OM-D and Wi-Fi in a beautiful all-metal body, the E-P5 is the Micro Four Thirds camera I would choose for myself.
The Olympus E-P5 Pen camera is scheduled to be available this month (May, 2013). It will come in solid black, white, or black and silver. Suggested retail for the body alone is US $999.99. The E-P5 will also be sold in a kit with the new VF-4 viewfinder and 17mm f/1.8 lens (34mm equivalent) for $1449.99. Olympus is also introducing the M.Zuiko 17mm f/1.8, 45mm f/1.8 and 75mm f/1.8 lenses with black finishes. Previously, they were only available in silver.
Related Content:
All Olympus Digital Camera User Reviews
All Compact System Camera User Reviews
Olympus Digital Cameras Forum
Compact System Cameras Forum
All Compact System Camera News & Articles
All Olympus News
Olympus Web Site