Introduced last week at the annual CES tradeshow, the new 14-megapixel Olympus VG-160 digital camera offers a 5x zoom lens, 720p HD video, creative "Magic Art Filters," Intelligent Auto (iAuto) mode, a 3-inch LCD display and more in an ultra-compact pocket-sized camera – for less than US $100! You sure get a lot more for your money with digital cameras these days. A few years ago, a camera like the VG-160 would have cost at least twice as much – and it probably would have been a fair bit larger, too.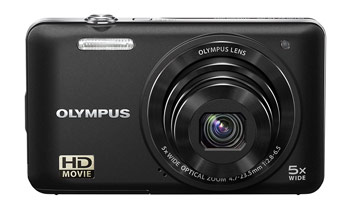 Besides the features listed above, the Olympus VG-160 also has auto focus tracking, face detection, in camera panorama and 29 scene modes. Magic Filter options include Fish Eye, Pin Hole, and three new ones called Punk, Watercolor and Sparkle. The VG-160 dimensions are 3.78 in. (96mm) x 2.23 in. (56.5mm) x 0.76 in. (19.3mm) making it smaller and almost as thin as most smart phones!
The Olympus VG-160 point-and-shoot pocket camera will be available in orange, red, silver and black. It is scheduled to be in stores in February of 2012. The suggested retail price for the VG-160 is $99.99.
Olympus VG-160 Press Release >>
Related Content:
All Olympus Digital Camera Reviews
Olympus Digital Cameras Forum
General Digital Cameras Forum
All Olympus News
Olympus Web Site