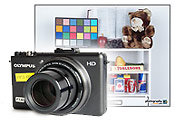 The new Olympus XZ-1 is one of the coolest new compact cameras to be introduced this year. It's got a super-fast f/1.8 Zuiko zoom lens, RAW, manual exposure and the same accessory port as the Olympus Pen cameras. I got a pre-production XZ-1 from Olympus so I could have an article and video posted when it was announced (Olympus XZ-1 preview video). Now I have a production XZ-1 that I can actually shoot with and share photos. I'm getting things started with high-res studio sample photos at all ISO settings. Download 'em, print 'em and compare to your pixel-peeping heart's content.

The Olympus XZ-1 sample photos below were shot RAW at f/5.6 in aperture priority and converted to TIFF files with the included Olympus Viewer 2 software. The graybar, logo and text were added in Photoshop and they were then re-saved as highest quality JPGs. No noise reduction or other post-production adjustment have been applied.
Click on the thumbnails below to see the Olympus XZ-1 sample photos at their original 10-megapixel resolution.

Related Content:
Olympus XZ-1 User Reviews
Write An Olympus XZ-1 Review
All Olympus Camera User Reviews
Olympus Cameras Forum
Digital Cameras Forum
More Olympus Camera News And Articles
Olympus Web site