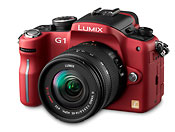 Panasonic has announced pricing for the first Micro Four Thirds digital camera, the LUMIX DMC-G1. The Panasonic Lumix G1 will be available for $799.95 in mid-November as a kit with the LUMIX G VARIO 14-45mm/F3.5-5.6 ASPH/MEGA O.I.S. kit lens. You can choose from red, blue, and black G1 camera bodies. A 45-200mm f/ 4.0-5.6 LUMIX G VARIO MEGA O.I.S. Micro Four Thirds telephoto zoom lens will also be available for $349.95. Today's press release also says that Panasonic has more lenses and a second Micro Four Thirds camera with HD video capability in the works for 2009. A Micro Four Thirds camera with HD video could be the ultimate high-end consumer camera!

Panasonic and Olympus announced the Micro Four Thirds format in August. (Micro Four Thirds Announcement) Built around the Four Thirds sensor, the Micro Four Thirds system does away with the traditional SLR mirror assembly. Removing the mirror makes smaller lenses and camera bodies possible while preserving the image quality the Four Thirds sensor (The Four Thirds sensor is much larger than compact camera sensors and larger pixels mean better image quality). Panasonic is the first camera manufacturer to bring a Micro Four Thirds camera to market. Olympus showed a Micro Four Thirds concept camera at the Photokina tradeshow, in September (Olympus Micro Four Thirds Concept Camera). But they have yet to reveal any camera specs or a potential release date for their camera.
I am cautiously excited about the Micro Four Thirds cameras. I'm always interested in smaller and lighter since I do a lot of backcountry photography where camera weight and size make a big difference. I've enjoyed using the Olympus Four Thirds digital SLRs and look forward to seeing if the Micro Four Thirds cameras can strike a useful balance between size, image quality, and performance. Keep your eyes open for a Panasonic Lumix DMC-G1 pro review on PhotographyREVIEW.com.
Official Panasonic Lumix DMC-G1 Pricing Press Release >>
Related Content:
Panasonic digital camera reviews
Four Thirds digital camera forum
Digital SLRs forum
All digital camera reviews
Official Panasonic Lumix digital cameras Web site