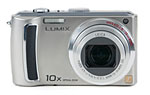 The Panasonic Lumix TZ5 is a compact digital point-and-shoot camera with a 10x Leica 28mm wide-angle zoom lens. The TZ5 has 9.1 megapixels of resolution, a large and vivid 3-inch LCD screen, an Intelligent Auto mode as well as regular Auto and scene modes, QuickTime and HD video recording, and a special Clipboard mode geared toward travelers.
Want to buy an Panasonic Lumix DMC-TZ5?
Compare prices and shop for a Panasonic Lumix DMC-TZ5 digital camera >>

Pros
10x optical zoom — one of the longest lenses on a pocket point-and-shoot.
28mm wide-angle lens makes it easy to capture the whole scene.
Intelligent Auto mode really helps get great pictures.
QuickTime and HD video recording with zoom capability.
2 frames-per-second continuous burst shooting mode.
Optical image stabilization.
Fits in a pocket or purse.
Large, easy-to-see LCD screen.
Clean, simple design inside and out.
Long battery life.

Cons
Image quality could be better.
No manual exposure options.
No optical viewfinder.
Flash takes a while to recharge.

Introduction
I bought the Panasonic Lumix TZ5′s slightly lower-end sibling, the TZ4, for myself last June. Both models share a 28mm, 10x zoom lens, which, aside from its purse-friendly size, was the camera's main selling point for me. Later, I was given the TZ5 to review. The main differences between the two cameras are the TZ5′s 9.1 megapixels of resolution and 3-inch LCD screen versus the TZ4′s 8.1 MP and 2.5-inch LCD. Also, while both cameras have QuickTime video recording capabilities, the TZ5 takes it a step beyond with impressive HD resolution and output. Otherwise, the two cameras are virtually indistinguishable.
I used the TZ5 in and around my home in Missoula, Montana, to shoot landscapes, flowers, friends and their kids, self-portraits, a political rally, a Day of the Dead parade and a graffiti wall.
The TZ5 has its limitations, which I will detail later in the review, but in general, I'm pleased with the performance of this camera (and the TZ4).
next page – Panasonic Lumix DMC-TZ5 Camera Features >>