Panasonic Lumix DMC-TZ5 Conclusion
The Panasonic Lumix TZ5 is a cool-looking, user-friendly little camera with one of the widest and longest zoom lenses available in a point-and-shoot. The 28mm-280mm Leica zoom lens provides a lot of creative options for framing and shooting pictures.
Intelligent Auto mode is a great addition to the usual Auto and scene modes, and really does help get better pictures by identifying scenes and adjusting focus and exposure for them. Metering and exposure is good in average or better lighting conditions. While the camera does not allow manual shutter and aperture settings, adjustments can be made to ISO, white balance and auto focus modes. Optical image stabilization helps compensate for blur caused by shaky hands. Image quality is generally good and compares favorably with other cameras in its size and price range.
Video recording is available in QuickTime and HD formats. Those with high-definition televisions can even hook the TZ5 up directly to their HDTV for HD output.
Overall, I think the TZ5 is nearly perfect for tucking in my purse so I'm never without a camera. The one area where I'd like to see real improvement is image quality, particularly noise. But for now, it's a tradeoff I'm willing to make for the privilege of carrying a 28mm-280mm lens in my purse.
Who Should Buy It
The Panasonic Lumix DMC-TZ5 is an excellent choice for:
Beginning to intermediate photographers who want a camera that is easy to learn and use.
Photographers of any skill level who want one of the widest, longest zoom lenses that will fit in their pocket.
HDTV owners who want to capture and output HD video.
Those who should pass on the TZ5 include:
Intermediate to advanced photographers who demand excellent image quality.
Photographers who want manual control of shutter and aperture settings.
Action photographers or anyone else who needs an optical viewfinder.
- end -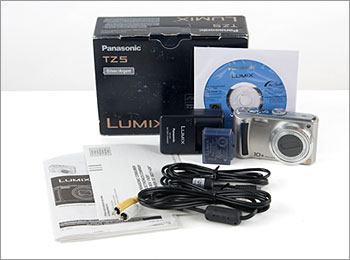 Contents of the Panasonic Lumix DMC-TZ5 Box

Panasonic Lumix DMC-TZ5 digital camera
Battery Charger
Battery Pack
Battery Carrying Case
AV & USB Cables
Strap
CD-ROM




Other Resources:
Panasonic Lumix DMC-TZ5 Announcement >>
Compare Prices For Panasonic Lumix DMC-TZ5 >>
Panasonic Lumix DMC-TZ5 User Reviews >>
Write a Panasonic Lumix DMC-TZ5 Review >>
Panasonic Lumix DMC-TZ5 Camera Specs >>
Panasonic Lumix DMC-TZ5 Sample Gallery >>
Panasonic Web site >>
Download Panasonic Lumix DMC-TZ5 Camera Manual >>
All Digital Camera Pro Reviews >>
Digital Camera Buyer's Guide >>
All Digital Camera Sample Images >>
All photos copyright Patia Stephens and/or PhotographyREVIEW.com.
Read Patia's blog and see more of her photos at www.PatiaStephens.com
next page – Panasonic Lumix DMC-TZ5 Camera Menus >>