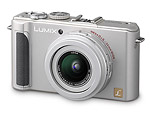 2008 is shaping up to be the year that compact cameras got their mojo back. Technically it started with the Canon PowerShot G9 and the "Return of RAW" in late 2007. And 2008 has seen several new digital camera announcements that aspire to pack DSLR-like photographic control and image quality into normal-sized pockets. Among the contenders so far are the aforementioned Canon G9, Sigma's DP1, Ricoh's GX200, and now the long-awaited evolution of Panasonic's LX-series, the LX3. There are also rumors of a RAW-capable Nikon P6000 to be released in August. All this with Photokina 2008 just around the corner!
There was some question about whether we would ever see an LX3. As a loving Panasonic Lumix LX1 owner looking to upgrade, I was particularly interested in this week's announcement. What kind of heritage will be established by the next generation LX digital camera? As usual the announcement is filled with flowery promises of photographic nirvana, so let's see what we can expect by reading between the lines of Panny's LX3 press release.

First, the things that make the LX3 an LX are all here: RAW format, 16:9 sensor, and a sharp, fast Leica lens. RAW is finally making a comeback with other digital camera manufacturers, although Panasonic has always offered it with a few of their higher-end compacts. Panasonic was also the one of the first camera makers to provide 16:9 capture as a "standard feature" in the LX-series design, and this has carried forward in the LX3.
The big news are the LX3′s new lens and new 10-megapixel sensor. The LX3′s lens is a 24mm to 60mm Leica zoom lens sporting a fast f/2.0 maximum aperture at 24mm and a (still fast) f/2.8 at the telephoto end. ("Fast" here meaning able to let in more light, which enables faster shutter speeds.) I think this is the fastest lens on any compact digital camera and it's an outstanding feature for a RAW-capable camera. The only potential drawback I see is the limited telephoto length of 60mm. Personally I would have preferred the LX-3 be spec'd with the old 28mm wide-angle lens and a 135mm or 200mm telephoto. But this just gives me an excuse to buy Panasonic's next generation TZ-series camera (crossing my fingers for RAW and the DMC-LX3′s new sensor). On the other hand, shooters comfortable with rangefinder cameras will probably feel right at home in the new extra-wide range (particularly with the new external optical viewfinder accessory). Well, Sir Michael Phillip Jagger got it right when he said, "You can't always get what you want."
Panasonic made the decision to go for quality over quantity with the LX3′s new sensor. Instead of doing the usual and increasing resolution, they kept the camera at 10-megapixels and increased the light-sensitive area of each pixel. In theory, this increases the sensitivity and dynamic range of the sensor and should deliver better image quality than adding more – and smaller – pixels would. However, I'm of the show me, don't tell me camp. I'll wait to see the image quality before I get too excited.
So far so good. As for the rest, we'll just have to see when the camera ships. There's a lot of promise here: Venus Engine IV, new 10-megapixel CCD sensor with larger photosites, new control features, new body style, film modes, 1cm macro focusing, hotshoe, etc. The optional optical viewfinder may actually be a useful accessory, particularly if the auto focus is at least as good as the previous models' AF (and I hope it's better!). And finally, the elephant in the room everyone will be watching for: low light, high ISO performance and great image quality… Let's hope Panasonic really delivers. Nonetheless, my wallet is feeling lighter already.
Official Panasonic Lumix DMC-LX3 Press Release
About Laurence Chen
Laurence Chen is a freelance editorial, commercial, and wedding photographer based in Seattle, Wash. His clients have included Fortune Magazine, Sunset Magazine, and America 24/7. Visit his portfolio at www.Lchenphoto.com and buy his e-book, "Take Control of Buying a Digital Camera", at http://www.takecontrolbooks.com/buying-digicam.html.
Related Content:
Panasonic Lumix DMC-LX2 pro review
Panasonic digital camera user reviews
Digital Cameras forum
All Panasonic digital camera news
Panasonic Web site
Laurence Chen's Profile >>