The Pentax K-01 mirrorless camera got a very mixed response when it was announced, a little over a year ago. It was big (pretty much the same size as the Pentax K-30 DSLR) and the funky design, by celebrity designer Marc Newson, was polarizing – either you loved it or you hated it. However, the camera had a bunch of benefits, not the least of which is an excellent 16-megapixel APS-C sensor – one of the best around, even. It can also use all K-mount lenses without an adapter (there's a huge used market for these lenses) and it shoots in Adobe's native DRG RAW format as well as JPEG. We never got the K-01 in for a proper review, but when a local photographer I know picked one up, I asked him to bring it over so we could make a set of studio tests.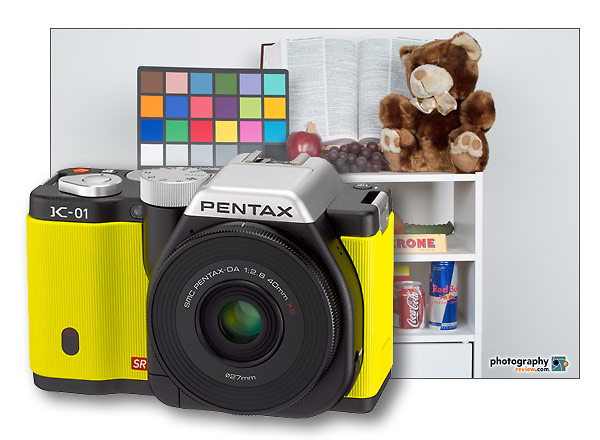 I'm very impressed with our Pentax K-01 studio tests. The color is very neutral and accurate, detail is excellent and the noise is very controlled for an APS-C sensor camera. With proper exposure, I think the K-01 is useable all the way up to ISO 6400 – and that's not something I'm used to seeing with an APS-C sensor camera. Noise is visible at 100% at ISO 6400, but at normal enlargement or viewing sizes, no one will see it. The detail at high ISO settings is excellent. Check the bear's fur and dictionary text at ISO 6400. That text is really small but it's still mostly discernible at ISO 6400. To put things in perspective, take a look at our studio samples from other APS-C cameras and see how they compare at high ISO.
These Pentax K-01 tests were shot RAW with the 40mm f/2.8 pancake lens at f/8 in aperture priority mode, using the tungsten white balance preset. The RAW images were converted to TIFFs in Lightroom and the text, graybar and logo were added in Photoshop before they were resaved as maximum quality JPEGs. No adjustments, noise reduction or sharpening were applied at any point. Please feel free to download, print and compare any way you see fit.
Warning: these files are big – be patient while they download.
Pentax K-01 Sample Photos
Pentax K-01 Intro >>
All Digital Camera Sample Photos >>
Thanks to Joe Hall for bringing over his Pentax K-01 so we could make these tests. Joe is one of the founders of XO Skins, manufacturers of crazy strong display protectors for cameras, Smart Phones, tablets, etc.
Related Content:
All Pentax Camera User Reviews
Pentax Cameras Forum
Compact System Cameras Forum
Pentax Camera News And Articles
Pentax Cameras Web Page
All Digital Camera Pro Reviews
All Digital Camera Studio Sample Photos