Fujifilm X-Pro1 digital rangefinder is his dream camera. Every time I write about the X-Pro1 I get an excited call from him so he can pump me for details. He loves how the X-Pro1 combines traditional rangefinder styling with modern digital features and excellent image quality. Alas, the X-Pro1 is out of his justifiable price range. So he's going to be very happy about the new Fujifilm X-E1. It has the same core features as the X-Pro1 – Fujifilm's unique 16-megapixel APS-C X-Trans CMOS sensor and X-mount lens compatibility – but at a much more palatable $1000 price point (body only). Travel photographers and others who appreciate a compact camera will also be pleased to learn that the X-E1 is about 30% smaller than the X-Pro1, which turned out to be considerably larger than a lot of us expected.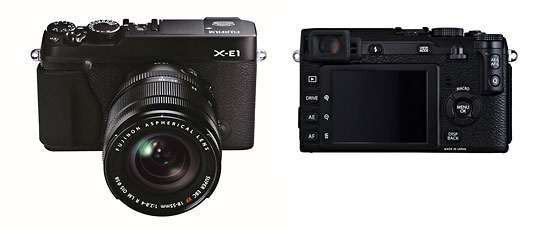 Update: We've got a Fujifilm X-E1 in for review now and studio sample photos have been shot and posted. Check them out to see if Fujifilm's X-Trans sensor lives up to its reputation:
Fujifilm X-E1 Studio Sample Photos >>
Fujifilm X-E1 Key Features and Specs:
Same 16-megapixel APS-C X-Trans CMOS sensor as the X-Pro1
XF interchangeable lens compatibility
1920 x 1080 full HD video
2.36-million-dot electronic viewfinder (EVF)
2.8-inch 460k-dot LCD display
Sensitivity: ISO 100 to 25600
P,A,S,M shooting modes
RAW, RAW + JPEG
Film simulation mode
Magnesium front and back covers
3 frames-per-second burst for 6 frames
Built-in pop-up flash
Flash hot shoe
You never get something for nothing. So what do you have to give up for the X-E1's lower price? The main feature not included on the X-E1 is the X-Pro1's hybrid viewfinder, which toggles between electronic and traditional optical modes. With the X-E1, Fujifilm replaced the hybrid viewfinder with a 2.36-million-dot OLED electronic viewfinder (EVF) – one of the highest resolution EVFs available at this time. That's a pretty fair trade, if you ask me. There was a time when I'd shy away from an EVF-only camera. But that time is long gone. I believe electronic viewfinders are on their way to becoming the preferred option – especially if you're shooting video. With an EVF you can actually see video in the viewfinder, as it's being recorded – something that's not possible with an optical viewfinder. Plus, the EVF provides a very important third point-of-contact, making it easier to shoot steady handheld video. With 1920 x 1080 full HD video and an EVF, the X-E1 makes a very interesting low profile option for serious videographers.
For a closer, hands-on look at the new Fujifilm, check out this intro video by Fujifilm Canada's Fuji Guys:
To go with the X-E1 (or the X-Pro1), Fujifilm also announced two new X-mount lenses. There's the Fujinon XF18-55mm f/2.8-4 (27-84mm equivalent) – the first zoom lens for the Fujifilm's X-Series cameras; and the Fujinon XF14mm f/2.8 prime (21mm equivalent). Fujifilm says the new 18-55mm zoom's focusing motor combined with the X-Trans sensor's high-speed readout and the camera's processing also provides a, "huge leap in AF speed and precision performance." That's good news since one of the only complaints I've heard about the X-Pro1 (besides price) is that the auto focus is a little sluggish.
The Fujifilm X-E1 will be available in November, 2012. You can get it in either the two-tone silver and black attack Raiders version (that's a joke); or solid black. It will be sold as a kit with the new XF18-55mm f/2.8-4 zoom lens for US $1,399.95 or body-only for $999.95. If X-Pro1 availability is any indicator, then you'd better pre-order the X-E1 if you want one for the Holidays. I think this one is gonna be hot.
Fujifilm X-E1 Studio Sample Photos >>
Fujifilm X-E1 Press Release >>
Related Content:
All Fujifilm User Reviews
All Digital Camera User Reviews
Digital Cameras Forum
More Fujifilm News & Articles
Fujifilm Web Site