Sony calls their new Cybershot RX10 the "ultimate fixed lens camera." Reminiscent of the Cybershot R1, introduced back in 2005 with a 5x optical zoom and APS-C sensor, the new Sony Cybershot RX10 has a large sensor and an 8.3x zoom lens in a compact body. The concept is a self-contained camera that can provide professional-quality photos or video no matter what the subject or conditions. We've come a long way since 2005, though. The RX10 has the same 1-inch backlit CMOS sensor as the RX100 II and a 24-200mm (equivalent) f/2.8 Carl Zeiss optical zoom. Yeah, you read that right – it's a big fat f/2.8 all the way through the zoom range, from 24mm to 200mm. The RX10 also has an OLED electronic viewfinder, full HD video and built-in Wi-Fi for easy mobile sharing – features we only dreamed of in 2005.

Sony Cybershot RX10 Key Features & Specs:
1-inch 20.2-megapixel backlit CMOS sensor
8.3x 24-200mm (equivalent) f/2.8 Carl Zeiss zoom lens
New BIONZ X processing for finer details
1440k OLED electronic viewfinder
Built-in Wi-Fi and NFC connectivity
ISO 125 to 12,800 (expandable to ISO 80 and 100)
1920 x 1080/60p AVCHD full HD video
PASM manual modes for video
Manual audio levels control
Microphone and headphone jacks
HDMI output
RAW shooting
3-inch tilting 1,23-million-dot LCD display
Programmable control ring around lens body
Focus peaking
10 frames-per-second high-speed burst
"Photo Creativity" interface with "Picture Effects"
Multi Interface Shoe for flash, EVF and stereo microphone
Pop-up flash
Six customizable buttons
Dust and weather-sealed magnesium alloy body
Obvious comparisons are the Canon PowerShot G1 X, which also has a large sensor; and Panasonic's FZ200 superzoom, which has a 24x f/2.8 zoom lens. But really, Sony's created a whole new class of camera with the RX10 – something it seems like they've been doing a lot, lately. And it's not just about the sensor and the lens, either. Those are just the most obvious features. Sony's 20-megapixel 1-inch Exmor R sensor is the acknowledged king of the compact camera world right now. And according to Sony, you can expect even better from the RX10 with the new BIONZ X processing. The new processing engine uses three key technologies to improve the image quality compared to the previous BIONZ processor: detail reproduction, area-specific noise reduction and diffraction-reduction for smaller aperture exposures. In the RX10 briefing Sony showed us sample images made with the new BIONZ X processing and they definitely looked better, with much better fine detail. Based on what we were shown, I expect to be very impressed with the image quality – at least for JPEG images. I'm not sure how much effect the new processing will have on RAW photos.
Sony's new BIONZ X processing is also important for improved auto focus and video performance. Sony says the RX10's new "high-speed contrast AF" is 3x more sensitive and totally unique to the RX10, making it the fastest focusing compact camera on the market. Instead of using phase detect pixels embedded in the sensor like a lot of other cameras, Sony opted to improve the contrast detect auto focus, instead. The RX10's auto focus system combines a new Direct Drive SSM (Super Sonicwave Motor) motor, the BIONZ X processing and the camera's on-sensor contrast-detect auto focus. Besides being quicker, the RX10 AF also has "Eye AF" focusing, adjustable AF point sizes for focusing on smaller subjects, and tracking AF that can follow a subject even if it momentarily leaves the frame. The Eye AF detects and focuses on your subject's eyes – perfect for portraits where eye focus means everything.
Sony believes the RX10's combination of 1-inch sensor and long, large aperture zoom lens is the perfect platform for HD video. To that end, the RX10 has some serious video specs. It records full HD AVCHD video in 60p or 24p, it has manual audio levels control and a headphone jack, HDMI out, and even an XLR adapter kit. On top of that, it offers manual exposure control via PASM modes, for those who want it. And the video quality will definitely benefit from the BIONZ X image processing.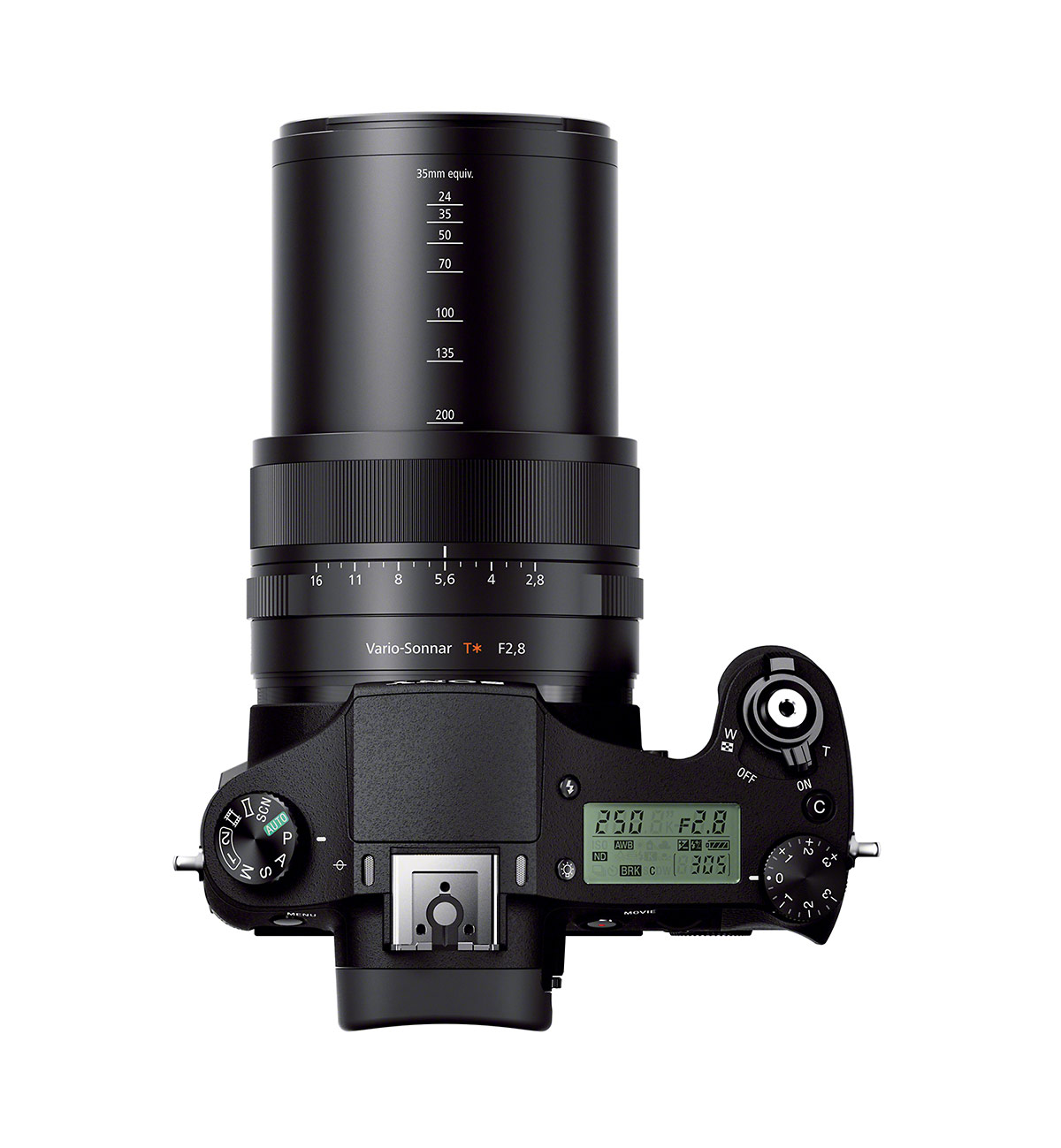 Sony added built-in Wi-Fi connectivity to their Cybershot-R camera line with the RX100 II, introduced earlier this year. For those who don't know about or understand the purpose of built-in Wi-Fi yet, it allows you to wirelessly transfer photos and videos from the camera to your Smart Phone or tablet so you can share them to Facebook, YouTube, Instagram or whatever social networking site you want. You simply install Sony's free PlayMemories Mobile app on your phone or tablet, and you can transfer photos and videos, or even use your phone as a remote control, complete with live view display. I've been using a Sony compact with Wi-Fi for a few months now and I absolutely love it.
I love the concept of the new Sony RX10, although it's a bit hefty for my taste. I was hoping it would be a lot closer to pocket-sized. But at 5.1 x 3.5 x 4 inches (129.0 x 88.1 x 102.2 mm) it's more superzoom bridge camera than pocket camera. Still, it's great to see Sony continuing to push the boundaries and create new categories. Maybe the next Sony RX camera will be the high-end pocket superzoom I've been dreaming of.
The Sony Cybershot RX10 should be available sometime in November. The price is expected to be about US $1300. I know that sounds like a whole lot of money for what at first glance appears to a fancy superzoom camera. But the RX10 is really a whole lot more than that. Consider its pocket-sized sibling the RX100 sells for $750, and even a third-party image-stabilized 70-200mm f/2.8 zoom lens will set you back nearly $1500. That should put the price of the RX10 in perspective. Yeah, it's a lot of money. But the RX10 is a whole lot of camera.
Related Content:
Sony Digital Camera User Reviews
Sony Cameras Forum
Digital Cameras Forum
More Sony News And Articles
Sony Cybershot Digital Camera Web Site