Pentax is now part of the compact system / mirrorless camera movement. Yesterday, they announced their own take on the compact system camera along with 5 lenses for the new system. The 12.4-megapixel Pentax Q takes "compact" a step further than other compact system cameras with a smaller, 1/2.3-inch backlit CMOS image sensor, making it the smallest interchangeable lens camera currently available. The Olympus E-PL2 Micro Four Thirds camera is half-an-inch wider and half-an-inch taller. Even the just-announced Sony NEX C3 mirrorless camera is half-an-inch wider as well as slightly taller and thicker. The Pentax Q is even smaller than the Canon PowerShot G12 and Panasonic Lumix LX5 premium compacts!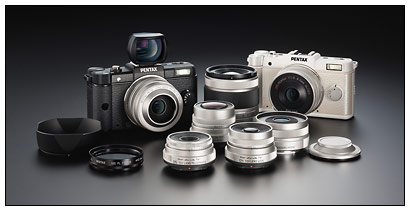 This is an impressive announcement from Pentax. The new Pentax Q camera harkens back to the old Pentax half-frame 35mm SLR. And like the half-frame SLR, there is a cost – image quality. Instead of the larger Four Thirds or APS-C sensors that the Olympus, Panasonic, Sony and Samsung mirrorless, interchangeable lens cameras use, the Pentax Q's 1/2.3-inch sensor is considerably smaller – the same size used on many consumer-level point-and-shoot cameras. So don't expect the same image quality you'd get from one of the Sony NEX or Panasonic Micro Four Thirds cameras. On the other hand, the Pentax Q is significantly smaller than even high-end compact cameras. I'm sure there will be plenty of photographers willing to trade some image quality to have the world's smallest interchangeable lens camera.
Pentax Q Key Features & Specs:
New PENTAX Q-mount lens system
12.4-megapixel, 1/2.3-inch backlit CMOS sensor
Sensor-shift Shake Reduction system
12-bit DNG RAW as well as JPEG images
1080p HD video at 30 frames-per-second
Five frames-per-second burst
Magnesium body
Full manual, P, S, A, scene modes and PENTAX Auto Picture
Smart Effects in-camera filters
In-camera HDR mode
Bokeh Control filter
Built-in pop-up flash
Five new Q-mount lenses, including a 47mm f/1.9 Standard Prime kit lens
Optional shoe-mount optical viewfinder (External Viewfinder O-VF1)
Dimensions: 3.9 x 2.3 x 1.2 inches (99 x 58.4 x 30.5 mm)
The new Q camera is a bold move on the part of Pentax. Using a point-and-shoot sensor to make the camera even smaller carves out new territory in the interchangeable lens camera space. Right now, no other camera maker has a camera even close to the size of the Pentax Q. I'm really curious to see if any other manufacturer will follow them with another point-and-shoot sensor interchangeable lens camera. And conversely, how well will the new camera sell with the smaller sensor? This is a very interesting announcement!
The Pentax Q should be available this fall (2011). It is expected to sell for about $800 with the 47mm kit lens. The optional shoe-mount viewfinder will be available at the same time for $249.95.
Pentax Q Camera Press Release >>
Pentax Q System Lenses Press Release >>

Related Content:
Pentax Camera Gear User Reviews
Pentax Cameras Forum
EVIL & Micro Four Thirds Cameras Forum
Pentax SLR Cameras Web Site