In 1999, a Silicon Valley Internet startup called Consumer Review hired me to build and manage a photography review and community Web site. It's been 13 years (this month!) and I'm still managing PhotographyREVIEW.com and can't think of anything else I'd rather be doing. It's been an interesting experience, to say the least. I've witnessed first-hand and maybe even helped to shape the digital photography revolution. When we started PhotographyREVIEW.com, it was pretty much all about film-based photography and we had a separate site called PCPhotoREVIEW.com that was all about digital cameras. I didn't even own a digital camera until 2000, I think. I've owned at least 7 DSLRs since then and probably used and reviewed hundreds of digital cameras. We sure have come a long way since 1999.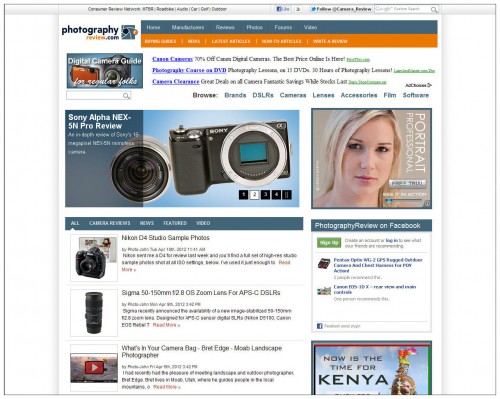 PhotographyREVIEW.com has been through a lot of changes since it was launched. In the early 2000's, we rolled PCPhotoREVIEW into PhotographyREVIEW.com, making one site that covered all types of photography and camera equipment. The site has had a few looks since it was launched. Thankfully, it never had a mullet or fauxhawk, though. Below are some screenshots of the site, through the years, including one of PCPhotoREVIEW.com:
If you haven't noticed yet, PhotographyREVIEW.com has a brand new look and feel. In the beginning we were all about user reviews and forums. We've been writing our own editorial content for years now, though. We write in-depth camera reviews, camera news and analysis, buying guides, photography how-to articles and we even make camera review videos. The new design helps us better show off the articles, reviews and videos we put so much work into. And our new, simplified site navigation makes it easier to find whatever photography content you're looking for – especially product reviews. All the main review categories and manufacturers are listed right in the main navigation and there's also a sub-navigation bar on most of the site that lists even more review categories: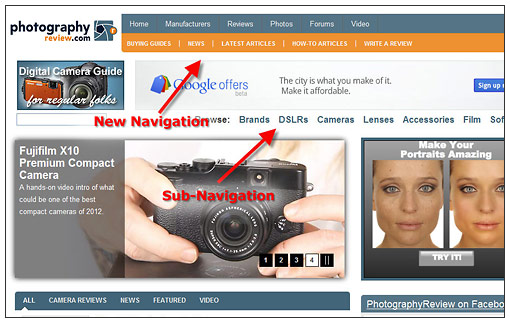 Here are some more screen shots of the new design. Click on them to go straight to the page so you can get a better look. First up – the redesigned reviews index page. Frankly, the old one was pretty uninspiring. This new one is a beauty: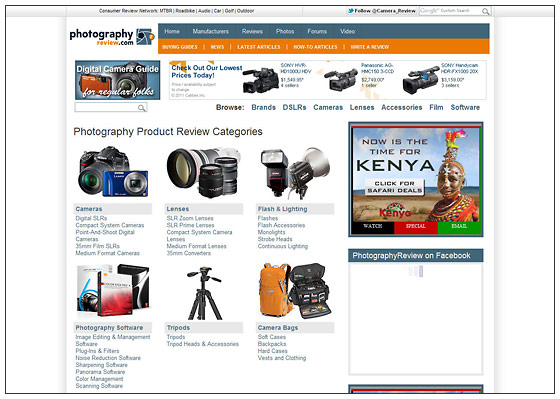 One of the main goals of the new design is to make it easier to find the most popular products and related editorial. To that end, the review category pages have been updated to show top products and links to relevant articles: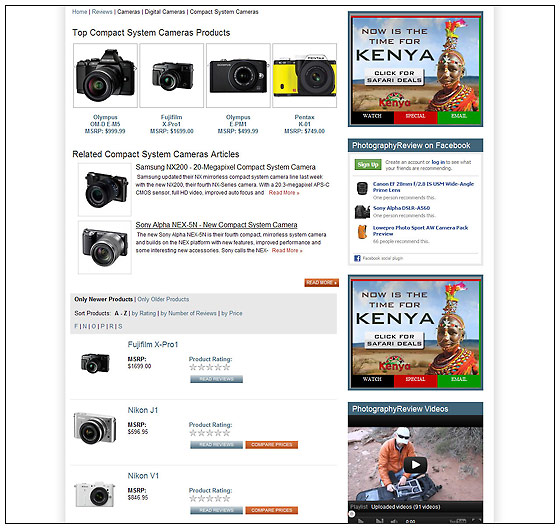 The manufacturer or "Brands" pages have also been updated to show the top products and related articles for that manufacturer. Check out the new Fujifilm manufacturer page: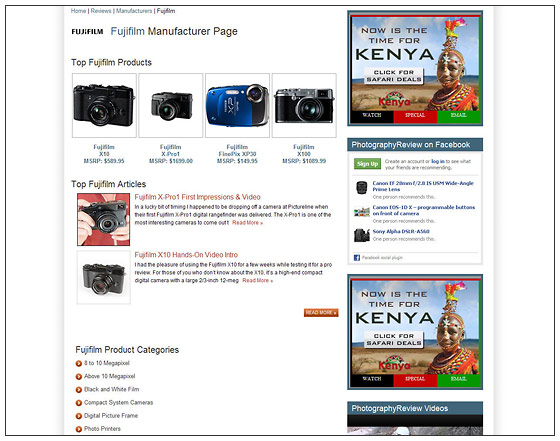 Saving the best for last – the new improved product review pages (cameras, lenses, flashes, etc.) have been redesigned to show more and larger photos, videos, pro reviews and related forum discussions as well as user reviews, specs and shopping links. They also show top products from the same category and related forum discussions in the right-hand column. The Sony Alpha NEX-5N camera review page is a good example: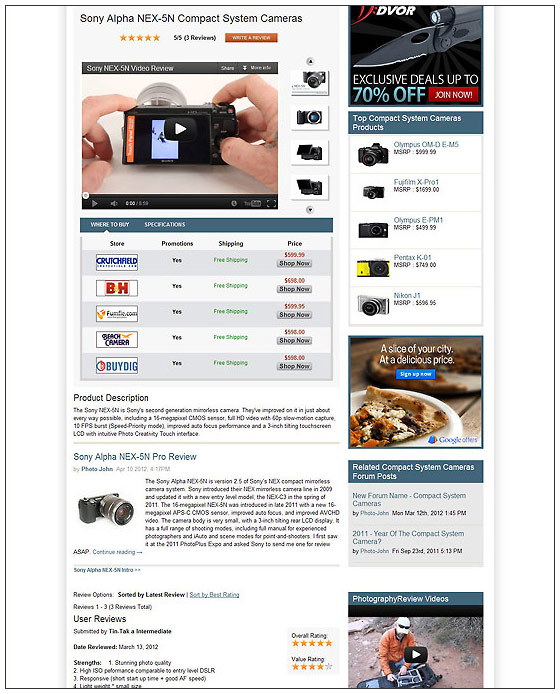 And of course, we've still got in-depth digital camera pro reviews written by actual photographers, high-res studio sample photos, camera review videos, and detailed analysis of new digital cameras and other photo gear. All of that editorial content can be found in the articles section: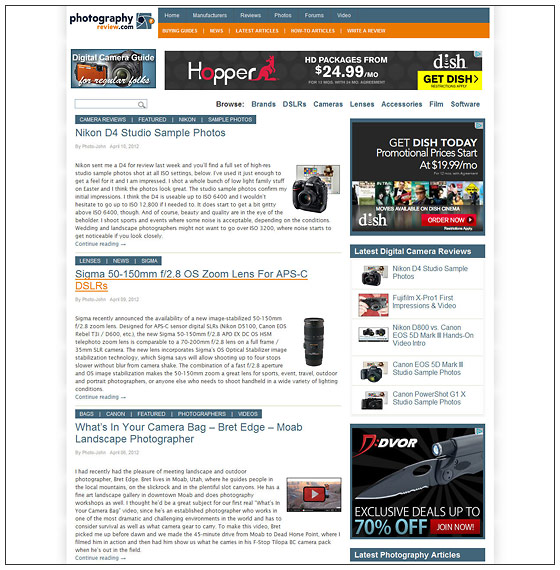 It's been a great 13 years since we launched PhotographyREVIEW.com. Thanks to our members and all of our friends and supporters in the photo industry. We hope you enjoy the new site design! If you haven't checked it out yet, please do and feel free to share your thoughts and suggestions in the comments below.