Samsung updated their mirrorless camera line today with a new DSLR-style camera that merges the body design of the NX20 with the core performance features of the Galaxy NX – with a few cool new additions, of course. The Samsung NX30 has a built-in electronic viewfinder, a 20.3-megapixel APS-C CMOS sensor with embedded phase detect auto focus, full video a 3-inch articulated LCD display, and built-in Wi-Fi. New for the NX30 is a tiltable electronic viewfinder, expanded Wi-Fi functionality and improved video performance. Samsung also introduced two new zoom lenses and a new pro-level flash, today.


Samsung NX30 Key Features And Specs:
20.3-megapixel APS-C CMOS sensor
Samsung DRIMe IV imaging engine
Sensitivity range: ISO 100 to 25,600
Built in Wi-Fi with NFC
9 frames per second high-speed burst
1920 x 1080 full HD 60p video with stereo sound
External mic input
Audio levels control
Uncompressed HDMI output
2.4-million-dot tilting electronic viewfinder (EVF)
3-inch AMOLED touchscreen display
Samsung's i-Function control
The new NX30 doesn't have full 4G mobile connectivity like last year's Galaxy NX, but it does have Samsung's "Smart Camera 3.0 architecture" with updated built-in Wi-Fi. The main update to the Wi-Fi functionality is NFC (Near Field Communication), which allows you to share files between two devices by simply touching them. That means sharing a photo is as easy as having a friend tap the NX30 with their NFC-equipped phone. The NX30 is also the world's first camera with integrated Dropbox service. That's right – if you've got a Wi-Fi connection and a Dropbox account, you can upload straight from the camera to Dropbox. There's also integration for direct upload to Flickr, Facebook, Picasa and YouTube.
The built-in Wi-Fi lets use your Smart Phone or tablet as a wireless remote control – complete with live view display. Using the Remote Viewfinder Pro feature you can control exposure, take pictures and even zoom in and out (with lenses that have power zoom) with your phone. A couple of other neat Wi-Fi features are MobileLink, which allows you to share multiple images to up to four different mobile devices at once – great for sharing photos at a family event; and AutoShare, which automatically sends every image from the camera to the mobile device of your choice – perfect if you want to let someone watch a photo session on a tablet.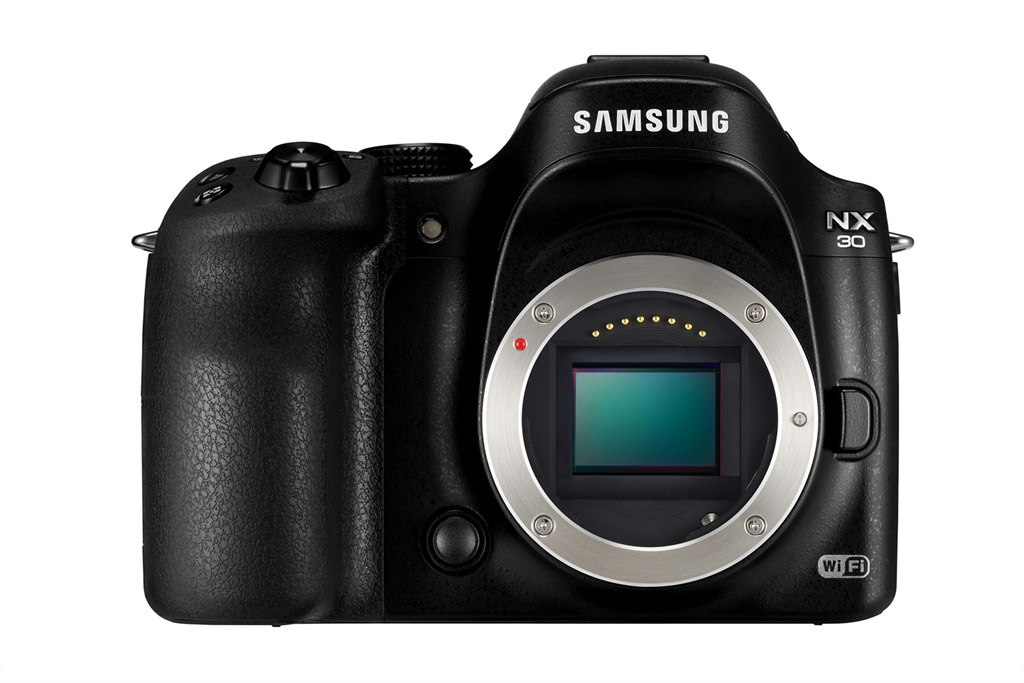 Performance-wise, the NX30 is very similar to the Galaxy NX. It has the same 20.3-megapixel APS-C CMOS sensor with Samsung's hybrid AF and their top-of-the-line DRIMeIV Image Processor. The max burst rate has been increased slightly from 8.6 FPS to 9 FPS and the full HD video frame rate has been increased from 30 FPS to 60 FPS. Still image quality should be the same as the Galaxy NX with the same max sensitivity: a very respectable ISO 25,600. That's a one stop improvement compared to the NX20 so the NX30 will an excellent upgrade for photographers with older NX cameras who are looking for better image quality.
The Achilles heel of mirrorless cameras has been continuous auto focus. Traditionally, you needed a DSLR if you were really serious about shooting moving subjects. That started to change in the past year or so when camera makers started embedding phase detect auto focus sites right on the sensor. I still haven't used a mirrorless camera with continuous auto focus that works as well as a DSLR, although maybe the NX30 will be the first. Samsung put 105 phase detect points on the sensor for their NX AF System II and they told me it has "the best auto focus performance of any camera under $1500." That's a bold statement because it doesn't distinguish between DSLRs and mirrorless cameras. I haven't used the NX30 so I can't say yay or nay. I am very anxious to get my hands on one to find out if it's as good as they say, though.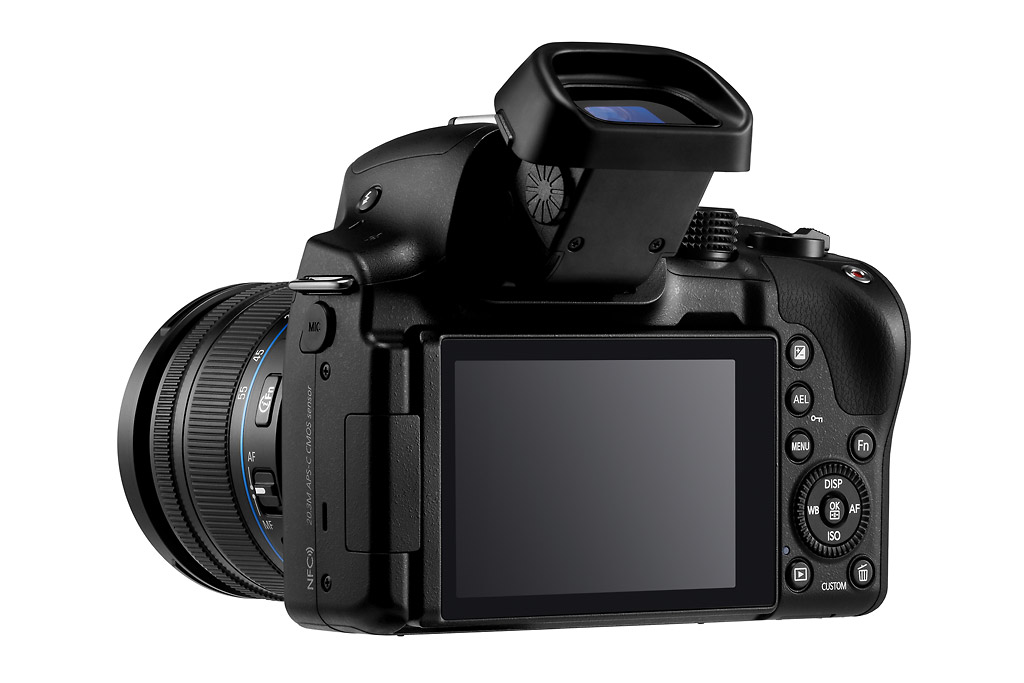 The NX30's most interesting new feature is the tilting electronic viewfinder. It tilts up to 80 degrees and can also be pulled out from the camera body. It's very much like a camcorder viewfinder, which I'm sure is no accident. The NX30 also has a 3-inch-tilt-swivel LCD touchscreen display. However using the EVF provides a third point-of-contact with your body, helping to minimize camera shake in still photos and smoothing out handheld video. EVFs have come a long way in the past few years, too. With a good one, you might not even realize you're looking at an EVF. And the NX30's tilting viewfinder means you'll get all the benefits of the EVF even when shooting at more creative angles.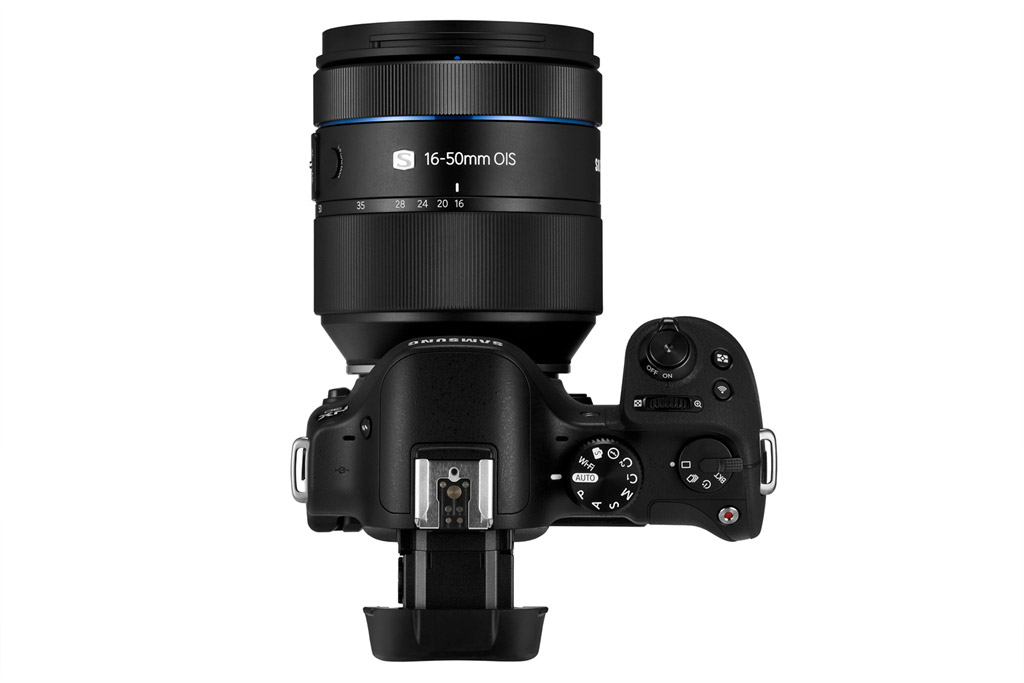 To go with the NX30, Samsung also announced two new lenses and a new flash, the SEF 580A TTL, which features high-speed sync, wireless remote control (via the camera's pop-up flash) and a guide number of 58. The most exciting lens (for me, anyway) is the new 16-50mm f/2-2.8 S ED OIS zoom. It's Samsung's first S-series premium lens for the NX system and the maximum f/2.0 aperture is one of the fastest available on any zoom lens and the brightest 3x auto focus zoom lens, period. That fast aperture is a very big deal and shows how serious Samsung is about being a serious player in the interchangeable lens camera market.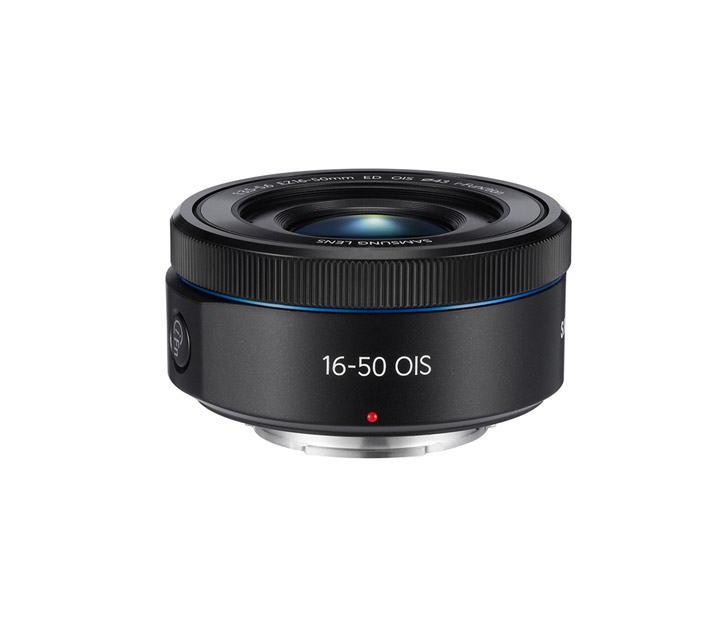 The second lens is also a 16-50mm but it's prioritized for size and video. The Samsung 16-50mm F3.5-5.6 Power Zoom ED OIS lens is only a little over an inch deep when collapsed and, as the name suggests, it has a power zoom feature. There's a rocker switch on the side of the lens that allows for smooth silent zooming, something that's impossible with a traditional manual zoom ring. It's perfect for video and can even be controlled with the Remote Viewfinder Pro Wi-Fi remote control feature mentioned earlier.
Samsung will officially unveil the NX30 along with the new flash and lenses at the annual CES consumer electronics tradeshow, next week, in Las Vegas. Pricing and availability haven't been announced yet but we'll let you know when they are.
Related Content:
All Samsung Camera User Reviews
Digital Cameras Forum
All Samsung Camera News & Articles
Samsung Digital Cameras Web Site