A few days ago I finished a Pocket Superzoom Camera Guide with the six top pocket digital cameras with 10x (or longer) zoom lenses. Almost immediately after I published my guide, Samsung fired this missile onto the camera battlefield – the WB700 digital camera. The 14-megapixel Samsung WB700 pocket superzoom camera has an 18x 24-432mm Schneider Kreuznach zoom lens, 720p HD video, full manual exposure controls, RAW, manual flash output control and according to the dimensions in the press release it's also the smallest camera in its class. Spec-wise, that pretty much puts on top – or at least close to the top – of the heap of current pocket superzoom cameras.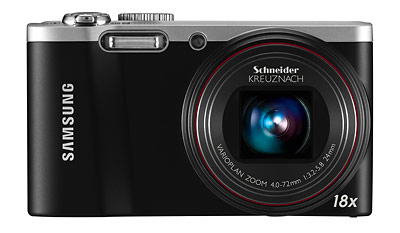 Pocket superzooms are my favorite point-and-shoot cameras right now. I love having a camera with a big zoom that comfortably fits in my pocket. And the new Samsung WB700 crushes the competition – at least on paper. The only thing it's missing is full 1920 x 1080 HD video and built-in GPS. The 18x zoom lens is the longest of all the pocket superzooms (the Fujifilm FinePix F300EXR has a 15x zoom lens). Factor in the truly pocketable body (most pocket superzooms will fit in a pocket but they're a bit bulky), RAW shooting and manual exposure controls and the WB700 might qualify as point-and-shoot of the year for 2011. Of course we'll have to wait and see what else is introduced at CES and through the rest of the year. And we need to use the WB700 to see if the actual image quality and performance live up to the promise of the specs. But Samsung has definitely made a statement with this camera and I can't wait to get one in my hands.
Samsung WB700 Digital Camera Key Features & Specs:
14-megapixel 1/2.33-inch CCD sensor
18x 24-432mm Schneider Kreuznach zoom lens
720p H.264 format HD video
Dedicated video button
Full Manual exposure controls
RAW shooting
Manual flash output control
Digital noise (sound) elimination while zooming for no zoom noise in videos
Smart Filter 2.0 – artistic filters
Smart Auto mode for still and movie
Dimensions: 3.9 x 2.3 x 0.85 inches (9.9 x 5.9 x 2.2 cm)
The new Samsung WB700 pocket superzoom camera will be officially introduced at the 2011 CES tradeshow in Las Vegas (January 6 to 9, 2011). It should be available for purchase in April of 2011 for a suggested retail price of US $299.99.
Related Content:
All Samsung Digital Camera User Reviews
Pocket Superzoom Digital Camera Guide
All Digital Camera User Reviews
Digital Cameras Forum
All Samsung Camera News & Articles
Samsung Digital Cameras Web Site