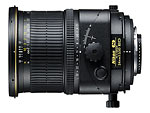 Shift lenses are headed in a promising direction, with optical quality improving, and more and more offerings available. Nikon now offes a full suite of tilt shift lenses: The 24mm f/3.5 PC-E is already available, with the PC-E 45mm f/2.8 and PC-E 85mm f/2.8 to follow in August 2008. Finally, Nikon has what Canon has had for years, only better: all of Nikon's offerings are completely modern designs, and all offer "tilt" in addition to shift.

Figure 1: image is sharp front to back, even wide open, using the tilt function

Discontinued long ago were Nikon's 35/2.8 PC-Nikkor as well as the 28/4 PC-Nikkor and 28/3.5 PC-Nikkor (none of which offered tilt capability). Third party offerings include the Hartblei/Zeiss 40/80/120 Super Rotators. There is also the Schneider 28mm f/2.8 PC-Super Angulon (see [comparative review (not free)]). The foregoing lenses are Nikon or Canon mount, with interchangeable back mounts.
First impressions of the Nikon TS-E 24mm f/3.5 tilt/shift
The 24 T/S is a bit chunky in size (as it must be to tilt and shift), but is a very nice handling lens. It is built to similar standards as the several-year old Nikon 85 f/2.8D PC-Micro-Nikkor tilt/shift. However, the new "PC-E" design offers electronic aperture control, a boon for usability on the D3/D300/D700, but a big disappointment for those of us who like to shoot Nikon lenses also on Canon EOS bodies via an adapter; the aperture cannot be controlled with such adapters.
The good news is that optical performance is very high. Having used the Canon 24/3.5L T/S and the Olympus 24/3.5 shift (but not owning either at the moment) I suggest the following: the Nikon offering appears to be the best yet available in the 24mm tilt/shift realm. Congratulations Nikon! Color fringing is very well controlled (and completely eliminated by Capture NX 2), flare control is excellent, and color and detail rendition are high. However, when fully shifted horizontally, even at f/11, sharpness is slightly disappointing and dark corners remain, but in context performance is outstanding when compared to the Canon and Olympus offerings.
A tilt/shift lens offers 4 major advantages over a conventional lens:
Sharpness front-to-back—this allows sharpness from close up to distance without stopping down, by changing where the plane of focus falls; this is the tilt capability.
Selective blur—tilting the lens to deliberately blur areas away from the point of interest.
Perspective control—shifting the lens allows the camera to stay level (or more level than otherwise) so that parallel lines do not converge as happens when the camera is pointed up
Stitching—By taking 3 frames, one center, one shifted fully left and one shifted fully right, higher resolution images can be formed by combining the images into a single frame (in an image editor)
Figure 2: 19 megapixel stitched image (Nikon D3 + Nikon TS-E 24mm f/3.5)
Figure 3: Creative use of the tilt function to isolate the subject
The 45 and 85mm offerings
It is likely that the 45mm and 85mm offerings will afford even better performance because those focal lengths are easier to build to high optical performance. Stay tuned.
Conclusions
If you're looking for an exceptionally versatile 24mm lens for landscape or creative work, the Nikon PC-E 24mm f/3.5 is your lens. Just keep in mind that the electronic aperture control requires the D3/D300/D700 bodies to work.
For more on lenses and other advanced photographic topics, visit diglloyd.com.
Related Content:
Nikon Review Page