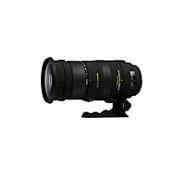 This is our first user review for Sigma's new "OS" image-stabilized 50-500mm "Bigma" zoom lens. The Bigma is popular with wildlife photographers who want an economical and reasonably sized alternative to big telephoto prime lenses. I've been waiting for a review of this lens because the OS image stabilization makes it a much more compelling superzoom option. Cara's review is a good one, too – detailed and well written. It also highlights the fact that you can rent lenses if you're not ready to buy them.
Write your own reviews! Reviews by community members are the foundation of PhotographyREVIEW.com. You don't have to be an expert – everyone's opinion counts.
---
Featured Review: Sigma 50-500mm f/4.5-6.3 APO DG OS HSM "Bigma" Zoom Lens

by CaraRose (Intermediate)
Price Paid: $0.00 from lensrentals.com
Review Date: April 27, 2010
Used product for: Less than 1 month

Overall Rating: 5 of 5
Value Rating: 5 of 5

Summary:
I'm currently in my second two week rental of this lens. Note that is second rental, not second week of the first rental. I think from the fact that I opted to rent it again, you may be able to guess that I rather like it.
First, let me say I never used the original Bigma, so I can't compare to that lens. I've rented the Canon 500mm f/4 L IS and the Canon 300mm f/2.8 L IS. I own the little brother of the 300mm 2.8– the 300mm f/4 L IS. In terms of long lenses these three are what I can compare to.
So, in my experience is the Bigma OS as sharp as the 300 2.8? Okay, if you really think the answer to this will be "yes," you obviously have never used the 300mm 2.8 L IS… I mean, that may very well be the sharpest lens Canon makes, and even with a 2x converter I think it beats the Bigma. Nor is the Bigma OS as sharp as the 500mm f/4 L IS. But again, if you thought it would be, you're expecting way to much. The reach might be the same as the Bigma's long end, but really, those two are completely different animals. The 500 f/4 is a big, heavy lens, 18″ long and weighs 9 pounds, and lets not forget that it costs $6000. The Bigma OS is relatively lightweight, meaning you can hand hold it and hike with it– something I don't recommend with the canon 500mm f/4, unless you have a pack mule or a sherpa– and its affordable enough to have been put on my "Save For" list of lenses.
So, no, not as sharp as the 300 2.8 or the 500 f/4. Nor is it as sharp as the 300mm f/4. It is, however, sharper than the 300mm f/4 with a 1.4 teleconverter. This is a very sharp lens, despite it not living up to the level of some of Canon's best and sharpest (and most expensive) lenses. What you get with the Bigma OS is quite a sharp lens, well sharper than any consumer lens, an amazing range, and stunning bokeh in a (relatively) lightweight and inexpensive lens.
The lens is quite sharp through its entire range. It is very anti-flare resistant… which I learned trying to get some shots for the April "Lens Flare" project from the photo project forum. In high contrast situations, you tend to get some chromatic aberration, but generally these are in situations where you'd expect it, and it is easily adjusted in post.
Auto focus is responsive and fast. It does have some difficulty finding your subject in if there's a lot of clutter. As I discovered trying to get shots of some small birds moving around in shrubs. It rarely hunts though, even in low light it would find and lock on to a small subject as long as there was a clear view of it.
The OS is quite good and I'd agree with their claim that it's four stops. I shot handheld at 500mm at 1/125 and got sharp photos. That said, I usually tried to keep it above 250 handheld, just to be sure a little much of my unstable hands wouldn't push it over the line.
There are a few nitpicky things that bug me about it. The two that bug me the most is the filter ring is behind the zoom ring, which is opposite of pretty much every lens I have ever used. I will often switch to manual focus and grab the zoom ring by accident, which is rather annoying.
All and all, I recommend this lens to anyone.
Strengths:
Sharp at all focal lengths.
Stunningly good bokeh
Good AF.
Outstanding OS.
Killer Range.
500mm handheld!
Lightweight (relatively speaking)
Price
Weaknesses:
Only f/6.3 at the longest focal length
Still somewhat heavy when compared to say, the 300mm f/4. That said, you get a lot more reach with the Bigma OS.
Some minor chromatic aberration, especially in high contrast situations
AF has trouble with cluttered shots (brush in front of the subject).
Similar Products Used:
Canon 300mm f/4 L IS
Canon 300mm f/2.8 L IS
Canon 500mm f/4 L IS
Related Content:
All Sigma Zoom Lens User Reviews
All Sigma User Review Categories
Digital SLR Forum
All Featured User Reviews
All Sigma News & Articles
Sigma Web Site