Last night, Nikon announced a crazy new 16.7x DX format (APS-C) superzoom lens, the AF-S DX Nikkor 18-300mm f/3.5-5.6G ED VR. This really ups the ante over Nikon's 18-200mm VR and other 18-200mm image-stabilized zoom lenses. And based on the $1000 price tag, the new Nikkor 18-300mm superzoom isn't just another mushy consumer piece of junk, either.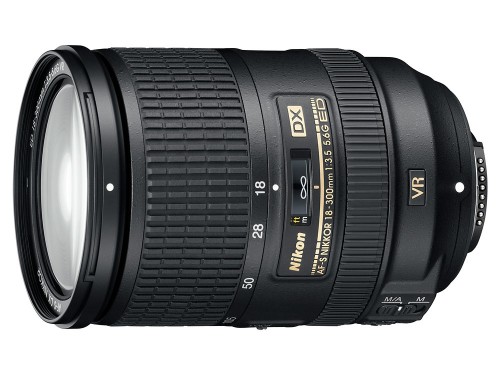 Nikon set the standard for consumer superzoom lenses about 5 years ago when they introduced the AF-S DX Nikkor 18-200mm f/3.5-5.6G ED VR zoom – that's a 27-300mm equivalent in the 35mm / full-frame format. Non-Nikon owners, especially outdoor and travel photographers, coveted the Nikon 18-200mm VR zoom for its compact versatility and now the 18-200mm image-stabilized zoom lens has become a standard option for APS-C sensor cameras of all makes. I'm a huge fan of the 18-200mm zoom range and it's my most-used lens on an APS-C digital SLR. I especially love the 18-200mm for mountain biking, backpacking and skiing where size and weight really matter. However, the new Nikon 18-300mm VR zoom lens caught me off guard. It never occurred to me that Nikon would push the superzoom concept so far. The 18-300mm focal length is equivalent to an incredible 27-450mm zoom on a 35mm / full-frame camera. Nikon's Vibration Reduction II (VR) optical image stabilization is critical with that kind of telephoto range but it's supposed to correct for up to 4 stops so unless the light is bad it should keep things steady and sharp.
Some other nice 18-300mm VR zoom lens details are a 1.48 foot (0.45m) minimum focus distance at 300mm, making it a nice close-up lens; a zoom lock switch to keep the lens from zooming out when you're walking around with the camera on a strap; and a rounded 9-blade aperture ring for nice smooth out-of-focus image quality (bokeh). According to the specs page on the Nikon USA Web site, the 18-300mm also comes with a lens hood and a carrying pouch.
I loved the original Nikon 18-200mm VR zoom lens. That's been an excellent all-purpose zoom range for me and I recommend the Nikon and other 18-200mm image-stabilized zooms to more people than any other lens. It's great for first-time digital SLR owners and if you're a pro, it's a great event, travel or backpacking lens. But sometimes (a lot of times, actually), I still want more. The new Nikkor 18-300mm VR is about an inch longer and over half a pound heavier (270g) than the 18-200mm VR, so there is a cost to the expanded zoom range. But if you're a travel or outdoor photographer that always wishes you had a longer lens, then it's probably worth packing the extra size and weight. Of course, we'll have to wait and see how the image quality is. I wouldn't expect top shelf quality but the 18-200mm VR is much better than a kit lens and Nikon used three ED elements and three aspherical elements in the 18-300mm so you know they mean business. And there's also that $1000 price tag. For that kind of money Nikon you'd better be getting good glass.
Want one? Nikon's new AF-S DX Nikkor 18-300mm f/3.5-5.6G ED VR zoom lens will be available at the end of the month (June, 2012) at a suggested retail price of US $999.95. I'm betting this one is gonna be a hot seller.
Nikon AF-S DX Nikkor 18-300mm VR Lens Press Release >>
Related Content:
All Nikon User Reviews
All Lens User Reviews
Nikon Cameras Forum
Digital SLR Forum
All Nikon News & Articles
Nikon Web Site