It looks like the Instagram camera is going to become reality. That's right, Instagram's logo camera is gonna be something you can actually buy and use. It won't be made by Instagram, though. The Socialmatic camera is the brainchild of Italian design firm ADR Studio. They've partnered with Polaroid and C & A Marketing to create the Polaroid / Socialmatic-branded camera, which is scheduled to launch in early 2014. The Socialmatic camera is more than just a Polaroid OneStep knockoff fashion accessory. It will be an Android-based device made for photo sharing, with a 14-megapixel sensor, a 4.3-inch touchscreen display, built-in Wi-Fi and GPS, stereo speakers, 4GB of internal storage, an SD card slot, and a built-in instant printer for the true Polaroid experience.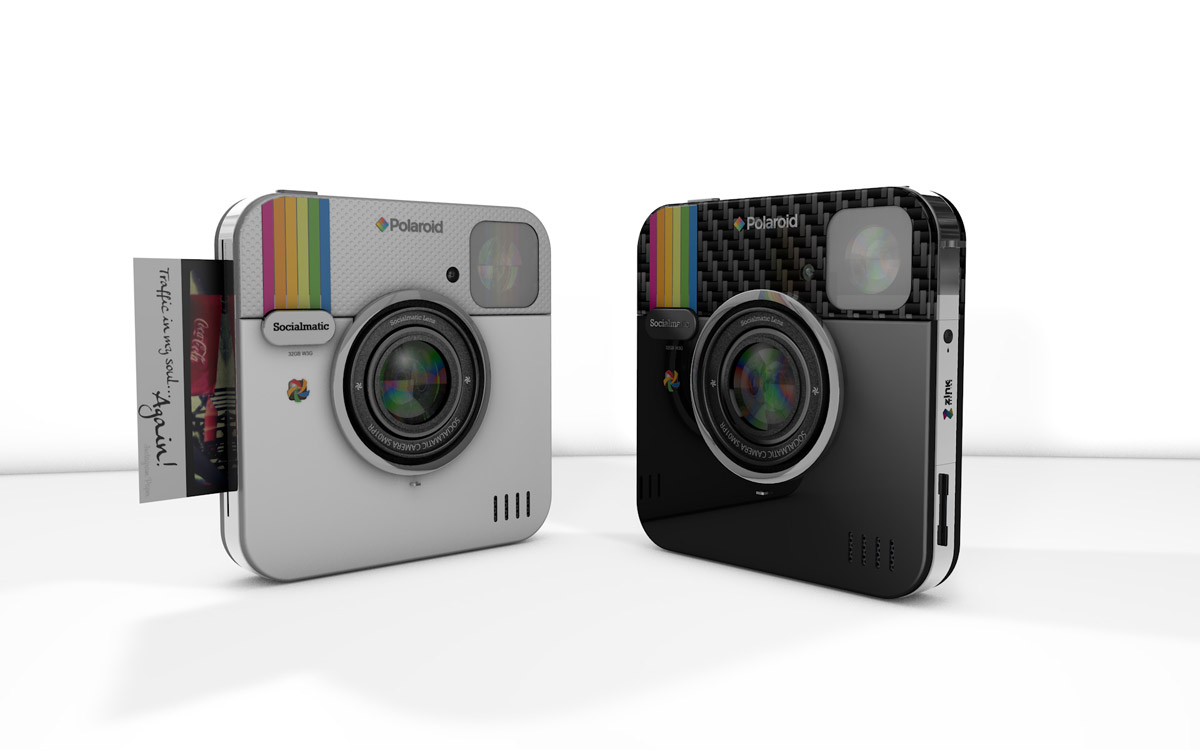 Socialmatic Camera Key Features & Specs:
Android operating system
14-megapixel main camera
2-megapixel secondary camera
LED flash
4.3-inch touchscreen display
Stereo speakers
GPS, WiFi and Bluetooth
Socialmatic Instant Filters
Built-in instant printer
Remote printing capabilities
4GB built-in memory
SD card slot
Obviously, the inspiration for the Socialmatic camera came from Instagram. However, Socialmatic says they're planning their own social network for photo sharing. That doesn't mean you can't share your Socialmatic photos on Instagram, though. Since the Socialmatic camera will be an Android-based device you should be able to use any Android apps to create and share photos – Facebook, Twitter, Flickr, YouTube and Instagram, as well as Socialmatic's own network.
The Socialmatic camera isn't the first designed specifically for social media fanatics. Last year Nikon announced the Coolpix S800c, an Android-powered Wi-Fi pocket camera. And Samsung has two cameras with full mobile connectivity, the Galaxy Camera and the Galaxy NX. The Socialmatic camera is clearly designed to appeal more to fashion-conscious folks who aren't as obsessed with cameras as they are with social media. I'm a pretty traditional photographer but I have to admit, I kinda like the look and features of the Socialmatic camera. I like that it's bigger than a Smart Phone or a point-and-shoot camera and I really like that they included a built-in instant printer. That's a nice touch. The camera will be an attention-getter and should make a great prop at parties and PR events – plus, you'll be able to post photos straight to the Web as long as there's an available Wi-Fi network.
The Socialmatic camera is supposed to be available early next year (2014). Hopefully that means they'll be showing it off at CES / PMA in January. The price will be US $299.