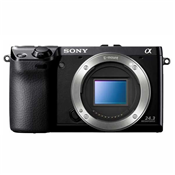 The Sony Alpha NEX-7 is Sony's top-of-the-line interchangeable lens mirrorless camera and this is our first user review for the NEX-7. It was written by community member Greg McCary, one of my favorite photographers on the site and a man who knows his cameras. Greg owns Olympus, Leica and Sony cameras and he's a very experienced photographer, so his opinions carry a lot of weight. I've been anxiously waiting for him to get his NEX-7 so he could write a review and I am pleased to give it some extra attention by making it a Featured User Review.
If you own the NEX-7 or another Sony camera, please write a review so other photographers can benefit from your experience. User reviews are the foundation of PhotographyREVIEW.com and we need your reviews!
---
Featured Review: Sony Alpha NEX-7
by Greg McCary (Intermediate)
Price Paid: $1299.00 from Amazon
Review Date: January 11, 2012
Used product for: 1 to 3 months

Overall Rating: 5 of 5
Value Rating: 5 of 5

Summary:
I started out shooting the NEX series of cameras with the NEX3. Then I moved up to the 5n. Looking back I would have waited on getting the 5n since the NEX-7 was announced only a few days after I got the 5n. But after I pre ordered the NEX-7 the floods hit Japan and threw back release dates. Calmly I waited but even at that there was couple of times I almost canceled the order and picked up a new lens for my a77. Thinking I would just get the EVF for the 5n. But eventually it arrived.
The first thing I noticed out of the box was the more rugged build quality than the 5n. Also the built-in finder. Plus the Sony hot shoe. Now I could use my Sony flash.
The EVF seems as good as the one on the a77. When I first got the a77 I had to double check the specs to make sure I was looking through an EVF and not an OVF… (read more)
Read The Rest Of The Review >>
Sony NEX-7 First Impressions Article >>
Check out Greg's photos in his PhotographyREVIEW.com member gallery: Greg McCary Photo Gallery
Related Content:
Sony Digital Camera User Reviews
All Compact System Camera User Reviews
EVIL & Micro Four Thirds Cameras Forum
Sony Cameras Forum
All EVIL Cameras News & Articles
All Sony Camera News & Articles
Sony Alpha NEX Cameras Web Site