There's a new transparent mirror camera in the Sony Alpha family. Welcome the Sony Alpha SLT-A35 to the world. The A35 is an entry-level 16-megapixel DSLR-style camera with an electronic viewfinder, a 3-inch LCD display and 1920 x 1080 AVCHD video. Like our 2010 Camera Of The Year, the Sony Alpha SLT-A55, the new A35 uses Sony's Translucent Mirror Technology for, "responsive, accurate continuous autofocus – whether shooting high-speed still photos or recording full HD movies." I did an extensive review of the A55 and the transparent mirror really does set the Sony SLT cameras apart from standard digital SLRs – especially for video and action shooters.


The A35 isn't a dramatic update to last year's A33. There's a slight increase in resolution, an on-screen Help Guide, a new Tele-zoom High Speed Shooting mode, 30% better battery life and some new in-camera processing options. Although the 14 to 16-megapixel resolution increase doesn't seem like much, the A35 has the same sensor as the Sony A55 and the Nikon D7000 – two cameras recognized for great image quality. So the A35 is guaranteed to have world-class image quality for an APS-C sensor camera. For a preview of the A35′s image quality, check out our Sony Alpha A55 studio sample photo page.
Sony NEX-C3 Key Features & Specs:
16.2-megapixel Exmor APS HD CMOS sensor
1920 x 1080 60i AVCHD video
Burst – 5.5 FPS or 7 FPS in Speed Priority and Tele-zoom High Speed Shooting scene modes
3-inch Xtra Fine, 921k-dot LCD display
High-resolution Tru-Finder electronic viewinder display (EVF)
Built-in stereo recording
SD and Memory Stick PRO Duo memory card compatibility
HDMI terminal
For beginning photographers, the new Help Guide gives on-screen descriptions of features so you don't have to carry the manual in your pocket. The new Picture Effect scene mode makes it easy to add cool effects like Retro Photo, High-key, Toy Camera and Posterization to still photos and videos right in the camera. The coolest new feature is the Tele-zoom High Speed Shooting mode. It's like having a 1.4x tele-converter high-speed sports overdrive mode built into the camera. It uses a cropped section of the frame to electronically zoom in, track your subject and blast away at 7 frames-per-second. Yes – the cropping is the same thing as digital zoom. But limiting it to 1.4x is a reasonable strategy for taking advantage of digital technology without completely compromising image quality. I'd have to see the image quality to know for sure, but I think I would use the Tele-zoom High Speed Shooting mode – especially for video.
If you want to know more about the Sony A35′s Translucent Mirror Technology, there's a more detailed description in my Sony Alpha SLT-A55 pro review. The bottom line is, no existing digital SLR can compete with the Sony's SLT camera video auto focus. And the new Sony Alpha SLT-A35 delivers the benefits of the transparent mirror design with the image quality of the A55 for as little as $600 (body-only).
The Sony Alpha SLT-A35 will be available in August. It will sell for $700 in a kit with the Sony 18-55mm f/3.5-5.6 zoom lens or for $600 without a lens.
Sony Alpha SLT-A35 Press Release >>
Related Content:
Sony Digital Camera User Reviews
All Digital SLR User Reviews
Digital SLRs Forum
Sony Cameras Forum
Sony Alpha NEX Cameras Web Site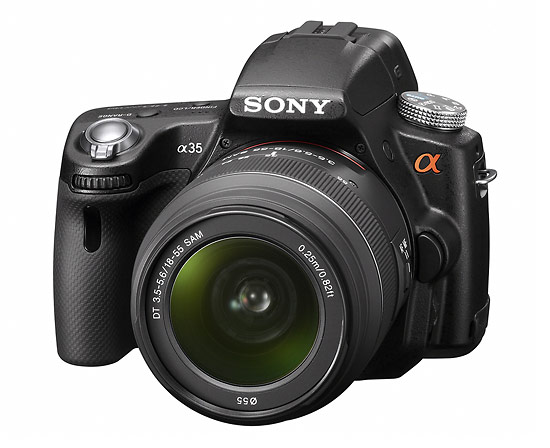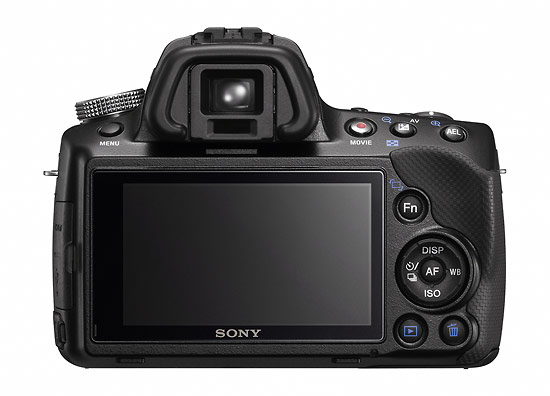 next page – Sony Alpha SLT-A35 Press Release >>