Sony announced the new Distagon T* 24mm F2 ZA SSM, the DT 35mm F1.8 SAM, and the 85mm F2.8 SAM lenses for its Alpha-mount digital SLRs.
The Distagon T* 24mm F2 ZA SSM lens, jointly developed with Carl Zeiss, features a fast response focus, built-in SSM (Super Sonic wave Motor) for a smooth and quiet operation, versatile focal range from 0.19m to infinity, a nine-blade circular aperture that along with the large F2 maximum aperture contributes to smooth, natural bokeh effects.
The DT 35mm F1.8 SAM lens is ideal for snapshots and portraits under a wide range of shooting conditions. A 50mm (35mm equivalent) focal length on an APS-C sensor and high-speed f/1.8 maximum aperture is perfect for hand held shooting in low light.
The 85mm F2.8 SAM lens is a standard for portraiture photography. It features smooth defocusing and a Sonnar-type optical design that is considered ideal for mid-range telephoto lenses.
Sony Announces New Alpha Lenses Press Release
Related Content:
All Sony User Reviews
All Lens User Reviews
Sony Cameras Forum
More Sony News, Reviews and Articles
Sony Web Site
Distagon T* 24mm F2 SSM lens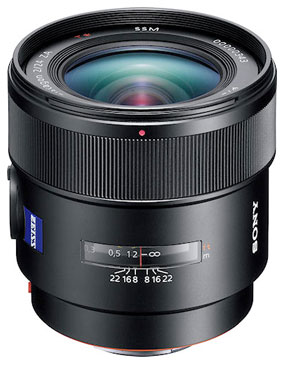 DT 35mm F1.8 SAM lens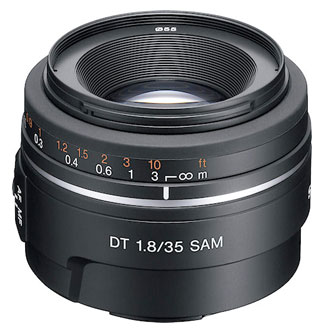 85mm F2.8 SAM lens