The PMA tradeshow was somewhat uneventful this year. All the big camera announcements were made either at CES in January or before PMA opened. Other than a few point-and-shoot cameras, the biggest announcement this year was a compact Sony Alpha concept camera to be released later in 2010(Sony Compact Alpha announcement). That the biggest news of the show was a price-less, spec-less concept camera that was only shown behind glass, says a lot about PMA this year. The new Alpha is (will be) a compact, changeable lens, mirrorless system camera like the new Samsung NX10 and the Panasonic and Olympus Micro Four Thirds cameras. We now have four manufacturers betting on miniature, mirrorless SLR-style cameras. Besides the Sony announcement, Olympus was giving their new E-PL1 consumer Micro Four Thirds camera its first public showing and anyone who didn't go to CES (me) was seeing the Samsung NX10 for the first time. There were other cameras to see at PMA this year but new compact format cameras owned the show.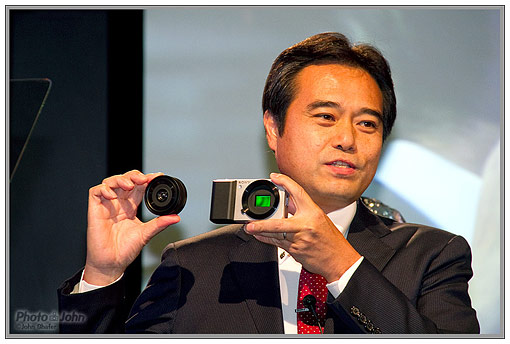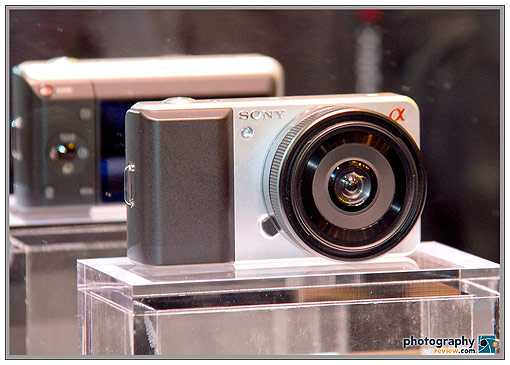 If you were a little confused by that introductory paragraph, don't feel bad. It's confusing. When you watch the video I've included (see below), you might notice that I stumble a bit and get confused trying to explain it, too. It wasn't so bad when we just had the Olympus and Panasonic Micro Four Thirds cameras. But now we have a couple of new cameras that are almost – but not quite – the same. Making it more confusing, there's no unifying category name yet. Some of the titles that are being thrown around are "Compact System Cameras," "Compact Mirrorless" and the latest (at least for me): "EVIL," which stands for Electronic Viewfinder Interchangeable Lens. Part of my goal with this article is to clarify how these new cameras are different from previous camera categories as well as why you might want one.
Panasonic and Olympus announced the Micro Four Thirds Standard a couple of years ago and the first model was the Panasonic Lumix G1, a 12-megapixel camera with a changeable Micro Four Thirds lens and an electronic viewfinder. The new standard removed the mirror from the camera body making it smaller and lighter and making it possible to also make the lenses smaller. The tradeoff was somewhat slower auto focus and no optical viewfinder. Since then, Panasonic has introduced two more cameras (GH1 and GF1) and Olympus has introduced three (E-P1, E-P2 and the E-PL1). Since the introduction of the second Micro Four Thirds camera, the Panasonic Lumix GH1, all of the cameras have had HD video with fully-functional auto focus. That makes them arguably better than current DSLRs for video as even the best HD DSLR doesn't offer continuous auto focus in the video mode. With a tilt-swivel LCD, 1080p AVCHD video, a 10x silent zoom lens designed for video and stereo mic input, the Panasonic GH1 is one of the best video capture devices on the market right now.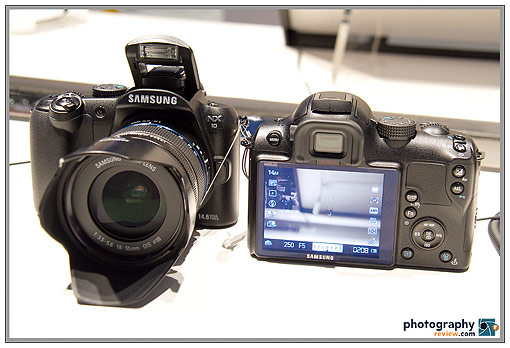 Samsung announced their 14-megapixel APS-C sensor NX10 compact, changeable lens camera at CES in January (Samsung NX10 announcement) and they announced five new NX-mount lenses at PMA (Samsung NX lens announcement). Soon we'll have a Sony camera as well. The bottom line with all of these EVIL, Compact System Cameras, or whatever you want to call them, is they offer near DSLR performance and flexibility in a much smaller, lighter package. Samsung and Sony are differentiating their offerings by using APS-C sensors, which are larger than the Four Thirds sensor in the Olympus and Panasonic cameras. But all of the cameras have huge sensors compared to high-end compacts like the Canon PowerShot G11, Panasonic Lumix LX3 and Nikon Coolpix P6000 – the previous gold standard if you wanted a high-performance digital camera that was more convenient than a digital SLR. And bigger sensors mean better image quality – at least they're supposed to.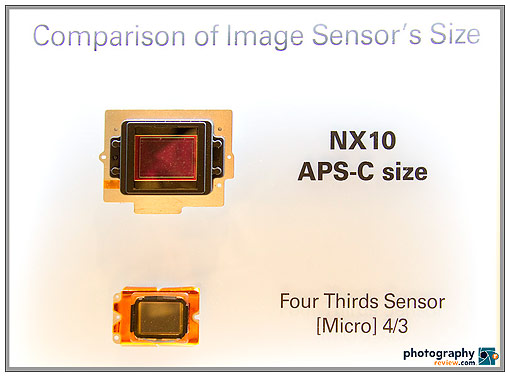 The core of Sony's PMA announcement is a new Exmor APS HD CMOS sensor, which will be capable of 1280 x 720 (720p) AVCHD video capture. They'll use the new sensor in entry-level and enthusiast digital SLRs as well as the new Compact Alpha Concept camera. The Samsung NX10 also uses an APS-C sensor with more surface area than the Panasonic and Olympus Four Thirds sensors. A bigger sensor means bigger individual pixels and, at least in theory, better image quality. However, a larger sensor doesn't guarantee better image quality. One of my Olympus contacts told me that even though the Samsung APS-C sensor is larger, the actual light collection area of each pixel is the same as that on the Olympus Pen camera sensors. I'm not sure if that's true but it's a good example of how things may not always be as simple as they seem. Sony and Samsung may use a larger sensor, but that doesn't guarantee their image quality will be better than the Olympus and Panasonic Micro Four Thirds cameras.
The bottom line here is there are now four major camera makers investing in compact DSLR-like cameras. That competition is great for photographers. With just Olympus and Panasonic making Micro Four Thirds cameras and lenses, there was some question about whether the compact, mirrorless digital camera concept would be successful. Having Sony and Samsung step into the race with new cameras and ideas confirms and validates the camera category. It will bring more public interest, manufacturer competition and technical innovation to the category. I don't think Canon or Nikon can afford to ignore these cameras now, either. In the end, photographers will benefit from compact DSLR camera alternatives with much better performance than we've come to expect. I don't believe we'll see the EVIL / mirrorless compact cameras – or whatever you want to call them – replace DSLRs. But they'll almost definitely replace high-end compacts that don't fit in a pocket. And for families and other photographers who don't actually need full DSLR performance, these new cameras offer a very compelling alternative to entry-level DSLRs.


More 2010 PMA Tradeshow Coverage >>
Related Content:
Digital SLRs Forum
Digital SLR User Reviews
All Micro Four Thirds News And Articles