The Sony Alpha NEX-7 is Sony's top-of-the-line compact system camera. It was our 2011 Camera of the Year because it was the first mirrorless camera to offer true pro-level performance. It was a very difficult camera to get ahold of, though. I finally got my hands on one and I've been using it for a few weeks now, including shooting the studio tests below. I quite enjoy taking pictures with it – especially with Sony's super-versatile 18-200mm OSS zoom lens. It's also been interesting testing a camera that's a couple of years old because it shows how much image quality has improved in just two years. The Sony NEX-7 has a 24-megapixel APS-C sensor and the image quality is great compared to other APS-C cameras from 2011. However, I think the NEX-7's image quality does suffer a bit when compared to the best current APS-C sensor cameras.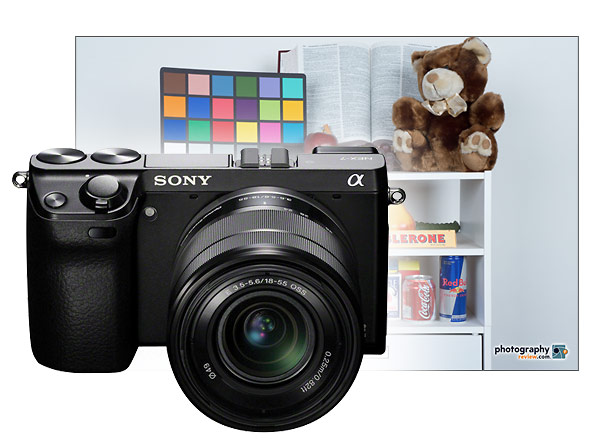 I had Sony's 16-megapixel NEX-6 in the studio for testing at the same time as the NEX-7 and my initial impression was that the image quality of the newer, lower resolution camera might be as good or even better than the NEX-7 (Sony NEX-6 Studio Sample Photos). Since the NEX-7 has 33% more resolution, pixel peeping on the computer doesn't really tell us anything. To equalize the resolution difference I made 8.5 x 11-inch prints from both cameras at different ISO settings and with different amounts of enlargement. The first thing I noticed in the prints was that the image quality of both cameras is pretty damn good. However, the NEX-6 tests look a little smoother and there isn't a noticeable loss of detail compared to the NEX-7 – even at ISO 6400. To see how the image quality holds up in big enlargements, I enlarged the test files to 20 inches and made prints from the ISO 1600 tests. Even there, where you'd think the NEX-7's extra resolution would make a difference, the NEX-6 test printed better. The NEX-7 might be a tiny bit sharper but it's at the expense of more visible noise and a slightly harsh look. Ultimately, what my NEX-7 testing has shown me, is how good Sony's newer, lower-resolution APS-C sensor is. Sony has done a very good job of minimizing noise and retaining detail with the newer camera. That's not a knock on the NEX-7 image quality, though. The NEX-7 image quality is great. It's just that Sony has improved their APS-C sensor image quality quite a bit since they introduced the NEX-7. I'm really curious now to see what they'll do when they finally replace the NEX-7.
The Sony NEX-7 controlled studio tests below were shot RAW on a tripod in aperture priority mode with the 18-55mm f/3.5-5.6 OSS kit lens at f/8 and white balance set to the tungsten preset. The RAW files were converted to 16-bit TIFF files in Lightroom and the graybar, logo and text were added in Photoshop before the images were resaved as maximum quality JPEGs. No adjustments were made and no noise reduction or sharpening were applied. I encourage readers to download, print and compare. As I said, the best way to really compare cameras is to make prints.
Warning: these files are big – be patient while they download.
Sony Alpha NEX-7 Sample Photos
2011 Camera of the Year – Sony Alpha NEX-7 >>
All Digital Camera Sample Photos >>
Related Content:
Sony Digital Camera User Reviews
All Compact System Camera User Reviews
All Sony Alpha NEX-7 Sample Photos
Compact System Cameras Forum
Sony Cameras Forum
All Compact System Camera News & Articles
All Sony Cameras News
Sony Alpha Cameras Web Site
All Digital Camera Pro Reviews
All Digital Camera Studio Sample Photos