Most of you know by now that my favorite point-and-shoots are pocket superzooms – pocket-sized cameras with 10x or longer zoom lenses. Based on features and specs, the Sony Cybershot HX50V is currently my top pick for a pocket superzoom camera (Pocket Superzoom Camera Guide). A big part of that is the HX50V has the distinction of being the most, ahem, well-endowed pocket superzoom camera this year. It has an amazing 30x optical zoom lens and it really fits in a pocket. (Yes, I am happy to see you.) Spec-wise it's definitely the best in its class. But how does it compare in the image quality department? Let's find out.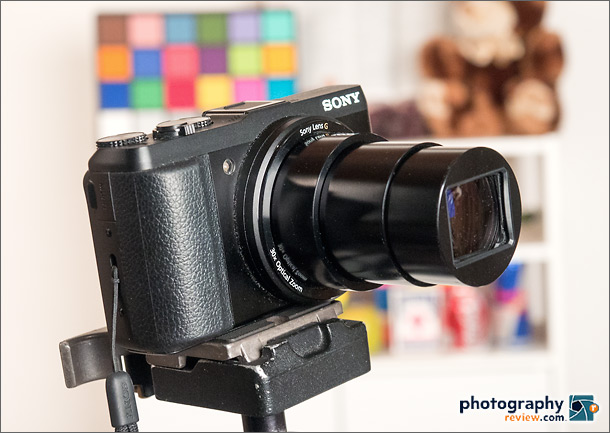 I've taken a careful look and done some close comparing with our Sony Cybershot HX50V studio tests and they are definitely point-and-shoot quality, which is to say – they are on par with other point-and-shoots and pocket superzooms that have 1/2.3-inch CMOS sensors. On paper, the Sony HX50V's 20-megapixel "Exmor R" CMOS sensor is alluring. However, I don't think there's any huge benefit in all those extra pixels. It's unrealistic to expect a dramatic difference in image quality with the HX50V compared to other comparable cameras. On the other hand, there's no real downside to the high pixel-count, either. And I do think the extra pixels deliver a bit more detail. There may actually be some benefit at ISO 1600 and 3200 as well, where I think the HX50V is less mushy and retains more detail than other pocket superzoom cameras.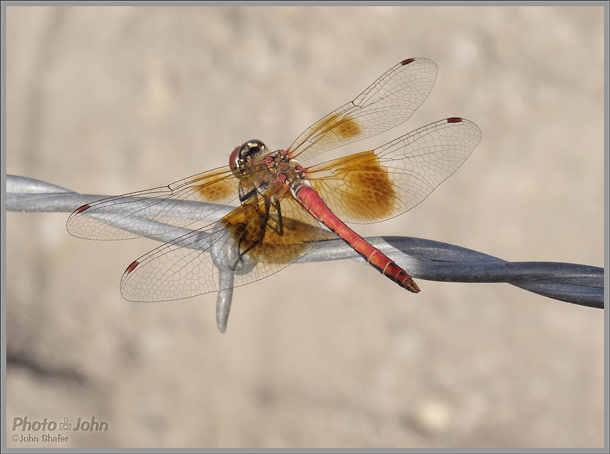 Sony Cybershot HX50V Sample Photo Gallery >>
For testing purposes, I peeped the HX50V test images on the computer at 100%, as a pixel-peeper must. However, this isn't the best way to evaluate image quality. Yes – comparing the dictionary text in the studio tests on the computer tells us which camera holds detail better at 100%. But in the real world, we don't really look at our photos at 100% – that's just camera geek stuff. Making prints is a much better real world test. Details that seem important on the computer often become irrelevant – the dictionary text isn't even legible in an 11×14 print – a very reasonable print size for a pocket camera. And not because of the camera's image quality. It's because the text is just too small at that print size.
So how did the Sony HX50V test prints look? At ISO 800, the HX50V image quality is just fine at the 11×14 print size. The dictionary text is actually too soft to discern on the computer in the ISO 800 sample. But in print, it doesn't matter because it's too small to read, anyway. My 11×14 ISO 3200 test print did look a little soft and there's some noticeable blotchy noise in the shadows. But we're talking about ISO 3200 and a pocket camera here, folks. I don't think there's any reason to complain. In fact, I'm pretty impressed. And like I said earlier, I think the HX50V does look a bit better than the competition at ISO 3200. Above that it looks soft and chunky – crappy, even. But we're talking about a small sensor point-and-shoot here. No one honestly expects a camera like this to have good image quality at ISO 6400. No one should, anyway.
The bottom line is the Sony HX50V has rock solid image quality to ISO 800 and I'd happily use it at ISO 1600 or even 3200 under the right circumstances. The exception to higher ISO would be landscapes, where fine details, like tiny trees, are critical (below). For that kind of photo I'd like to keep at ISO 800 or lower. And the reality is, with Sony's excellent Optical SteadyShot image stabilization, you shouldn't need to go above ISO 800 unless the light is pretty bad, you're shooting fast action, or you're zoomed way in (with the 30x optical zoom, that will happen). I think the HX50V does hold more detail than other cameras with the same size sensor. It's subtle and hard for me to absolutely confirm in my tests, but details like hair, grass, etc., do seem to be rendered better.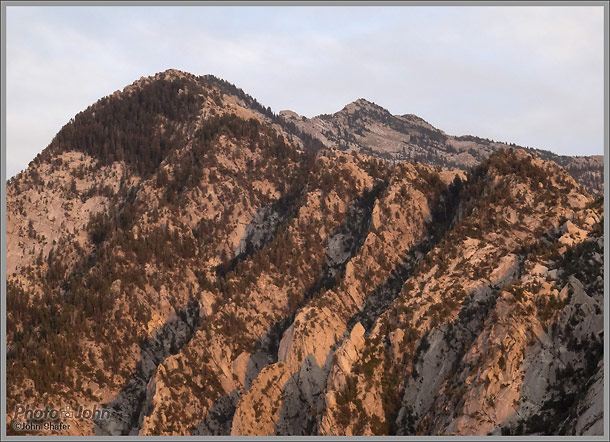 Enough of my blabbing, ladies and gentlemen – I'll let the sample photos speak for themselves, now. Please peruse them at 100% on your computer, compare them to the studio samples from other cameras, and print them out yourselves. Here's the tech info for those of you who want it – the photos were all taken in aperture priority mode at f/5.6 at approximately 70mm (equivalent). The HX50V has no RAW mode so all tests were shot in JPEG at maximum resolution and maximum quality. White balance was set to the tungsten preset; and color, contrast, sharpness, saturation and noise reduction were all left at the camera's default settings. The graybar, logo and text were added in Photoshop and the images were then resaved as maximum quality JPEGs before they were uploaded to the site. No processing or adjustment of any kind was made in post. Other than the text, graybar and logo, this is how the images came out of the camera.
Warning: these files are big – be patient while they download.
Sony Cybershot HX50V Studio Sample Photos
If you own a Sony Cybershot HX50V, we'd love to have you write a user review for us. Click on the "Read Reviews" button below to go to the user review page and write a review.
All Digital Camera Sample Photos >>
Sony Cybershot HX50V Intro >>
Related Content:
Sony Digital Camera User Reviews
Sony Cameras Forum
Digital Cameras Forum
More Sony News And Articles
Sony Cybershot Digital Camera Web Site