Designed for the latest, full-frame, high-resolution digital SLRs, Zeiss uses all kinds of superlatives to describe their latest lens, the new Otus 1.4/55 manual focus prime. "Uncompromising," "perfect," "phenomenal," "absolute," "highest-possible," and "exceptional," are just some of the terms used in the new 55mm f/1.4 marketing material. And in one of the boldest marketing statements ever, Zeiss flat out says: "the Otus 1.4/55 is the absolute best lens in the world today."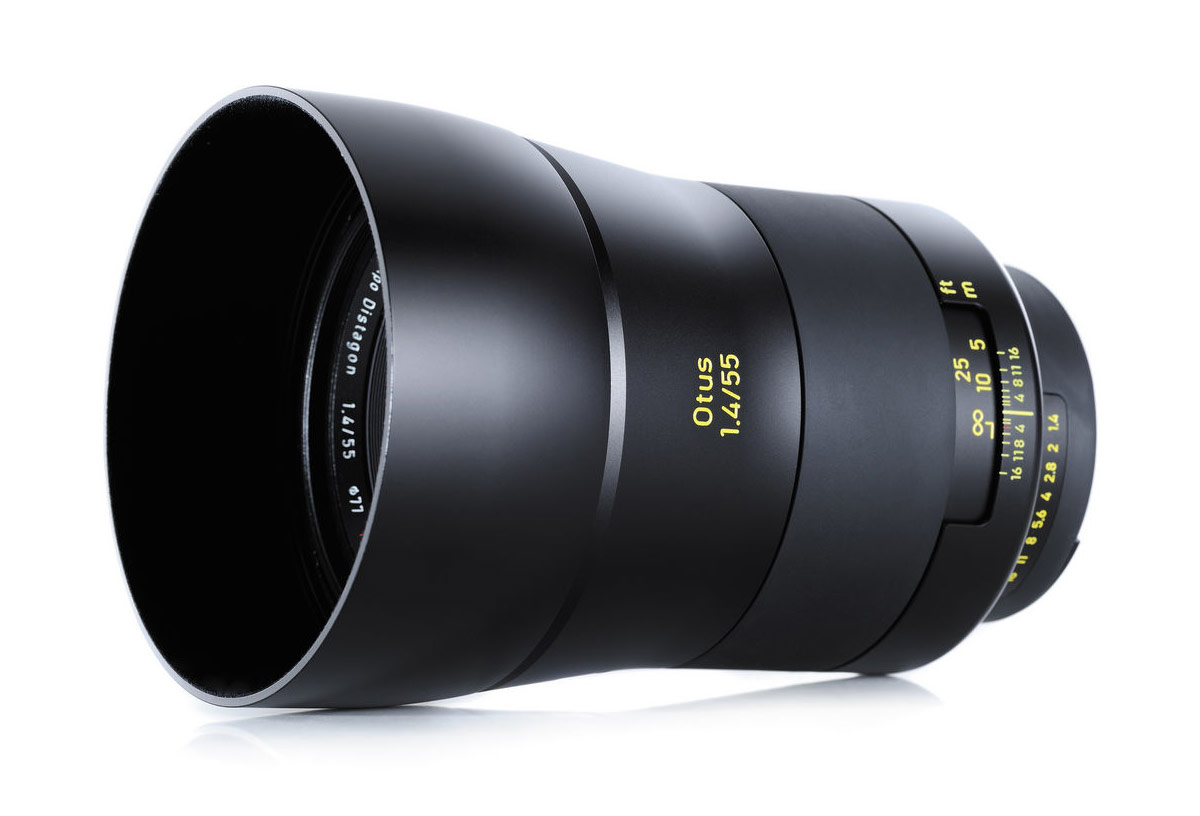 Zeiss Otus 55mm f/1.4 Lens Key Features And Specs
Focal length: 55mm
Aperture range: f/1.4 to f/16
Manual focus
248-degree manual focus rotation
Minimum focus distance: 0.5m / 19.7 inches
Lens Construction: 12 elements in 10 groups
Filter size: 77mm
Mounts: Nikon F (ZF.2) and Canon EF (ZE)
Three years in development, the Zeiss Otus 1.4/55 is the first in a new line of lenses obviously meant to raise the bar for digital SLRs. Here are some bullet points pulled from the Otus 1.4/55 product page on the Zeiss Web site:
No Compromises
Absolute Precision
Medium Format Performance
Highest Efficiency
Is this all just hyperbole or can the Otus 1.4/55 live up to the standard Zeiss has set in their descriptions of the new lens? I haven't used the lens so I can't say. But if there's a manufacturer that can do it, Zeiss is it. When professional photographers and cinematographers want the absolute best optics for their DSLRs, they usually turn to Zeiss. That's because Zeiss puts the emphasis on image quality, leaving other features like weatherproofing, image stabilization and auto focus, to the big, mass-market camera and lens manufacturers. You buy a Zeiss lens for the best possible glass with maximum sharpness, snappy contrast and super-precise manual focusing. To that end, the Otus 55mm f/1.4 has a completely new optical and mechanical design with 12 elements in 10 groups, including one aspherical element and 6 elements made of glass so rare that it costs more than gold. The result is a lens Zeiss says performs just as well wide open as stopped down with "exceptional" corner to corner image quality and no visible chromatic aberration.
Zeiss lenses have never been priced for the faint-of-heart. With a listed price of US $3990, the Otus 1.4/55 is no "Nifty-Fifty. It costs 10x as much as the Canon EF 50mm f/1.4, 8x as much as the Nikkor AIS 50mm f/1.4, and 5x as much as Zeiss's own Planar 50mm f/1.4. However, it is cheaper than the Leica 50mm f/1.4 Summilux – by five whole dollars*.
Check out the video below for a hands-on intro to the lens by Michael Scheihlen, Director of Sales for Zeiss. Just try not to do a spit take when he describes the Otus 1.4/55 as affordable:
The Zeiss Otus 1.4/55 standard prime lens is available for pre-order now and should be available from selected pro camera shops and online dealers in mid-November.
Official Zeiss Otus 1.4/55 Lens Web Page >>
*All prices in this article are as listed on the B&H Web site.
Related Content:
All Zeiss Lens User Reviews
More Camera Lens News & Articles
More Zeiss Lens News & Articles
Carl Zeiss Web Site