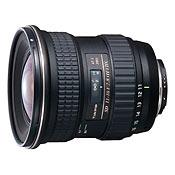 Your opinions and experience matter. Reviews by community members are the foundation of PhotographyREVIEW.com. Share your experience with other photographers by writing reviews for your cameras and other photo gear. You don't have to be an expert – everyone's opinion counts.
---
Featured Review:
Tokina AT-X 116 PRO DX AF 11-16mm f/2.8 Zoom Lens
by Abiciriderback (Intermediate)
Price Paid: $425.00 from Photographyreview.com
Review Date: January 8, 2009
Used product for: 1 to 3 months

Overall Rating: 5 of 5
Value Rating: 5 of 5

Summary:
This lens is a built like a tank. Just picking it up you can tell there is no plastic on this lens. Constant F2.8 is great for low light shooting. with 11-16 you really are about as wide as you are going to get. My copy is razor sharp and produces excellent color and contrast in the images. I would rate this right up there with a Canon L lens.
There is no MF/AF switch in which I really like especially in low light one is not fumbling around for the switch. Instead it is a push/pull of the focusing ring that switches from MF/AF. I have found the images even to be very reasonably sharp wide open at 2.8. They are tack at 5.6 to 13.1. The 11-16 is not the lightest lens out there. But I will gladly swap good build quality for weight.
Strengths:
Build quality, Razor tack images, great low light shooter, great color and contrast output. Ultra wide which is very nice for landscape, no MF/AF switch. Very good price point
Weaknesses:
It is heavy. If you use Cokin P filters get vignetting from about 11-13. need to use ultra slim screw on filters
Similar Products Used:
Canon 10-22, Sigma 10-20
Customer Service:
N/A