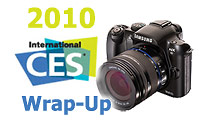 The 2010 Consumer Electronics Association tradeshow (CES) took place last week (Jan 7 – 10) in Las Vegas. The photo industry has its own tradeshow coming up next month in Southern California. But since a lot of the big electronics companies make digital cameras as well as TV sets and other electronics; CES usually sees quite a few camera announcements. Read on for our CES camera news highlights.


Samsung NX10 System Camera
The biggest photography-related announcement at CES this year the Samsung NX10 system camera. The NX10 was shown behind glass a year ago at the 2009 PMA tradeshow, but Samsung had very few details to share at that time. The CES announcement confirms the camera and adds a lot more information. The NX10 is Samsung's answer to the Panasonic and Olympus Micro Four Thirds cameras, which offer much of the performance and versatility of a DSLR in a smaller, lighter package. Like the Micro Four Thirds cameras, the Samsung NX10 has changeable lenses but it will use a larger APS-C sensor. The larger sensor should offer better image quality than the smaller Four Thirds sensor Olympus and Panasonic are using. I'm looking forward to seeing the NX10 in person next month at the 2010 PMA tradeshow.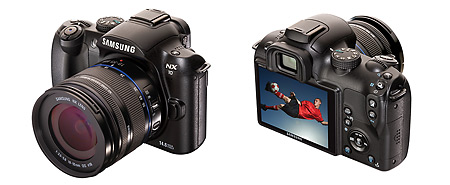 CES Point-And-Shoot Camera Highlights
It seems like every new camera announced at CES this year included HD video capture. By next year all but the lowliest entry-level compacts will have HD video. Face detection is also mentioned in almost every new camera announcement. Here are some of the point-and-shoot digital camera highlights from CES.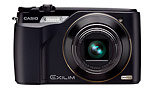 Casio brings their high-speed shooting magic to the pocket superzoom category with the new EX-FH100 (Casio EX-FH100 announcement), which has a 10x zoom lens and can capture stills at up to 40 frames per second and high speed video at up to 1000 frames per second. I want one! If Casio comes out with a waterproof pocket camera that has a good zoom and their high-speed capture features, I'll be first in line with a fist full of cash.
Sony announced their first pocket superzoom, the 10-megapixel DSC-HX5V (Sony Cybershot DSC-HX5V announcement). The Sony HX5V has a 25-250mm image-stabilized 10x zoom lens, captures 1920 x 1080 AVCHD video, and has a built-in GPS feature. It also has in-camera HDR, 10 frames per second still image burst rate, Sony's Intelligent Sweep Panorama feature and stereo sound recording.
Olympus and Kodak both introduced new pocket cameras for the outdoor enthusiasts. The Kodak Playsport is a waterproof (10 feet / 3m) pocket hybrid camera. It captures HD video and 5-megapixel stills. To make it more attractive to the adrenaline crowd, Kodak is offering an optional helmet mount so snowboarders and mountain bikers can capture point-of-view HD crash footage to share on YouTube. Olympus added a new model to their Stylus Tough waterproof and shockproof pocket camera line. The new 12-megapixel Olympus Stylus Tough-3000 is the first Olympus Stylus Tough point-and-shoot with HD video. It's also the first waterproof Olympus camera with SD memory card compatibility, which should make it attractive to a lot more people than previous models
| | |
| --- | --- |
| | |
Samsung's digital cameras have come a long way in the past few years. This is evident in the sexy and


thoughtful design of the new Samsung CL80 and TL240, which both have extra large touchscreen LCD displays (3.7 and 3.5-inch, respectively) and hydroformed stainless steel bodies. Hydroforming "allows for greater flexibility during the design process and gives manufacturers the ability to produce smoother silhouettes, seamless bonding, and higher quality surfaces." Both cameras have extra large lenses, a smart phone-inspired touchscreen interface and the CL80 also includes wireless connectivity.
next page – Page 2 – 2010 CES Camera Wrap-Up >>