Samsung announced a new connected camera this week, the Galaxy Camera 2. The Samsung Galaxy Camera 2 is a compact superzoom with a 21x 23-483mm (equivalent) optical zoom lens, a 16-megapixel backlit CMOS sensor, full Android OS and advanced Wi-Fi features. It does not have 4G mobile connectivity like Samsung's original Galaxy Camera and the core features, the zoom lens and the sensor remain the same as those in the original camera. However, Samsung did beef up the Wi-Fi features, including adding NFC (Near Field Communication). The restyled Galaxy Camera 2 also has a faster processor, twice as much RAM and increased battery life.


Samsung Galaxy Camera 2 Key Features and Specs:
16.3-megapixel 1/2.3-inch backlit CMOS sensor
21x 23-483mm (equivalent) f/2.8-5.9 optical zoom lens with optical image stabilization
Sensitivity: ISO 100 to 3200
1920 x 1080 30 FPS full HD video
4.8-inch touchscreen display
Bounceable pop-up flash with
Full maunal exposure controls via Samsung's built-in camera app
Android 4.3 (Jelly Bean) OS
8GB internal memory
MicroSD memory card slot (up to 64GB)
The world's first and only dedicated camera with full 4G mobile connectivity, the original Samsung Galaxy Camera (read our Samsung Galaxy Camera review) was one of the most interesting cameras of the past two years. From the front it looks like a normal camera but from the back it looks almost exactly like a Samsung Galaxy Smart Phone. The Galaxy Camera 2 has been given a bit of a makeover but it's basically the same. I'm not sure if they've made any changes to it for the new camera but Samsung's custom camera app (see photo, below) is very good; and the 21x optical zoom lens lets you shoot close and wide, or zoom in on really distant details. After you take a picture you can immediately edit it with your favorite Android app on the big 4.8-inch touchscreen display and then use your favorite social networking apps like Facebook and Instagram to share straight to the Web.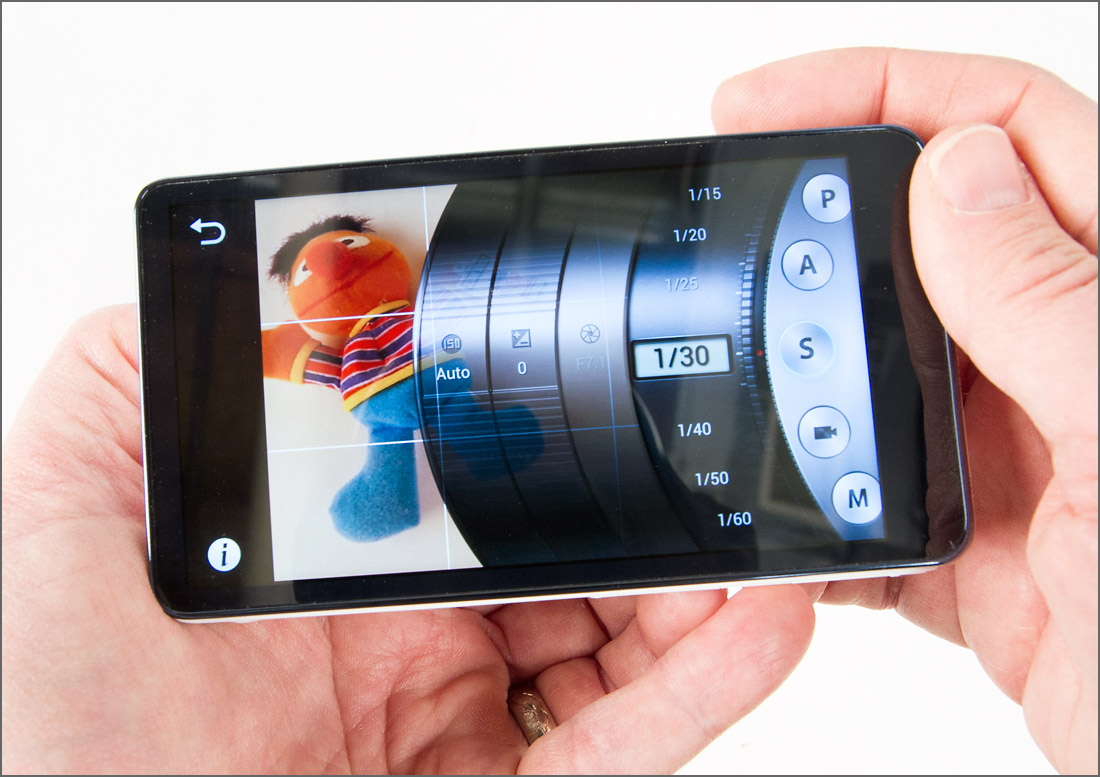 The biggest change with the Galaxy Camera 2 is it dispenses with 4G mobile connectivity in favor of Wi-Fi only. When the Samsung marketing team briefed me about the Galaxy 2 they said the Galaxy Camera had been very popular but most people didn't use and didn't even activate the mobile capabilities. So I guess they decided to just dispense with the 4G feature. Personally, I loved it. But then again, I had one on loan for review and I didn't have to pay for it. The mobile service does make the original Galaxy Camera very expensive so it makes sense that most people wouldn't use it. Plus, as long as you've got access to a Wi-Fi network with Internet, you can connect to the Web and upload photos and videos with the Galaxy Camera, anyway. It's only if you're away from Wi-Fi that you can't share straight from the camera. In that case, you can use the camera's built Wi-Fi to transfer photos to your Smart Phone and then share them from there. So it's easy to argue that the 4G capabilities aren't really necessary.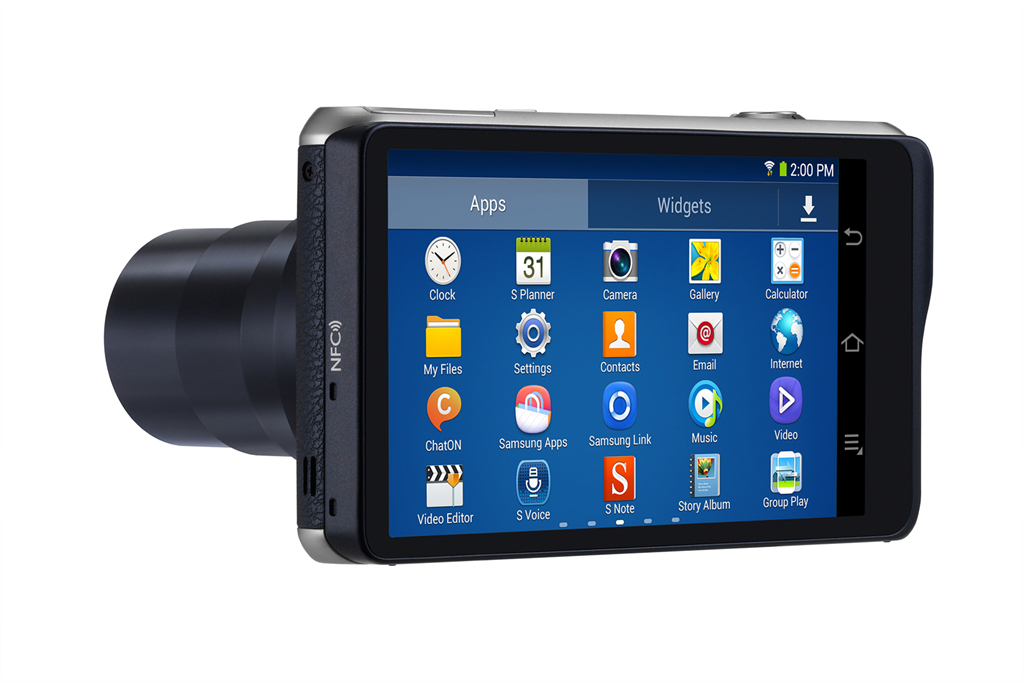 There are some new features in the Galaxy Camera 2 Wi-Fi options. The main one is NFC, which makes connecting the camera to your phone as easy as touching the two devices together. Same goes for sharing photos and videos. All you have to do is bump the camera against another NFC-equipped device and a selected photo will automatically be transferred. Samsung's Remote Viewfinder app lets you use your Smart Phone as a wireless remote control for the camera – perfect for group photos and self-portraits. The Galaxy Camera 2 also comes with the Dropbox app installed so you can save and backup photos and videos on the Cloud.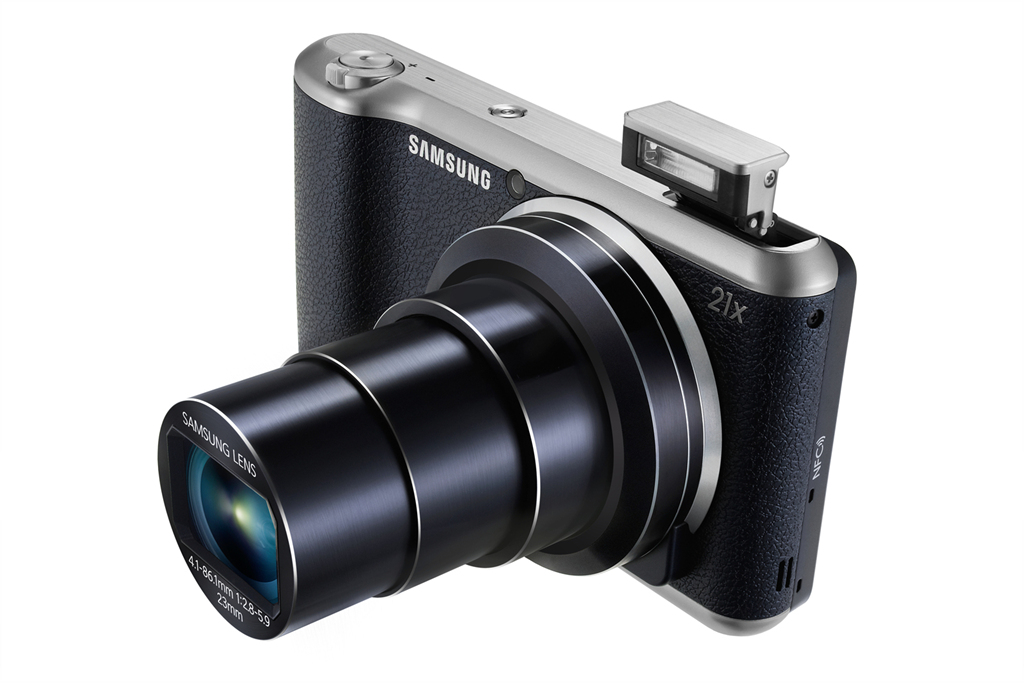 Besides the Wi-Fi enhancements, Samsung also upgraded the Galaxy Camera 2's processor and RAM. It now has a 1.6GHz Quad Core processor (the original Galaxy Camera had a 1.4GHz processor) and 2 GB of RAM – twice as much as the original Galaxy Camera. There's also a new battery with about 15% more capacity and a new pop-up flash that can be bounced. Samsung says the new processor and increased RAM make the camera run much quicker than the previous model. That should make a big difference when you're editing photos with your favorite app.
Or playing Angry Birds.
Or watching a movie.
On your camera.
The Samsung Galaxy Camera 2 will be revealed to the public for the first time at the annual CES tradeshow, next week, in Las Vegas. Samsung hasn't announced pricing or availability for the Galaxy Camera 2 yet, but we'll let you know when they make that information available. I'm hoping they bring it down a bit from the original Galaxy Camera's $450 price, which is pretty expensive when you compare it to other, comparably-spec'd cameras.
Related Content:
All Samsung Camera User Reviews
Digital Cameras Forum
All Samsung Camera News & Articles
Samsung Digital Cameras Web Site