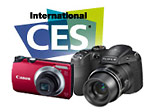 So far this year at CES there are new cameras from Sony, Canon, Olympus, Fujifilm, Kodak, and more. We're updating the links below on this page as new products are announced. So make this your go to source for 2011 CES camera and photography-related news.

The photography tradeshow landscape has changed a lot in the past few years and the monstrous annual CES consumer electronics tradeshow looms larger and larger. The show takes place early every year in Las Vegas (January 6-9, 2011) and all the big (and lots of small) electronics companies show up to show off their latest and greatest computers, smart phones, TVs, audio equipment, gadgets, gizmos – and yes – there are cameras, too! Since it's a consumer focused show, it's mostly point-and-shoot cameras and products that are shown. The high end stuff will come later this year at the annual PMA tradeshow. Whatever is introduced at CES, rest assured that you'll be able to get all the new camera and photography gear announcements here on PhotographyREVIEW.com!

2011 International CES Tradeshow
January 6-9, 2011 – Las Vegas, Nevada
Las Vegas Convention Center/Las Vegas Hilton/The Venetian
The International CES is produced by the Consumer Electronics Association (CEA), the preeminent trade association promoting growth in the consumer technology industry. CEA represents more than 2,000 corporate members involved in the design, development, manufacturing, distribution and integration of consumer electronics products. All profits from CES are reinvested into industry services, including technical training and education, industry promotion, engineering standards development, market research and legislative advocacy.
2011 CES Camera & Photography Announcements:
Canon PowerShot A3300 IS, A2200, A1200 and A800 Digital Cameras
Eight New Canon Vixia High Definition Flash Memory Camcorders
Canon XA10 Professional Camcorder
Casio Exilim EX-H30 Digital Camera
Casio Exilim EX-ZR100 Digital Camera
Casio Exilim EX-ZS10 and EX-ZS5 Digital Cameras
Casio TRYX Digital Camera
Eye-Fi Direct Mode
Fujifilm FinePix AV200, AV250, AX300 and AX350 Digital Cameras
Fujifilm FinePix F550 EXR and F500 EXR Digital Cameras
Fujifilm FinePix HS20 EXR Digital Camera
Fujifilm FinePix JV200, JV250, JX300, JX350 and JX400 Digital Cameras
Fujifilm S2950 Super-Zoom Digital Camera
Fujifilm S3200, S3300, S3400 and S4000 Super-Zoom Digital Cameras
Fujifilm FinePix T300 and T200 Digital Cameras
Fujifilm FinePix XP30 and XP20 Rugged GPS Digital Cameras
Fujifilm FinePix Z90 Digital Camera
Kingston SDHC UHS-I UltimateXX Memory Card
Kodak EasyShare Touch, Mini and Sport Digital Cameras
Kodak ESP C310 All-in-One (AiO) Printer
Kodak Playfull and Playsport HD Pocket Video Cameras
Updated Kodak Pulse Digital Frame
Lexar Professional 133x SDXC Memory Cards
Olympus E-PL2 Hands-On Sneak Peek Video
Olympus SP-610UZ Wide-Angle Ultra-Zoom Digital Camera
Olympus Tough TG-610 and TG-310 Waterproof, Shockproof and Freezeproof Digital Cameras
Olympus VG-120 Digital Camera
Olympus XZ-1 Premium Compact Camera Preview Video
Panasonic Announces Seven New HD Camcorders
Panasonic HDC-TM900, HDC-HS900 and HDC-SD800 Full HD 3MOS Camcorders
Panasonic Lumix DMC-FH27 and Lumix DMC-FH25 Digital Cameras
Panasonic Lumix DMC-FH5 and Lumix DMC-FH2 Digital Cameras
Panasonic Lumix DMC-FP7 and Lumix DMC-FP5 Digital Cameras
Panasonic Lumix DMC-S3 and Lumix DMC-S1 Digital Cameras
Panasonic SDR-H100, SDR-T70 and SDR-S70 Camcorders
PocketWizard MiniTT1 Transmitter and FlexTT5 Transceiver Radios for Nikon Cameras
Samsung DualView ST700, PL170 and PL120 Digital Cameras
Samsung HMX-H300 HD Camcorder
Samsung HMX-P300 and HMX-P100 Full HD Camcorders
Samsung HMX-Q10 Camcorder
Samsung NX11 Mirrorless Interchangeable Lens Camera
Samsung SH100 Wi-Fi Enabled Digital Camera
Samsung WB210 and PL210 High-Zoom Digital Cameras
New Samsung WB700 Pocket Superzoom Camera – 18x Zoom Plus RAW
SanDisk 128GB Extreme Pro CompactFlash Memory Card
Sony Bloggie, Bloggie Duo and Bloggie 3D HD Pocket Video Cameras
Sony Class 10 SDHC Memory Cards
Sony Cybershot DSC-TX100V, DSC-TX10, DSC-HX7V, DSC-WX10 and DSC-WX9 Digital Cameras
Sony Cybershot DSC-W510, DSC-W530, DSC-W560, DSC-W570, DSC-T110 and DSC-H70 Digital Cameras
Tenba Roadie II Photo/Laptop Cases
Toshiba Camileo S30 Camcorder
Vivitar DVR 790HD, DVR 480 and DVR 780HD Digital Video Cameras
Vivitar ViviCam T132, ViviCam VT135 and ViviCam iTwistT028 Digital Cameras
Follow us on Twitter & Facebook to get news updates on your phone and as they're posted!


@Camera_Review
More CES Related Content:
2010 CES Tradeshow
2009 CES Tradeshow
2008 CES Tradeshow
All Camera & Photography News
Official CES Web Site