I was very curious when I heard about the 645 PRO Mk II iPhone camera app. The name alone was enough to get my attention. Naming a Smart Phone app after a medium format camera and including the word "Pro" is a ballsy move. It suggests maximum camera control and image quality, two things I don't normally associate with camera phones. It's either pure marketing BS, or they really have something special and feel very confident about it.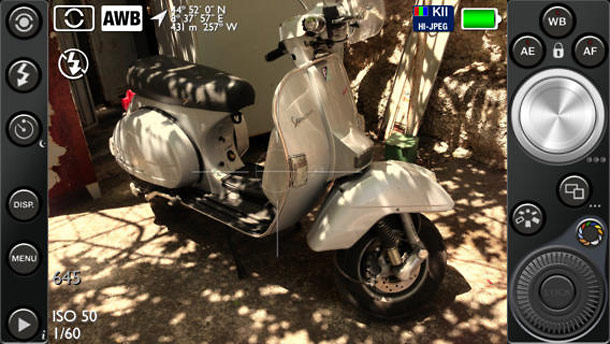 645 PRO Mk II iPhone app Key Features & Specs:
Image formats: HI-Quality JPEG, MAX-Quality JPEG, unedited TIFF (dRAW)
Histogram
9 film modes
Custom film modes
11 traditional filters
7 formats (aspect ratios)
Independent focus, exposure and white balance locks
Spot or matrix metering
Configurable self-timer
Night Mode exposures up to one second
3-shot burst and bracketing
Configurable anti-shake options
Price: US $3.99
The 645 PRO Mk II app came to my attention when a photographer acquaintance on Facebook told me about it. He sent me a link to an image he took with his phone and it really did look great – better than I would normally expect from a Smart Phone. The first thing I did was check the Google Play Store to see if it was available for Android phones. Unfortunately, it isn't. Since I'm an Android user, I can't just install it and test it myself. Hopefully, my Facebook friend will help us out with a full review after he's used the 645 PRO Mk II app for a while.
Even though I wasn't able to do my own quick review, I thought the 645 PRO Mk II app was interesting enough that our readers should know about it. My main question was about image quality. Does it actually produce better image quality? And if so, how does it do it? My first thought was it must use multiple images to improve resolution, detail and image quality. That would be a reasonable strategy, although it would mean you couldn't freeze action. Turns out I was wrong. For top quality images, the 645 PRO Mk II app captures and saves images in the uncompressed TIFF format – also called "dRAW," for "developed RAW." It's not a true RAW file, which would be the pure data off the sensor, unprocessed and unedited. No one offers that in a Smart Phone – yet. The TIFF files are uncompressed and unedited, though – as close as you can get to actual RAW with a Smart Phone. Of course, you're still limited by the iPhone's small sensor and lens (compared to point-and-shoot cameras). But you will be getting the maximum quality possible. I'm looking forward to seeing some back-to-back samples taken with the standard iOS camera app and 645 PRO Mk II to see how much, if any difference, there actually is.
Where 645 PRO Mk II clearly excels, is with iPhone camera controls and information. It has all kinds of options experienced photographers will appreciate, including shutter speed and aperture data, histogram, spot metering, bracketing, real-time GPS data – even a two stage shutter button that lets you lock focus and exposure before you actually take the picture. The UI looks great too, with large buttons and dials and all the data you need, right out in the open where you can see it easily. Check out the short promo video below to get a better feel for the app:
There are plenty of Smart Phone apps that let you do all kinds of goofy and "retro" stuff to your photos. The 645 PRO Mk II offers photo processing tools that will appeal to serious photographers. They're intended to help photographers craft high-quality, "print-ready" images rather than quick-and-dirty low-res snapshots best viewed on the phone and social networking sites. In keeping with the app's medium format moniker, there are seven "camera back" options. The "backs" are actually traditional medium format film proportions, from 6×6 (square) to 6×17 panoramic. There are nine Film Modes that replicate classic film stock, and you can create your own custom film styles, as well. The 645 PRO Mk II app also includes eleven traditional photo filters, including graduated neutral density filters. Basically, anything you could do with a medium format film camera, you can do with the 645 PRO Mk II iPhone app.
The 645 PRO Mk II app is optimized for the iPhone 5 but it's compatible with the most Apple mobile devices running iOS 5 or later. It was made by developer Mike Hardaker and it's available on iTunes, of course. You can learn all about it on his Web site, http://jag.gr/; and there's a complete list of compatible devices on the 645 PRO Mk II iTunes page. Looking at the jag.gr Web site, it doesn't look like there's much chance of seeing 645 PRO Mk II for Android. Regardless, I'm looking forward to checking out the app in person – as soon as I can talk a friend with an iPhone into installing it. Then we can find out if it really produces better image quality than the standard iOS camera app. That would definitely make it worth the daunting $3.99 investment.