At the CP+ tradeshow in Japan this week (Feb 9-12, 2011), Olympus will be celebrating 75 years of Zuiko lenses by showing off one of the original Zuiko lens cameras and a model of a new M.Zuiko Micro Four Thirds mystery lens scheduled for later this year. Stop and think about that for second – Olympus has been making cameras since before World War II!
Ok, you are free to continue reading now…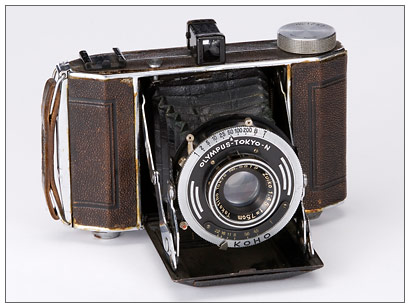 The first camera with a Zuiko lens, the Semi-Olympus I, was introduced 75 years ago, in 1936. To commemorate the Zuiko anniversary, Olympus will have a 1938 Semi-Olympus II folding camera displayed in their CP+ booth. I love old cameras and the Zuiko-spec'd Semi-Olympus II is a beauty. But I'm more a photographer than a collector so I'm really interested in learning more about the upcoming "high-end" Micro Four Thirds format prime lens.
"To mark Olympus' dedication to the development of state-of-the-art, high-performance products, the mock-up of a new M.ZUIKO single focal lens concept will also be presented at the show. It is a high-end MICRO Four Thirds™ lens currently being developed for launch later this year."

The official press release is pretty vague and the photos show no lens markings. However, the styling of the new Micro Four Thirds lens matches the Olympus M.Zuiko 17mm f/2.8 prime that was introduced with the first Olympus Pen camera, the E-P1. If the size of the model is accurate, I'm guessing it will have a focal length somewhere in the neighborhood of 40 to 50mm. With the 2x Four Thirds sensor conversion factor, that would be a logical size for a prime lens since fast 80 to 100mm prime telephoto lenses are traditional for portrait photography, photojournalism and some sports.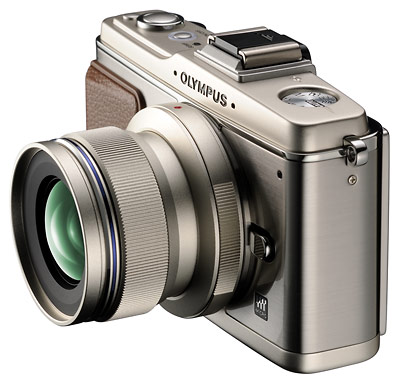 It sure would be nice to have more high-end lenses for the Olympus Pen cameras. The size of the cameras and lenses is great and performance is very good. However, one of the downsides is the lack of fast-aperture primes and zooms for serious enthusiasts and professional photographers. I look forward to learning more about the new M.Zuiko lens and I hope Olympus has lots more in development.

Related Content:
Olympus Zoom Lens Reviews
All Olympus User Reviews
Olympus Cameras & Four Thirds Forum
EVIL & Micro Four Thirds Cameras Forum
More Olympus Camera News And Articles
More Micro Four Thirds Camera News And Articles
Olympus Digital Cameras Web Site