Fujfilm's X-Pro1 and X-E1 mirrorless cameras have been very popular with serious photographers who appreciate their combination of handsome retro styling, portability, discretion, and excellent image quality. Unfortunately, premium pricing put the Fujifilm X-Series mirrorless cameras out of reach of most photographers – until now, that is. With an MSRP of just US $699, or $799 with the new 16-50mm f/3.5-5.6 XC zoom lens, the new Fujifilm X-M1 puts X-Series performance within reach of the masses. The X-M1 has the same excellent APS-C X-Trans sensor as the considerably more expensive X-Pro1 and X-E1; and it has Fujifilm's latest EXR II processing, introduced early this year with the X100S. That means the X-M1 should have even better color and low light performance than the X-Pro1 and X-E1. Fujifilm also gave the X-M1 a new 3-inch tilting LCD display and built-in Wi-Fi for easy photo sharing. The only thing you have to give up is the electronic viewfinder EVF.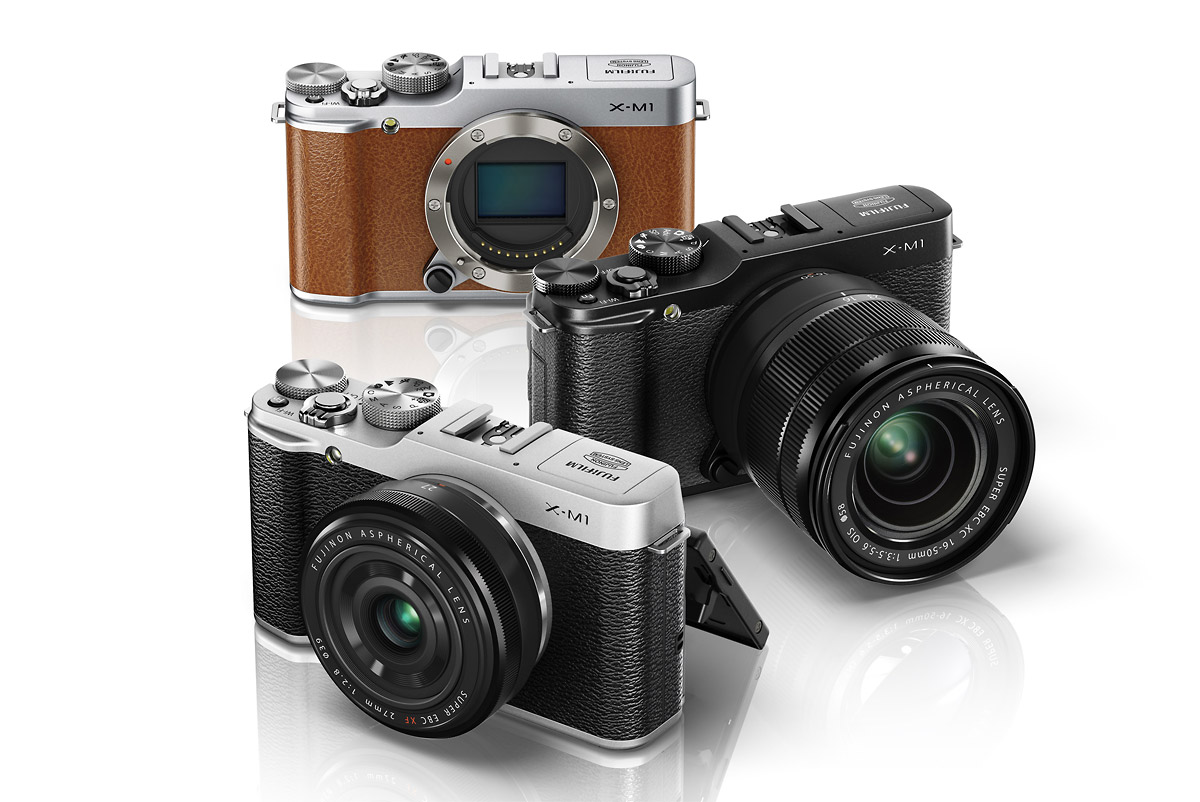 Fujifilm X-M1 Key Features and Specs:
Same 16-megapixel APS-C X-Trans CMOS sensor as the X-Pro1 & X-E1
EXR processor II processor
XF and new XC interchangeable lens compatibility
1920 x 1080 full HD video with built-in stereo mic
3-inch 920k-dot tilting LCD display
Built-in Wi-Fi with iOS and Android app
Sensitivity: ISO 100 to 25,600
P,A,S,M shooting modes
RAW, RAW + JPEG
Film simulation mode
5.6 frames-per-second burst (JPEG mode)
Built-in pop-up flash
Flash hot shoe
Besides improved processing, the new 3-inch tilting LCD display and built-in Wi-Fi, the main difference between the X-M1 and its two more expensive siblings is the build. With no EVF, the X-M1 is about half an inch less wide and a third of an inch shorter, with a somewhat less burly build, according to Fujifilm. The depth remains the same, even with the new tilting LCD display. With the smaller body and a flip-up LCD display for stealth waist-level shooting, the X-M1 could actually be the best X-Series street camera yet.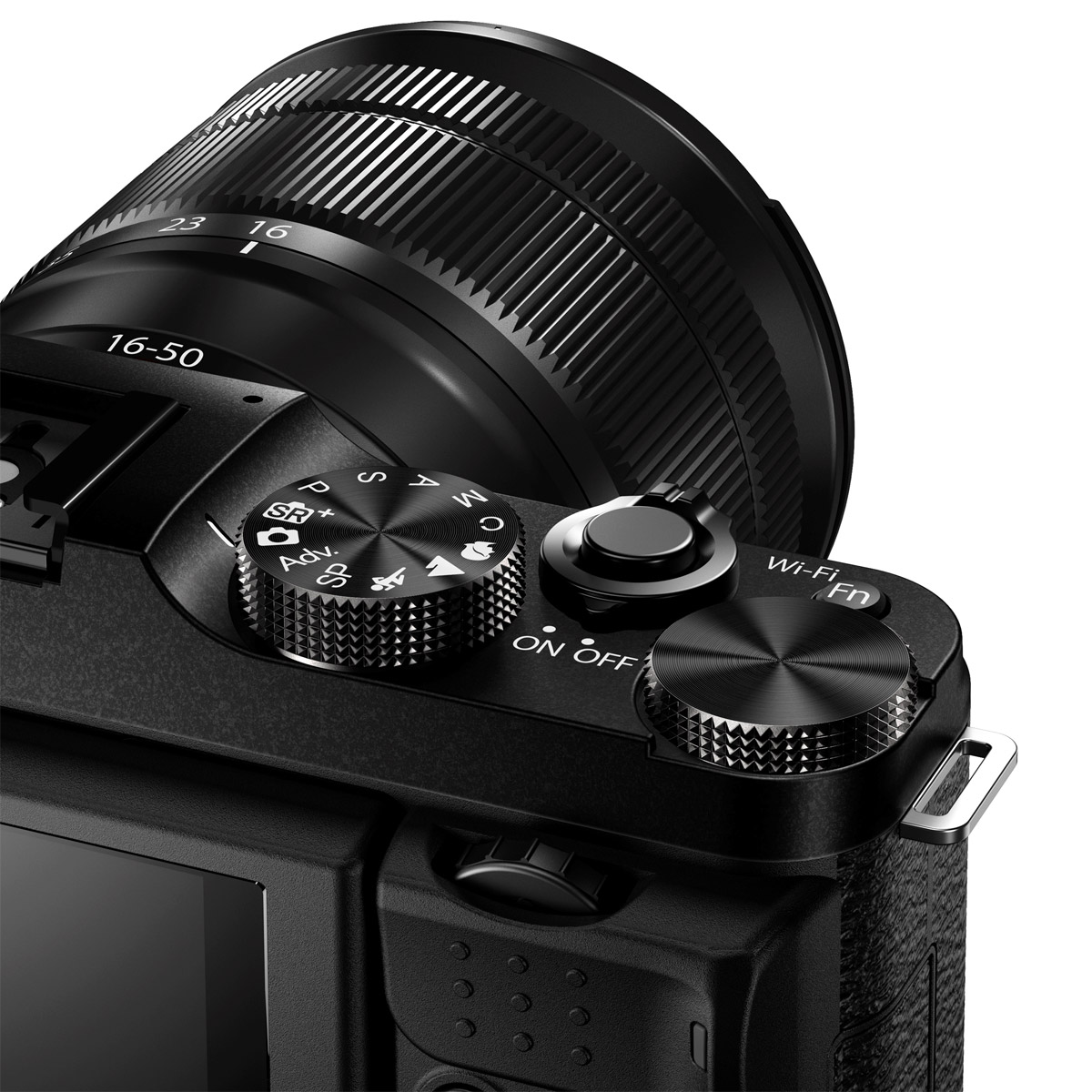 The X-M1's menus and controls are the same as the X-E1 and X-Pro1 (read our Fujifilm X-E1 review), with the exception of the WiFi button next to the shutter release. It's actually not a new button. The Fn button from the X-E1 and X-Pro1 now does double duty as a WiFi button. With the free Fujifilm Camera Application installed on your iOS or Android mobile device, you can easily transfer photos and videos to your Smart Phone or tablet for nearly instant sharing – as long as you have mobile service. That means you can dispense with the mediocre Smart Phone photos and take advantage of Fujifilm's excellent X-Trans sensor image quality for all your photo needs. Your Instagram food and party photos are gonna be off the hook, yo!
There are some nice improvements and new features in the Fujifilm X-M1. But the main point of the camera is to make X-Series image quality available to regular folks. Fujifilm's X-Trans CMOS is one of the best APS-C sensors available right now. The proprietary, randomized RGB pixel array and no anti-aliasing filter deliver truly outstanding detail and low light performance. And now you don't have to be independently wealthy to get that kind of image quality. Anyone that's been lusting after an X-Pro1 or X-E1 but holding out, your patience has been rewarded.


To go with the new lower-priced body, Fujifilm is introducing a new "XC" line of lenses. The first XC lens is the Fujinon XC16-50mm f/3.5-5.6 OIS kit zoom. It has a slower variable aperture range than the 18-55mm than the XF18-55mm f/2.8-4 R LM OIS zoom that comes with the X-E1 kit. But it still has the Fujinon name, optical image stabilization (OIS), a 7-blade rounded aperture, and I would be willing to bet it's a step above your typical 18-55mm kit zoom. I also like the 16mm wide end of the zoom range. That's considerably wider than what you get with other kit lenses.
The Fujifilm X-M1 will come in three colors – solid black, black and silver, and a two-tone brown leatherette and silver. The two-tone silver and black attack, and solid black models will be available next month (July, 2013). The two-tone silver and brown version will be available in August. Price for the X-M1 body alone will be US $699.95. It will also be available in a kit with the new Fujinon XC16-50mm f/3.5-5.6 OIS zoom lens, for $799.95.
Fujifilm X-M1 Press Release >>
Related Content:
All Fujifilm User Reviews
All Digital Camera User Reviews
Digital Cameras Forum
More Fujifilm News & Articles
Fujifilm Web Site