Sony has announced a new, compact prime lens for their NEX mirrorless camera system. The new E-mount 20mm f/2.8 pancake lens has a focal length equivalent to 30mm on a 35mm / full-frame camera. That's a conservative wide-angle focal length – very close to the traditional 35mm focal length preferred by photojournalists and street photographers. The large f/2.8 aperture is good for shallow depth-of-field photos as well as low light photography. The 20mm f/2.8 lens's compact pancake design helps make the Sony's NEX camera system even smaller. The new 20mm lens is almost exactly the same size as the E-mount 16mm f/2.8, so there are now two ultra-compact prime lenses available for photographers who want a small, light and inconspicuous Sony NEX camera kit.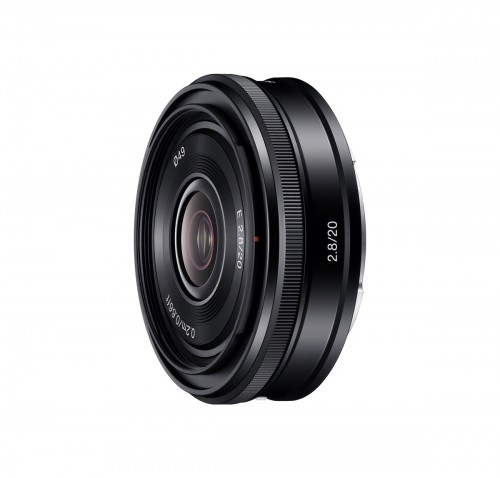 Sony 20mm f/2.8 E-mount Lens Key Features And Specs:
Focal length: 20mm
Focal length equivalent: 30mm
Aperture range: f/2.8 to f/22
Minimum focus distance: 7.8″ inches (0.2m)
Aperture construction: 7 blades
Weight: 2.4 oz (69g)
Dimensions: 2-1/2 x 13/16 inches (62.6 x 20.4 mm)
The new Sony 20mm f/2.8 E-mount lens (model SEL20F28) will be available in April of 2013 for US $350.00.
Related Content:
Sony Digital Camera User Reviews
Sony Cameras Forum
Digital Cameras Forum
More Sony News And Articles
Sony Cybershot Digital Camera Web Site