It's the most popular camera in the world – for today, anyway. The new Apple iPhone 5 is official. Yeah, it's a smart phone but it's also arguably the most popular camera in the world. Even though I don't believe camera phones should replace real point-and-shoot cameras, there's no denying the reality that for most people, their cell phone is all the camera they want or need. And today, the new iPhone 5 is king.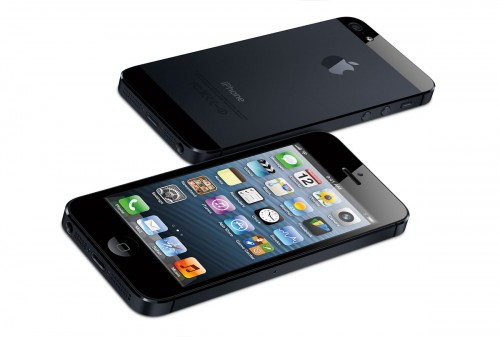 So what's new in the iPhone 5 camera? For one, it now has a name –the "iSight" camera. Perhaps they decided to brand it because the camera specs are basically the same as the iPhone 4S? It appears to be using the same 8-megapixel backlit CMOS sensor and f/2.4 lens, although the lens does have a new scratch-resistant sapphire glass protective cover. That's the same kind of glass Leica uses to protect the LCD display on their legendary M9 P digital rangefinder camera. According to Apple, there are some real performance improvements, though; namely, improved speed and image quality. The iPhone 5's new A6 processor is supposed to be about twice as fast as the previous processor and taking a picture should be about 40% faster. Cellular data connectivity has been upgraded to LTE and the Wi-Fi specs have been improved so uploading party photos to Facebook should be faster.
As far as actual photos go, low light performance and noise reduction have been improved so image quality should be better – especially in poor lighting. That's pretty remarkable since the iPhone 4s already had excellent image quality. The iPhone 5 has a larger, 4-inch widescreen (16:9) Retina display with better color saturation. That will make composing, browsing and sharing photos more enjoyable. The widescreen display will also make recording and watching videos more comfortable. Like the iPhone 4S, the iPhone 5 records 1920 x 1080 full HD video but Apple says they've improved the electronic video stabilization so handheld video won't be as shaky. You can also take still photos while recording video – something you couldn't do with the iPhone 4S. Finally, Apple included built-in panorama stitching. With the iPhone 5 you can create huge (up to 28 megapixels) in-camera panoramic images just by panning the camera across a scene and letting the phone do the rest.
For reference, here's a table comparing the iPhone 5 and iPhone 4s camera features and specs:
| | | |
| --- | --- | --- |
| | iPhone 5 Camera | iPhone 4S Camera |
| Sensor | 8-megapixel backlit CMOS | 8-megapixel backlit CMOS |
| Processor | A6 CPU | Dual-core A5 CPU |
| Display | 1136×640 4-inch (diagonal) Retina display | 960×640 3.5-inch (diagonal) Retina display |
| Video | 1080p full HD at 30 FPS | 1080p full HD at 30 FPS |
| Lens | f/2.4 aperture | f/2.4 aperture |
| Auto focus | Tap to focus | Tap to focus |
| Face detection | Yes | Yes |
| Flash | LED flash | LED flash |
| Image Stabilization | For video – improved | For video |
| Wi-Fi | 802.11a/b/g/n; 802.11n on 2.4GHz and 5GHz | 802.11b/g/n; 802.11n on 2.4GHz |
| 4G LTE Data Support | Yes | No |
| Dimensions | 4.87 x 2.31 x 0.30 inches (123.8 x 58.6 x 7.6mm) | 4.5 x 2.31 x 0.37 inches (115.2 x 58.6 x 9.3mm) |
Don't think the iPhone 5 is the greatest point-and-shoot camera ever introduced, though. The main thing it's missing, and the main reason I carry a separate, dedicated point-and-shoot camera, is a zoom lens. My "real" pocket camera has full manual exposure controls and a 14x zoom lens. And so I don't have to wait until I get home to share my photos, I use an Eye-Fi wireless SD card (Eye-Fi Mobile X2 Review) that allows me to transfer my photos wirelessly from the camera to my iPhone . I've got the best of both worlds – a real camera with great controls and a big zoom – and connectivity.

You'll be able to pre-order an iPhone 5 in the US on September 14th (Friday). It will come in white or black and a 16GB phone will set you back $200 with a 2 year contract. If you want to be the first on your block busting out Instagrams with your new iPhone 5, better pack your cooler, sleeping bag and a lawn chair and get a spot in front of your local Apple store now. I confess – I plan to buy an iPhone 5 to replace my iPhone 3G. But mostly for the smart phone features. I'll still be packing a "real" camera in my other pocket.