We spend a lot of our time here at PhotographyREVIEW.com fantasizing about cameras that weigh ten pounds and cost thousands of dollars. But not everyone needs or even wants the latest Canikon Super-Pro 500X-S Extra-Full-Frame DSLR (yeah, I made that camera up), or the second mortgage required to buy one. Maybe you just want a decent digital camera that doesn't cost an arm and a leg. To that end, we researched the highest-rated, best-selling current digital cameras that cost less than $200 and picked what we consider the top five. Looking at all the sub-$200 cameras showed how far digital cameras have come in the past few years. Even inexpensive digital cameras are pretty impressive now. They all have HD video (720p or 1080p), most zoom lenses are 5x or longer, and image quality and low light performance have improved considerably.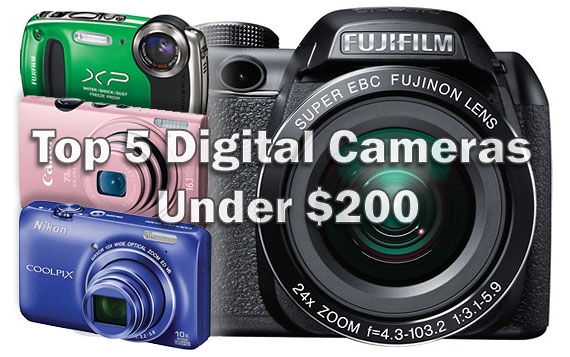 Rather than ranking our top five and selecting a winner, we picked five cameras with different strengths and feature sets, to match the needs of different photographers. There's a DSLR-style bridge camera with a huge zoom and lots of manual controls (Fujifilm FinePix S4200), a pocket camera with a 10x zoom lens that sells for less than $100 (Panasonic Lumix SZ1), a rugged waterproof point-and-shoot (Fujifilm FinePix XP50) and a couple of pocket cameras with state-of-the-art CMOS sensors and 1080p full HD video. I believe there's a camera here to match almost anyone's needs and budget. Even if you're looking at more expensive cameras, you should take a look at this top five. You might be surprised.


Best Digital Cameras Under $200
There are a lot of digital cameras for under $200 now and, as mentioned, quite a few of them are very good. If you feel we missed something or you just have your own favorite, please tell us about it in the comments section at the bottom of any page. Your comments will make this article more useful for everyone.