Canon EOS 5D Mark II Camera Experience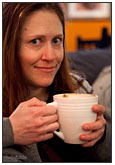 When Canon sent me the EOS 5D Mark II I was most interested in the video capture. But I quickly found that the real strength of the 5D Mk II is low-light photography. Yeah, the video is great. But it's still a digital SLR and although I make a few videos I'm a photographer, not a videographer. Right away I tried shooting at ISO 800, then 1600, and even 3200. I was amazed at the low noise and detail. Combined with the image-stabilized EF 24-105mm f/4L IS lens (you can buy the 5D Mk II as a kit with this lens), you can absolutely shoot at night with the 5D Mk II and get usable images. Handheld ISO 3200 portraits in a dark coffee house came out beautifully. Noise was visible but it wasn't distracting or offensive. Really usable ISO 3200 – that's awesome! Even better for me, the excellent low-light image quality means I can use high ISO settings for mountain bike photos at sunset or in dimly lit forest. Better low-light image quality means getting the shot in more conditions and that's a very big deal. It makes the EOS 5D Mk II a very, very flexible camera.
The 22-megapixel sensor and big pixels mean low noise at high ISO settings and that means you can shoot at faster shutter speeds to freeze action or just get good results in low light. And the high-resolution files are great if you need to print big or impress a publisher. But there's a price to pay for that resolution – the 22-megapixel files are huge! The 5D Mark II can shoot JPEGs until the card is filled but if you're shooting RAW bursts are limited to 14 frames. I missed some action shots because the buffer filled faster than I expected, forcing the camera to stop shooting and save to the card. The huge files also mean you'll need more memory cards and more hard drive space. It's important to ask yourself if you really need the image quality that the 5D Mk II offers. Yes, it produces wonderful image quality in all kinds of situations. But personally, I rarely need that kind of quality. I benefit from the extra performance of the 5D Mk II in maybe 5% of the shooting situations I encounter. Add a flash to compensate for low light and I probably only "need" the performance of the 5D Mk II about 1% of the time. And that brings me to my next issue with the camera – weight.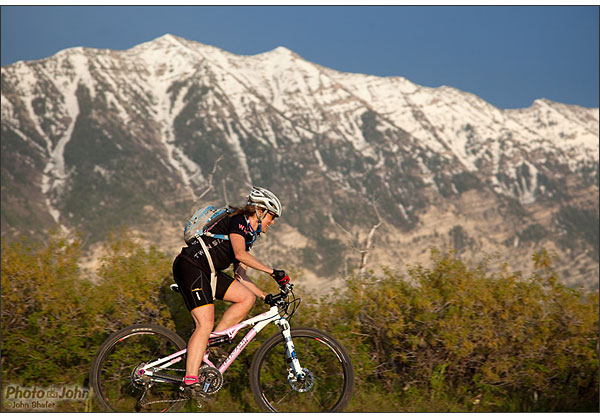 Most of the shooting that's really important to me happens on the trail. The size and weight of my camera gear is very important to me. If I only shot on the street or in the studio it wouldn't matter. But every gram counts when I'm on my bike. I can ride my mountain bike with the EOS 5D Mark II – I did a decent-sized ride carrying the 5D, 70-200mm f/2.8L, 24-105mm f/4L IS, fisheye, 550 EX flash and PocketWizard radio slaves. But that took a huge toll on my body. I'm always looking for the best compromise between size/weight and image quality/performance. The 5D Mk II produces beautiful images but it just isn't worth it for me to carry it on the bike. I can get magazine- quality images from much lighter, smaller and less expensive cameras. Lighter means I ride farther and get more pictures and that's what really counts.
One thing that concerned me about the 5D Mark II was the auto focus system. For the most part it's the same as the original 5D and theoretically that puts it behind other current digital SLRs. For that reason I was nervous about using the 5D Mk II in Canon's AI Servo continuous auto focus mode. But in a controlled comparison with the EOS 50D, which has a more sophisticated auto focus system, (cars passing at 40 miles-per hour, AI Servo, center AF point, 70-200 f/2.8L and 24-105mm f/4L IS) the 5D Mk II performed better than I expected. After careful comparison I think the 5D Mark II's auto focus is close to or as good as the 50D's. If you're shooting a lot of action, the 50D's faster frame rate, fresher AF system and considerably lower price make it a better choice for many photographers. And if perfect auto focus is your top priority, you'd better go with the EOS-1D Mark III or EOS-1Ds Mark III. Auto focus on the 1D cameras is a world apart from other Canon bodies.
Canon EOS 5D Mark II Video
I'm not a video guy but I've found myself shooting more and more video to compliment camera reviews and tradeshow coverage. At first I just shot them with whatever point-and-shoot camera was convenient. Then we tested the Canon EOS 5D Mark II and I realized there really was a quality difference. When 5D Mark II video samples started appearing online the hype definitely sucked me in. I talked to Canon about the 5D Mk II at PMA and the majority of the conversation was about video. There was no doubt about the 5D Mk II's potential video quality – that was proven as soon as it was available. But I was curious about how viable a "VSLR" is for professional video, how user-friendly the camera would be for regular folks, and whether a still photographer like me would be able to jump in and make decent videos.
I discovered that video has a very steep learning curve. Still photographers know a lot about camera, composition and exposure. But that experience doesn't easily transfer over to video. It's easy enough to pick up the camera, take a quick look at the manual and capture some video. But actually making something watchable is a challenge for an average guy like me. First of all, there's no auto focus in the video mode with the 5D Mk II, or any other video-enabled digital SLR. The auto focus sensors in a digital SLR are on the mirror and the mirror has to be locked-up for Live View / video mode. That means focusing is manual-only and you really have to plan and pre-focus your shots if you want them to be sharp. Don't expect to be able to handhold the camera and focus manually while you're shooting, either. It's not gonna work.
The biggest problem for me was editing my video clips. It's a lot easier if you're a Mac user because the 5D Mark II's .MOV files can easily be opened and edited with Apple's free iMovie software. But we're not all Mac users and the Windows Movie Maker software that comes with a PC cannot edit the 5D Mk II video files. I'm not sure why Canon chose to use the .MOV format; perhaps the final quality is better. In any case, if you're a PC owner, be aware that you won't be able to take the camera out of the box, shoot a few video clips and immediately assemble them into an award-winning video. I ended up buying Adobe Premiere Elements ($99.99 US) so I could edit my 5D Mk II videos. Then you have to learn the software. If you're a still photographer, video technique and workflow is different from what you're used to and you should expect some frustration. However, when you do get it figured out, you can expect really beautiful video quality from the 5D Mk II.
next page – Canon EOS 5D Mark II Image Quality >>