Conclusion
The Canon EOS 5D Mark II makes me think one thing – low light, low light, low light. Yes, the 1080p HD video is cool, but that's not enough to get me to buy it. I'm a photographer not a filmmaker. I'd buy the 5D Mark II to shoot sunset and post-sunset action photos. I'd buy it so I never have to use a flash. I'd buy it so I can shoot at ISO 800 and make prints with no noise. And I'd buy it to make huge prints with tons of detail.
But as much as I love the Canon EOS 5D Mark II, I don't think it's the right camera for me and it might not be the right camera for you. I encourage people who are considering it to slow down, step back and really ponder the pros and cons. There's a lot of hype about full-frame sensor cameras but full frame doesn't automatically mean better. The 5D Mark II's image quality is really wonderful and if you like to shoot handheld in low light, it's truly a great camera. But you pay for that quality with weight, huge files, a slow frame rate and lots of money. The truth is most photographers will be better served with a camera a step or two below the 5D Mark II. If you have $2,700 burning a hole in your pocket, the 40D or 50D and a pro lens are probably a better way to spend your money. If you're a professional sports photographer the EOS-1D Mark III is still the best Canon has to offer when it comes to speed and auto focus performance. However, for working commercial photographers who need a camera that can deliver awesome high-resolution images in all conditions, the 5D Mark II is a great investment.
Who Should Buy It
The Canon EOS 5D Mark II is an excellent choice for:
Professional portrait, wedding, and commercial photographers who need maximum image quality
Landscape and other photographers who want tons of detail
Photographers or videographers who want one device for high-quality video and still photos
The Canon EOS 5D Mark II is not the best choice for:
Consumers looking for a user-friendly video camera
Sports photographers who need a fast frame rate and perfect auto focus
People who want a light, compact camera
Beginning photographers or first-time DSLR owners who want a user-friendly camera with lots of auto mode options
- end -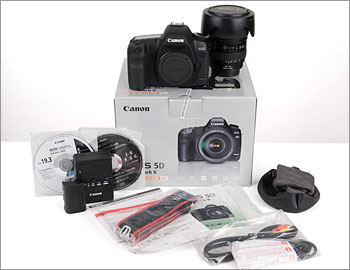 Contents of the Canon EOS 5D Mark II Kit Box

Canon EOS 5D Mark II Body
Canon EF 24-105mm f/4L IS Zoom Lens
Eyecup
Wide Neck Strap
Stereo Video Cable
USB Interface Cable
Battery Charger
Battery Pack
EOS Digital Solution Disk
Software Instruction Manual
Other Resources:
Canon EOS 5D Mark II Announcement >>
Compare Prices For Canon EOS 5D Mark II >>
Canon EOS 5D Mark II User Reviews >>
Write a Canon EOS 5D Mark II Review >>
Canon EOS 5D Mark II Camera Specs >>
Canon EOS 5D Mark II Sample Gallery >>
Canon Web site >>
Download Canon EOS 5D Mark II Camera Manual >>
All Digital Camera Pro Reviews >>
Digital Camera Buyer's Guide >>
All Digital Camera Studio Sample Photos >>
All photos copyright John Shafer and/or PhotographyREVIEW.com.
next page – Canon EOS 5D Mark II Camera Menus >>