Carl Zeiss has announced a new 15mm f/2.8 wide-angle lens for full-frame pro and other serious shooters. This is not a fisheye lens. What sets the Carl Zeiss Distagon T* 2,8/15 lens apart from most other wide-angle lenses is it captures a super corrected 110-degree field of view. It's perfect for full-frame DSLR owners who want to shoot architecture, landscape, interiors or other subjects that benefit from a very wide view, but without the obvious distortion you get with most super-wide full-frame lenses. With a minimum focus distance of 10 inches, a large f/2.8 aperture and 9 aperture blades, the new Carl Zeiss 15mm will also be great for selective depth-of-field photos and videos.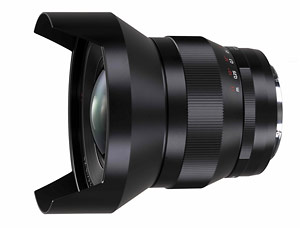 I haven't actually had the opportunity to use a Carl Zeiss lens although I have ogled them in person at tradeshows. I do know that photographers and videographers who use the Zeiss lenses love them. They say the image quality is different from other lenses with more of a snappy, separated, even 3D look. The new 15mm Zeiss lens has a "floating elements design" with two aspherical elements and special glass, "to provide an extraordinary correction of chromatic aberration." Carl Zeiss T* anti-reflective coating helps improve contrast and control flare and they even go as far as painting the edges of the elements to further control stray light in the lens.
The photo below was taken with the new Zeiss 15mm lens. Notice the straight lines – that's something you don't get with most lenses this wide. Click on the photo to see a larger version (1024 x 683 pixels). And click here to see a full gallery of photos taken with the Carl Zeiss Distagon T* 2,8/15 lens. The photos were all taken by Richard Schleuning, National Sales Manager (Americas) for the Carl Zeiss Lens Division.
DSLR filmmakers are especially fond of the Zeiss lenses because they're all manual focus with "long focus rotation," helping keep focusing smooth in videos. The Zeiss lenses are really solid, with dense, heavy optics and metal barrels. A Zeiss lens feels nothing like the kit lens you got with your first digital SLR. The new 15mm lens also has a built-in lens shade and it's threaded for filters (95mm) – something else you don't usually see with a lens this wide.
Be warned – Zeiss lens prices are known to cause extreme sticker shock. But you get what you pay for. Available in Canon and Nikon mounts, the Carl Zeiss Distagon T* 2,8/15 lens will be available in May for a suggested retail price of US $2,950.
Carl Zeiss 15mm f/2.8 Lens Press Release >>
Related Content:
All Zeiss User Reviews
Digital SLR Cameras Forum
Nikon Cameras Forum
More Camera Lens News & Articles
More Zeiss Lens News & Articles
Carl Zeiss Web Site