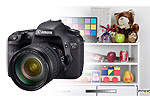 These high-resolution studio sample photos were taken with a pre-production unit of the new 18-megapixel Canon EOS 7D digital camera and the new EF-S 15-85mm f/3.5-5.6 IS lens at a focal length of 55mm. All sample photos were shot as RAW + JPEG in Aperture Priority mode at f/8.0 using the tungsten white balance preset. The high-res images are from the JPEG files because Canon didn't send us the RAW software. When we get the RAW software we'll replace these with images converted from the RAW files. No adjustments have been made to the JPEGs other than adding the logo and graybar.

I shot a whole lot of photos in the field with the Canon EOS 7D over the weekend. You can see my EOS 7D gallery, here. Keep checking it as I will be adding more photos as I have time to set them up and upload them.
Click on the thumbnails below to see the photos at their original resolution.

Other Resources:
Canon EOS 7D Preview >>
Compare Prices For Canon EOS 7D >>
Canon EOS 7D User Reviews >>
Write a Canon EOS 7D Review >>
Canon EOS 7D Camera Specs >>
Canon EOS 7D Sample Gallery >>
Canon Web site >>
Download Canon EOS 7D Camera Manual >>
All Digital Camera Pro Reviews >>
Digital Camera Buyer's Guide >>
All Digital Camera Studio Sample Photos >>