Canon has announced its Canon Live Learning 2011 schedule. Programs include EOS Immersion Seminars and Workshops, EOS Destination Workshops, and a new workshop geared towards videographers called "Deconstructing the Story: Light, Sound, Motion & EOS HD".
The EOS Immersion Seminar and Workshops are broken up into two parts, EOS Immersion Saturday Seminars and EOS Immersion Sunday Workshops, which are sold separately. The topics for the Saturday Seminars include Creative Essentials, Speedlite Creativity & Techniques, HD Video Basics, and Travel & Landscape Photography. The hands-on Sunday workshops will include topics such as EOS HD Video Techniques and Creative Lighting with Canon Speedlites for up to 16 attendees who are interested in using Canon's latest Digital SLRs and lenses. The first series of Seminars and Workshops will be March 26-27, 2011 in Dallas, with seminars and workshops in Columbus, St. Louis, Nashville, Los Angeles, Denver, San Francisco, New York City and Washington, DC. to follow.
The EOS Destination Workshops are two-day, hands-on workshops taught by Canon Explorers of Light photographers. They will be held in photographic locations such as Acadia National Park, Death Valley National Park, and the New Jersey Festival of Ballooning, to name a few. The first workshop will be April 9-10, 2011 in Utah's Arches National Park with workshops in Nevada, Arizona, New Jersey, Maine, and Colorado to follow.
The "Deconstructing the Story: Light, Sound, Motion & EOS HD" workshop is a three-day program designed to help videographers expand their creative and technical abilities using Canon EOS DSLR cameras. The first workshop will be May 24-26, 2011 in Orlando, Florida, with workshops in Cincinnati, New York City, Austin, and Seattle to follow.
For more information and to register for Canon's Live Learning programs, visit the Canon Live Learning Web Page.
Canon Live Learning 2011 Schedule Press Release
Related Content:
All Canon User Reviews
All Canon DSLR User Reviews
All DSLR User Reviews
Canon Cameras Equipment Forum
Canon News & Articles
Canon Live Learning Web Site
Canon Web Site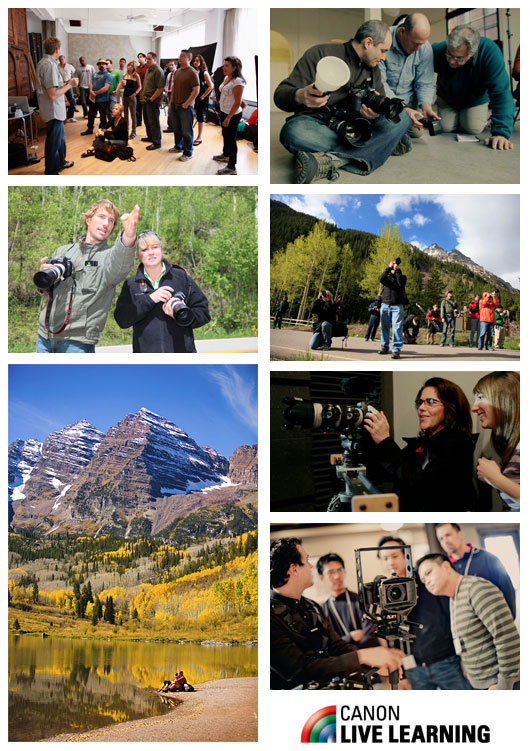 next page – Canon Live Learning 2011 Schedule Press Release >>