I haven't been able to do much with the Canon PowerShot D20 rugged, waterproof camera yet. But looking at the studio samples has me thinking I'm going to need to re-evaluate the camera recommendations in my 2012 Outdoor & Waterproof Camera Guide. A quick comparison with my current top waterproof camera pick, the Olympus Tough TG-1 iHS (Olympus Tough TG-1 Studio Sample Photos), shows the Canon D20 has noticeably better image quality up to ISO 800. So for general outdoor photography, in good light, I think the D20 is going to give you brighter, sharper photos with better contrast and color saturation. And I would expect no less from Canon – I think their point-and-shoot cameras almost always have the best image quality.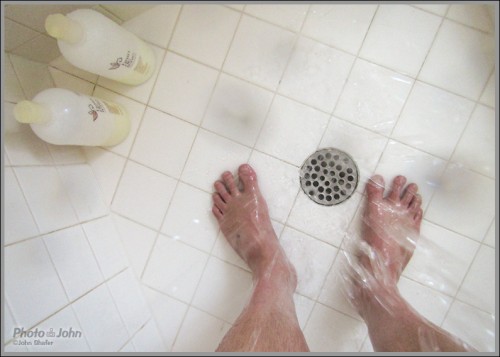 The shower photo above (a blatant attempt to attract the wrong kind of visitor) is about the extent of my testing with the Canon PowerShot D20 so far. Rest assured, I will put it through its paces and write a full review. In the meantime, you can pixel peep to your heart's content with the high-res studio samples below. The Canon D20 tests were shot on a tripod at all ISO settings in the PhotographyREVIEW HQ studio with white balance on the tungsten preset. The logo, graybar and text were added in Photoshop and they were resaved as maximum quality JPEGs for your viewing pleasure. No noise reduction or any other kind of enhancement was used. What you see is what you get.
For more information on the Canon PowerShot D20, please read our announcement article linked below. And if you own a D20, please write a user review for us!
Canon PowerShot D20 Studio Tests
Canon PowerShot D20 Waterproof Camera Intro >>
Outdoor & Waterproof Camera Guide >>
All Digital Camera Sample Photos >>
Related Content:
All Canon User Reviews
Canon PowerShot D20 Photo Gallery
Canon Cameras Forum
Digital Cameras Forum
More Waterproof Cameras News & Articles
Canon News, Reviews & Articles
Canon Web Site
All Digital Camera Pro Reviews
All Digital Camera Studio Sample Photos