Canon PowerShot ELPH 300 HS Conclusion

I quite enjoyed my time with the Canon PowerShot ELPH 300 HS. It's an easy to carry, stylish little point-and-shoot camera that produces pretty nice photos in most conditions. I think it will be best for casual snapshot photographers who want a simple, good quality pocket camera that isn't too expensive. Photographers who like a lot of control, want a long zoom or who have big hands should probably explore other options.
If you like what you read about the Canon 300 HS but you want the latest and greatest, take a look at the newer Canon PowerShot ELPH 310 HS and the step-up model, the Canon PowerShot ELPH 510 HS. The new 310 HS has a lot of new features including a 3-inch LCD display and a longer 8x zoom lens (it's only 28mm on the wide end compared to the 300 HS' 24mm wide-angle, though.) as well as a bunch of new color options. The new Canon PowerShot ELPH 510 HS steps the zoom up to 12x and adds a big 3.2-inch touchscreen LCD display. If you're looking for something less expensive than the ELPH 300 HS, take a look at the ELPH 100 HS – it's got a shorter zoom but otherwise has most of the same features as the 300 HS and you can get it now for under $150 (with Canon rebate). The 300 HS, 310 HS, 510 HS and 100 HS ELPH cameras all have the same sensor and DIGIC 4 processing so it's just a matter of deciding what features you want and how much you have to spend.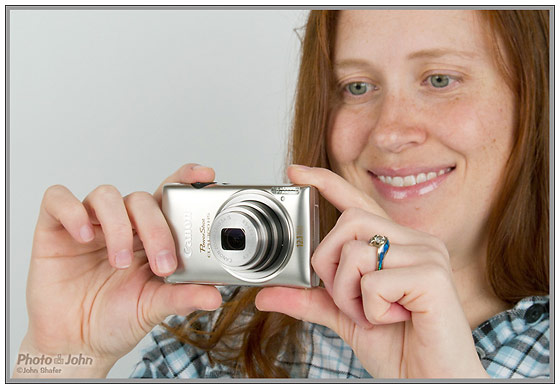 - end -
All photos copyright John Shafer and/or PhotographyREVIEW.com.
Special thanks to Pictureline in Salt Lake City, Utah for providing the Canon PowerShot ELPH 300 HS camera for review!
Back To Canon PowerShot ELPH 300 HS Review Intro >>


Canon PowerShot ELPH 300 HS Review Navigation
More Canon PowerShot ELPH 300 HS Resources:
Canon PowerShot ELPH 300 HS User Reviews
Write a Canon PowerShot ELPH 300 HS Review
Canon PowerShot ELPH 300 HS Sample Gallery
All Canon User Reviews
All Digital Camera Reviews
Digital Cameras Forum
Canon Cameras Forum
All Digital Camera Pro Reviews >>
All Digital Camera Studio Sample Photos >>
More Canon News, Reviews, and Articles
Canon Cameras Web Site