Canon PowerShot SD4500 IS Features & Design

The PowerShot SD4500 IS looks very similar to Canon's top-of-the-line PowerShot S95 but the "SD" designation indicates it's part of Canon's consumer-oriented Digital ELPH point-and-shoot lineup. It's about the same size as the S95 but it doesn't have the control ring on the front or the pop-up flash and it has a flashier, shiny brown/copper finish. Personally, I prefer the professional matte black of the S95 but ultimately camera looks don't matter to me as much as features and performance. Like the S95 and the rest of the Canon SD-Series cameras, the SD4500 fits in my pants pocket – always one of my top criteria for a point-and-shoot camera.
Canon PowerShot SD4500 IS Intro Video:
I bought the SD4500 IS for the 10x zoom lens, 1080p HD video and 8.5 FPS burst rate – all things the S95 doesn't offer. Choosing the SD4500 IS over the S95 means giving up three things: a wider lens (28mm vs. 36mm), RAW shooting and manual exposure control. If you can live with a pure point-and-shoot, then I think the SD4500 IS delivers more pocket-sized camera for the buck. With a point-and-shoot camera I don't really care about RAW shooting or manual exposure control. It would be nice if the SD4500 had those features but I'll survive without them. It's not like I can't get good exposure with the SD4500, either. It has Program mode with exposure compensation plus a pure auto mode and 19 scene modes, including standards like Portrait, Kids & Pets, Beach, Snow; as well as some more interesting options like Miniature Effect (see below), Fish-eye Effect, Color Swap, Handheld NightScene and a panorama "Stitch Assist" mode. Some of the scene modes, like the High-speed Burst mode that got me interested in the camera, have reduced resolution, making them less than useful in my opinion.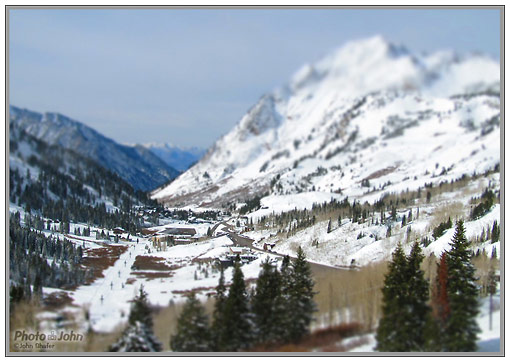 The PowerShot SD4500 IS has full HD video – that means 1920 x 1080 resolution instead of 1280 x 720 like most point-and-shoot cameras have right now. The movie mode is easy to use, with a dedicated start/stop button. Unfortunately, the video button is exactly where my right thumb holds the camera and it's very easy to start recording video by accident. You can zoom while recording video, which is really cool with such a wide zoom range, and Canon's optical image stabilization works great so handheld videos aren't a shaky mess. There's a "Miniature Effect" video scene mode for all of you toy village / tilt-shift video fans. And the coolest video extra – for me, anyway – is the 240 FPS slow motion video mode. I haven't tried editing the low resolution (320 x 240) slow-mo videos but you can play them back on the camera and the mountain bike and hockey clips I shot are super fun.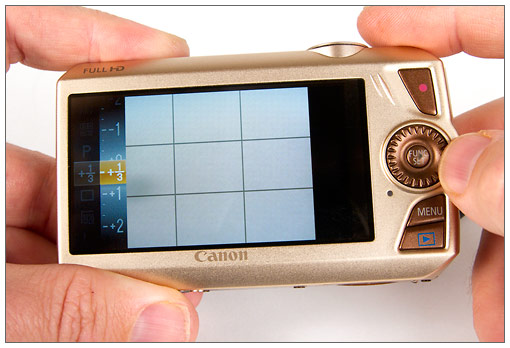 Notably missing from the SD4500 IS movie mode is exposure compensation adjustment. This is a completely basic control in my opinion and it's a shame that it wasn't included. It means you have to completely rely on auto exposure for video with no input of your own. For me, that meant ski videos were absolutely impossible because the camera compensated for the bright snow and made my video clips too dark.
I also wish the camera offered easier access to exposure compensation for still photos. Besides the zoom control and shutter release, exposure compensation is the control I use most. I prefer a camera to have a dedicated exposure compensation button for one-click access. With the SD4500 IS you press the Func/Set button on the back to open the Func menu where you can select exposure compensation (The Func menu also accesses other common controls like ISO, shooting mode, white balance, etc.) and make adjustments. It's not too bad but a dedicated button would be better.