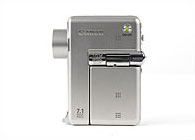 The Canon PowerShot TX1 combines some of the best features of still photography and video in one very compact, attractive camera. The TX1 offers a nearly seamless experience for the user who wants to capture both still photos and video without switching between two separate pieces of equipment.
Want to buy a Canon PowerShot TX1?
Compare prices and shop for the Canon PowerShot TX1 >>
Pros
Great build and small size
"Face Detection Technology" auto-focus/auto-exposure works well
10x optical zoom lens (equivalent to 39-390mm)
Optical multi-mode image stabilizer reduces blur from camera shake
Zero-cm macro mode provides extremely close focusing
Good color rendition
Very good video quality
ISO 1600 usable
Seamless switching between video and photo
Customizable buttons

Cons
Useful photo features such as live histogram and manual mode sacrificed
Small LCD
Physical design is very video-centric
Requires large, fast (and expensive) cards for reliable video
Video captured in Motion JPG files, rather than MPEG
Playback mode
No manual focus in still or photo modes

Introduction
The Canon PowerShot TX1 takes convergence a step forward by integrating 720p HD video with a 7.1-megapixel digital still camera. I bought this camera several months ago and have used it for both stills and video on a 10-day trip overseas and as an everyday snapshot camera.
Features
The PowerShot TX1 straddles the line between a video and still camera, and the feature list reflects that. Several features carry equal weight in the grand scheme of things, namely the 10x zoom with optical image stabilization and the 720p video recording. On the purely photographic side are the 7.1 megapixel resolution, continuous shooting with auto-focus, Face Detection auto-focus and auto-exposure, 0cm macro close-ups and the typical smattering of scene modes (Portrait, Foliage, Snow, Beach, Aquarium, Indoor, Night Snapshot).
Personally, I was most excited about the 10x zoom (39-390mm equivalent), the optical image stabilizer and the 720p video recording. I've wanted a video camera for a while and figured this was a very usable alternative. I have not been disappointed. The video functionality does seem to have affected the choice in features, though, as some stuff you might expect (live histogram, full manual controls) was omitted. This seems a bit odd to me, since the camera is definitely not short on features. Digging through the menu reveals the ability to edit video clips, use the camera as an audio recorder, perform special effects such as swapping colors and using selective color on video and stills and slightly customize some interface buttons. The TX1 also offers relatively complex file management capabilities. But even though the user can change the ISO and focus modes, the manual mode allows limited control over exposure, providing nothing more than an exposure compensation bar.
The TX1′s most striking feature is its petite physical size. The camera is the size of early Canon Elphs, making it very pocketable and easy to carry, even with the long-range zoom lens. A swiveling LCD, though small, rounds off the package.
Camera Menus
| | | |
| --- | --- | --- |
| Canon PowerShot TX1 playback with image info and histogram | | Canon PowerShot TX1 main menu |
| Canon PowerShot TX1 during capture with info on | | Canon PowerShot TX1 FUNC menu with exposure compensation selected |
Canon clearly had a hard time integrating video and still functionality when designing the PowerShot TX1. Ignoring the feature set, the most obvious indicator of this is the vertical form factor or design. People not familiar with the TX1 always struggle to figure out how to hold it. Once they figure out how to hold it they are confronted by the control layout problem. There are separate triggers for each of the camera's main functions. A red record button under the operator's thumb starts and stops video recording. The still photo shutter release button, however, is above the lens, on top of the case – a somewhat unnatural location for the index finger. When you get used to the separate controls, though, it's actually a pretty functional design, negating the need for separate "modes" of operation. Once the camera is on, using it for either stills or video takes no thought or additional steps beyond pressing the desired button. Despite the fact that the design confuses first-time users, I think it's actually an elegant implementation.
Above the video trigger is the zoom control lever. It is stubby and close to the record button, and requires an up or down motion to zoom, forcing the user to give up some of the grip on the camera. This makes the camera even more difficult to hold and can cause camera shake – which even the image-stabilizer system can't counteract – as the hand shifts to the zoom.
Beyond the integration of video and still photography, the TX1′s controls interface is solidly aimed at basic point-and-shoot use – a la Canon's Digital ELPH cameras. The Multi Controller dial has four settings: Playback, Auto, Camera M and Special Scene. What Canon calls "Camera M" suggests manual functions, but in reality it's just a full auto mode that allows adjustment of ISO, exposure compensation, white balance, etc. Sadly, there is no direct control over aperture or shutter speeds. While I have rarely missed their presence, if you are looking for those features, you will want to explore other models.
Camera Experience
The Canon PowerShot TX1′s build and finish are superb. Stainless steel is well-used here. However, the combination of vertical format and less-than-grippy metal finish make the camera a bit more slippery than I'd like. I'd recommend using the wrist strap. Naturally, the steel is also a fingerprint magnet. The hinge on the LCD is firm and has well-defined stops for the closed and open positions. The lens slides in and out quickly and has a steel cover that slides over the opening for protection.
Once I moved past the control layout and started using the camera on a daily basis, it became apparent that the TX1 is an excellent tool. The Face Detection works beautifully in most conditions, focusing and metering on faces. For still subjects, the auto-focus is quick enough not to be obnoxious, but it won't be tracking anything that's moving quickly. I don't use the multi-point AF, as I find it a bit too unpredictable; instead, I use the center focus point to focus on exactly what I want and re-compose. This is mainly because many of my shots include multiple foreground and background layers. For a relatively flat composition, the multi-point AF works just fine.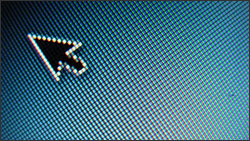 A feature I love is the Super Macro mode. When reading the camera's specifications you should know that the listed zero-cm minimum focus distance is not a typo. The camera will, in fact, focus on items that are touching the filter thread. At that point, the real challenge is lighting the subject. (See sample at right)
One thing I've grown to like about the TX1 is the ability to shoot in the video mode's 16:9 aspect ratio. Although I was never a fan of the 4:3 format, I find the 16:9 to be refreshingly wide, especially for group shots and landscapes. The TX1′s ability to instantly switch between photo and video has been great. It makes changing from stills to video a seamless action, preventing distractions that might break the flow of a situation. This flexibility enables me to record unique sets of video and still visual mementos. And the ability to scroll through a folder with images and video of the same event is refreshing. This unique flexibility makes the camera's other quirks forgivable. In some ways, the TX1 reaches that highly sought-after ability to become an extension of me, allowing me to document life around me in unique and inspiring ways.
But like everything, the Canon PowerShot TX1 is not perfect. The boxy, vertical form factor causes me to occasionally stumble, even after much use. The controls aren't bad – but they aren't great, either. The awkward design suggests that the engineers had some difficulty integrating video and still photography into one camera – or – that not enough time was taken to develop the interface completely. Granted, I'm just speculating. But I can't help but think that Canon's designers are capable of a more optimized layout.
There are other annoyances too – like the video format choice. Motion JPG is very inefficient, requiring an 8GB SDHC card for 30 minutes of video at the highest-quality setting. And the cards have to be fast — class 6 SDHC cards are pretty much the only ones that will record reliably. Slower cards will have problems with scenes that contain lots of motion, halting the recording when the buffer fills up. This means that the real price of the TX1 as a usable camcorder goes way up, after you budget for expensive SDHC cards.
Image Quality
Let's start with the stills. Typical point-and-shoot fare, with saturated colors, painterly artifacts from noise reduction and a detail rendition that really should be better, with the TX1′s 7.1 megapixels of resolution. As always, Canon's engineers have to balance physics with marketing, and the image gains nothing for it. To its credit, noise reduction on the TX1 is fairly conservative, making for pretty sharp images, though with more noise. Fringing is visible with very high contrast edges, but isn't too bad except in macro photos, where fringing and softness towards the edges of the frame become extreme. Barrel distortion becomes very apparent at the wide end, though the long end shows no obvious warping.
Photos of people really make the TX1 shine. The Face Detection Technology allows the camera to focus and meter just the subject's face, making backlit people and odd compositions a non-issue. It's kind of jarring to look at pictures where a face was not detected or no human subject was present, as the camera falls prey to typical shortcomings of automatic exposure systems, like dark foregrounds with properly exposed skies. When taking pictures of people, the camera nails the exposure so often that I really don't miss manual controls or need to use fill-flash.
Noise is controlled through ISO 200, becomes visible at 400, and is heavy at 800 and 1600. However, I was surpirsed that even at ISO 1600, images are still pretty sharp. The noise is everywhere, and its peppery appearance is pretty obnoxious, but I wouldn't hesitate to use high-sensitivity settings in a pinch.
Video quality is great for this level of camera. The files that come out of the TX1 are advertised as 720p, although actual resolution is lower than that. Still, it's far better than any SD MiniDV cam I've used or considered purchasing. Colors are very well-saturated and exposure is solid because the same Face Detection Technology used for still photos also works in the video mode.
Click on thumbnails to view sample photos.

Conclusion
Overall, using the PowerShot TX1 is a very satisfying experience. The TX1 breaks no new ground — others have done what it attempts — but it does explore new avenues and improves on some of the shortcomings of its competitors. At worst, the camera is slightly cumbersome. And at best it becomes intuitive and disappears, which is wonderful. My personal zen is to just forget about the camera I'm using and just do my thing. It's that point where life and technology merge to allow me to do things I normally couldn't. The TX1 does a pretty good job of disappearing. That's definitely empowering.
Who Should Buy It
Honestly, someone looking for a compact point-and-shoot camera with a good set of features can find better options. However, anyone looking to replace a video and a still camera — or anyone open to how a convergence device such as this can create new ways to document life — should take a good look at the Canon PowerShot TX1. To those considering a combination still and video camera, I heartily recommend it.
- end -
Contents of the Canon PowerShot TX1 Box
Canon PowerShot TX1 Body
Lithium Battery Pack
Battery Charger
MMC Plus Card
Wrist Strap
Digital Camera Solution CD-ROM
USB Interface Cable
Stereo Video Cable
Component Cable

Other Resources:
Canon PowerShot TX1 User Reviews >>
Write a Canon PowerShot TX1 Review >>
Canon PowerShot TX1 Camera Specs >>
Canon PowerShot TX1 Sample Gallery >>
Canon Web site >>
Canon PowerShot TX1 Camera Manual >>
All Digital Camera Pro Reviews >>
Digital Camera Buyer's Guide >>
All Digital Camera Sample Images >>
Sebastian Profile >>